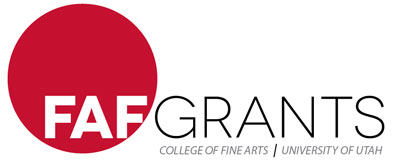 College of Fine Arts FAF Grants financially supports student-driven extracurricular experiences. You may review our FAF Grants spending report from 2014-2021.
FAF Grants funding is available to CFA student groups that are registered as a Sponsored Student Organization through Student Leadership & Involvement. (ASUU does not fund sponsored College of Fine Arts student organizations.) CFA Sponsored Student Organizations may apply for FAF Grants to fund student-driven, noncredit projects that 1) enhance student learning, and/or 2) enhance the student experience for the larger University community, and/or 3) create or host arts events on campus or in the greater Salt Lake Area. FAF Grants projects must originate in the College of Fine Arts, be advised by a College of Fine Arts faculty member, and may involve students from other colleges. If you have any questions about FAF Grants or the application process, please email us at
1) Meet your FAF Grants Representatives
Each academic department in the College of Fine Arts has three FAF Grants Representatives. FAF Grants Representatives 1) help CFA students navigate the FAF Grants process, 2) make decisions about FAF Grants applications and the funding process, and 3) decide which applications receive funding. Connecting with all of your FAF Grants Representatives early can be useful in writing a strong and fundable proposal. Your FAF Grants Representatives will also sign and approve your FAF Grant proposal.
Contact Your FAF Grants Representatives
2) Apply
3) Deadlines
FAF Grants proposals are accepted twice a year, once a semester, based on the following deadlines. Please note: It can take minimally two weeks to research, write, and get approval of a FAF Grant. Plan accordingly so your grant will be the highest quality and the FAF Grants Funding Committee can support your proposal.
FAF Grants Cycle One: FAF Grants submitted in Cycle One must take place between July 1, 2021 and June 30, 2022
FAF Grants Cycle Two: FAF Grants submitted in Cycle Two must take place between February 26, 2022 and June 30, 2022
January Registration period for student groups to become a CFA Sponsored Student Organization through Student Leadership & Involvement
January 28, 2022 at 5:00 p.m. Emailed FAF Grants applications are due to all of your Department FAF Grants Representatives
February 25, 2022 at 3:00 p.m. FAF Grants virtual funding meeting
March 2022 All FAF Grants eligible student groups are required to maintain sponsored status with the University. Visit the Student Leadership & Involvement for more details regarding renewal.
4) Post-Award Requirements
After your CFA Sponsored Student Group receives FAF Grants funding for your project, you must follow University and FAF Grants policies and procedures, appropriately report on your progress, and complete post-award reporting requirements.
Post-Award FAF Grants Requirements