What can I get with the Arts Pass?
You get FREE Admission to all College of Fine Arts Events which means:
Any Department of Art & Art History exhibitions in the Gittins Gallery and any art guest lecture
Most ballet and modern dance performances in the Marriott Center for Dance
Any Department of Film & Media Arts screenings or event
Any School of Music performance in David Gardner Hall*
Any Department of Theatre productions*
UtahPresents Series admission is only $5
Pioneer Theatre Company:

Preview Night (Thurs before Opening Night): FREE. (Preview night tickets are distributed first-come-first-served on the Monday after prior show closes).
Reserved seats (Monday-Thursday nights): Half Price (for productions in the current semester)
Student Rush (1 hour before curtain, any performance): Available for $5 with your Ucard

Limit of two tickets per UCard, per production.
College student discounts, shown above, are not available online or over the phone, and are subject to availability.
Tickets may only be purchased for productions in the current semester.

Free admission to the Utah Museum of Fine Arts (UMFA) including special exhibs, permanent collections galleries, etc.
*Some special events not applicable
How do I get an Arts Pass?
Your UCard is your Arts Pass! UCards are issued to each student of the University of Utah at the UCard Office in the Union Building. Just bring your Ucard with you to the box office at Kingsbury Hall or the Union Building if getting your tickets in advance, OR at the door of each venue night of the performance. You will still need to get a printed ticket. Just hand your UCard to the box office agent and they will swipe your card and give you your ticket. It is that easy!
What if I forget my UCard?
You will not be able to receive a free ticket without your UCard. We would be happy to sell you a very reasonably priced ticket for the event, however.
Can I get more than one ticket?
Pioneer Theatre Company productions offer two tickets per student ID at Student Rush (one hour before each production). UtahPresents series offers one $5 ticket per student. All other events offer one free ticket per event with a valid UCard.
How many times can I go to one event? Is there a limit on how many events I can go to?
There is no limit on the amount of times you can enjoy events put on by our academic units! Students will receive one ticket to each UtahPresents Series events for $5, limited availability.
Pioneer Theatre Company gives a student with a valid UCard 2 free tickets during rush (one hour before curtain) for each production, limited availability.
Students get in free to the Utah Museum of Fine Arts.
Can someone else pick up my tickets?
No. Only the owner of the UCard may pick up their "Arts Pass" ticket(s).
Are there any blackout dates or special events that do not apply?
Yes, there are special events that will not be available for the Arts Pass. Student rates will apply if possible. These may be for fund raisers, or co-sponsored events. Look for the Arts Pass Logo to tell which are Arts Pass events!
What about students from other schools?
We still love sharing art and inviting students from all universities! Yes, special non-U student rates apply for students of other universities or colleges.
Can I get tickets online?
Currently there are no online tickets available for the Arts Pass. You must present your UCard in person to receive your free ticket(s).
Is this good in the summer, too?
Yes, your UCard is your Arts Pass for as long as you are a student at the University of Utah!
How can I find out about events?
Scroll up to the event feed, or go to:
The Union Help Desk on campus
Department Websites:
What if an event is sold out?
Tickets are available on first come, first serve basis. Also, for Pioneer Theatre Company and UtahPresents events, there are a limited number of Arts Pass tickets available for each production. There is no guarantee on student tickets - so get them early!
What do student Fine Arts Fees fund?
The Fine Arts Fee supports various arts and culture resources on campus, including the Arts Pass program. This program provides free or greatly reduced tickets to all matriculated University of Utah students for various campus performances, productions, exhibitions, and other cultural events. A small portion of the funds also support FAF grants, the Fine Arts portion of ASUU student group fees, which offers grants to student groups.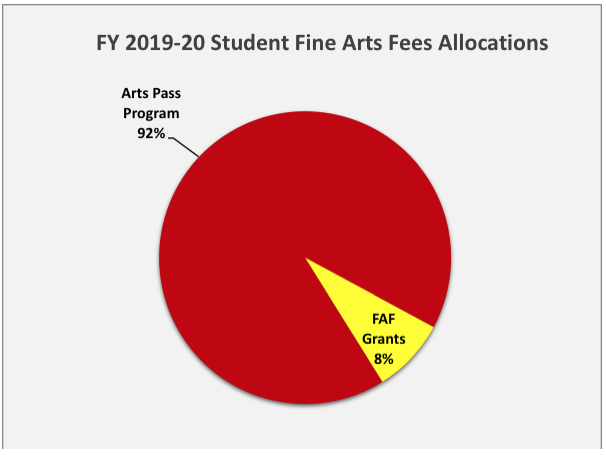 For Non U of U Students
For all productions from the academic units in the College, visit KingTix Box Office, located in Kingsbury Hall. You may also order tickets by phone at 801.581.7100, or online at tickets.utah.edu. Tickets for all performances in Kingsbury Hall, Libby Gardner Hall, Marriott Center for Dance, Studio 115, and Babcock Theatre are available through tickets.utah.edu.
Contact our professional affiliates:
Pioneer Theatre Company
801.581.6961
Utah Museum of Fine Arts
801.581.7332
*The Utah Museum of Fine Arts is free for all University of Utah students, faculty, and staff and all other entrance tickets are available at the main desk of the museum.
UtahPresents
801.581.7100; UtahPresents.org
*Tickets for all performances in Kingsbury Hall, Libby Gardner Hall, Marriott Center for Dance, Studio 115, and Babcock Theatre are available at tickets.utah.edu.
The College of Fine Arts offers literally hundreds of performances, exhibitions, lectures, screenings, concerts and symposia during each academic year.