Professional Affiliates
The College of Fine Arts is proud to work alongside the creative and talented professional affiliates here on the University of Utah campus.
ArtsBridge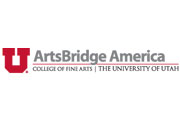 The ArtsBridge America program is an arts education outreach program that provides a valuable experience for university students to work with K-12 students. At the University of Utah, we put priority on working with Title 1 schools, and other borderline schools that lack in consistent high quality arts programming.
The program model creates university and public school partnerships that allow university students and K-12 school teachers the opportunity to create and implement lessons that integrate the arts into the traditional curriculum in ways that address both specific classroom needs as well as state and national standards in visual and performing arts. Over the course of a semester, or the school year, the university's ArtsBridge students spend 2-3 hours a week in classrooms integrating art, dance, drama, digital art, and/or music to create unique lessons in the arts linked to language arts, math, science, and/or social studies.
Click here to visit the ArtsBridge website.
Arts Education

Departments in the College of Fine Arts value education in the arts at all levels. College of Fine Arts students can earn Teacher Certification in Art Teaching, Dance Teaching, Music Education, and Theatre Education, or a secondary level teaching endorsement in Film & Media Arts.
See the links below to learn more about these programs, certifications and endorsements.
Youth Arts
The University of Utah provides a robust and diverse array of arts experiences for youth from theatre to music and from dance to art-making. Visit the Youth Arts website for more information.