MAKING ART WORK is a series that taps into the knowledge and experience of seasoned creatives from our community and beyond for the benefit of our students.
Liz (Lizzy) Ivkovich hails from rural Michigan. She is the Development Director for UtahPresents, the multidisciplinary arts presenter at the University of Utah. In that role she oversees all fundraising initiatives and contributes to programming, advocating for equity, diversity, and inclusion as a member of APAP's Emerging Leaders Institute and the UU College of Fine Arts Justice, Equity, Diversity, and Inclusion Committee. Liz publishes on dance + environment + justice with articles in the Journal of Environmental Studies & Sciences, Local Environment, loveDANCEmore, and Performance Research. She has taught at the UU and Salt Lake Community College and directed La Fuerza at Omaha South and Afro-Nation Dance Crew at the Center for Science and Mathematics Education, two high school dance companies. Liz received her BS in Sustainable Business & International Studies (Aquinas '07), MFA in Modern Dance (Utah '16), Interdisciplinary Graduate Certificate in Sustainability (Utah '21), and certification in Laban-Bartenieff Movement Analysis (Integrated Movement Studies '14). Liz has produced large scale outdoor shows such as "The Mists" at Red Butte Gardens and "Those With Wings" on the Jordan River, and performed with NOW-ID, Maya Taylor Dance, and UNO's The Moving Company. Formative teachers in her dance lineage include Lori Ladwig, Judy Rice, Mary Waugh-Taylor, Ananya Chatterjea, Juan Carlos Claudio, Sharee Lane, and A'Keitha Carey.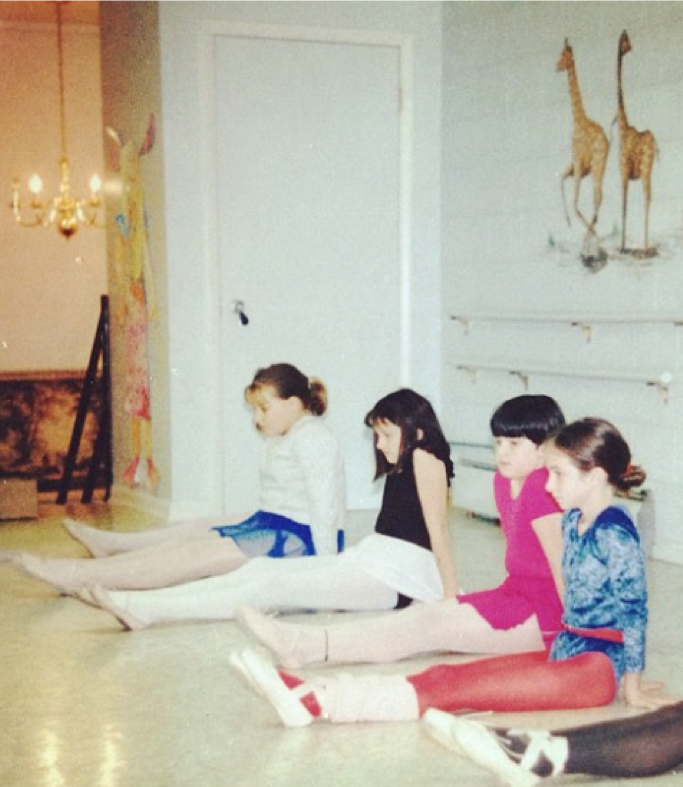 Ivkovich (far right) sits with friends in a dance classTell me about your early relationship with dance. What did you love for the arts begin?
I grew up in a rural community in Michigan. My family was very religious and we spent Sunday morning, Sunday evening, Wednesday evening and sometimes entire weekends at church. In these white, fundamental Baptist communities, dance was very risqué. But my mom, a piano educator and graduate of Michigan State's School of Music, valued high quality arts education so she supported my love of dance, sometimes driving an hour or more so I could take classes. It was a huge commitment. My training took me to the University of Michigan's dance department in middle and junior high school. I remember in a showing of graduate work, an MFA candidate had a piece with a Black woman as Christ carrying the cross, topless. It was so beautiful and compelling. Here was an image of divinity that I wouldn't see in Sunday School. I think from that time, studio became a space that I could try on new possibilities.
What made you want to begin your journey to obtain an MFA from the University of Utah?
Thinking back to my experience being very young around older dancers getting their BFA and MFA, I always knew about dance in higher education and thought it seemed like a magical, progressive space where difference was valued. Earning my MFA was a personal goal for a long time. While I have built my career off the skills I gained from my undergraduate degree in Sustainable Business & International Studies, my MFA helped me integrate my passion for sustainability and social justice with the arts. I've never been interested in being located in an urban center like New York City. I love small, mid-sized and rural places and their arts. I felt like Salt Lake City was that perfect place.
To you, what are some of the proudest moments you had as a student?
Upon arriving at the UU's School of Dance I had to pretty quickly reorient what my MFA experience would be. I realized that I was more curious about other people's creative process than my own and I was drawn to writing and ideas about dance, versus the act of doing it. I joined two interdisciplinary co-horts: the Interdisciplinary Graduate Certificate in Sustainability and the TA Scholars at the Center for Teaching and Learning Excellence. Seeing what my peers across campus did with their research inspired me. I received a competitive Graduate Research Fellowship from the Graduate School and did an ethnographic study with Ananya Dance Theatre, which I presented and published in various outlets. For my thesis, I built a large scale show called "The Mists" at Red Butte Gardens with my friend Alysia Ramos, a fellow mom and recent graduate of the modern dance program. We embedded it into Red Butte's hugely successful Garden After Dark event with 7000+ attendees and dozens of performers. So fun and so much coordination! I was glad of my non-profit admin experience. I'm proud that I was able to find my own path, albeit a windy and complicated one.
How did you find yourself in the Advancement space? What are some of your favorite connections that you've made?
One of my first jobs was running administration for an international community development organization. There I fundraised my own salary and wrote and managed annual appeals for five years because we didn't have any dedicated development staff. Since fundraising defaulted into my purview, I had to think a lot about it. What is it? How do you do it with integrity? How can it be fun? To me, philanthropy is energy work. Money is just a kind of energy. As a dancer, I create and share energy with other dancers and the audience. Philanthropy is the same thing. As a fundraiser, I facilitate pathways and connections so that people can create and share energy. I like doing this as part of a bigger institution because one has the feeling that you don't need to know it all. Someone on campus has the answer! I love being involved in big projects across campus and learning from other disciplines and fundraisers. Each area has a different approach which expands my mind, helps me to strategize, and build great friendships along the way.
What piece of advice would you give current students to set themselves up for success when they graduate?
Claim your power. You have power within the system. We are taught as dancers that our power lies in pleasing the person at the front of the studio or in the big office downstairs. Turn that on its head. What is the power of not being the star student in the department? Maybe that power is in organizing. What can you build in the collective? What momentum for change can you create with others? Dance is a system and it was not built to serve dancers, so finding your power and allies within that system is essential.