Written by Molly Powers.
Conor Long's studio space is cluttered with a wonderful collection of miniature items: doll-house sized furniture and coffee cups, a tiny bed with tiny pillows and blankets, and a cast of expressive clay characters who are brought to life on film. Long, a Film & Media Arts graduate student, is a Utah-based filmmaker and animator, with an impressive portfolio of both live-action and animation work. He has been making movies for as long as he can remember.
"It's funny," he says. "I started by making claymations when I was a kid on my mom's old VHS camera, then took a 20-year break from claymation, and now I'm getting my master's degree in it."
He describes his draw to filmmaking as a "positive feedback loop, a perpetual motion machine of creative problem solving. I just love making movies, and the more I make, the more I love doing it."
Long's initial interest in film has been furthered by a host of artists from whom he draws inspiration, such as John Carpenter, David Cronenberg, Dan Harmon, Jan Svankmejer, Kim Ki-Duk, David Fincher, Andrea Arnold, Charles Bukowski, Bill Plympton, Jean-Pierre Jeunet, as well as the passionate filmmakers he surrounds himself with in his daily life. He has also been influenced by Associate Professor Paul Larsen, who teaches a Screen Writing Course at the U. Long considers scriptwriting vital to successful filmmaking.
"There are a lot of great classes in the Department, but story is the foundation of the art, and without a mastery of scriptwriting, all the rest will fall apart."
Long's work is diverse, including live-action films and animations, and he is fond of using claymation as a medium. Claymation, a form of stopmotion animation, involves sculpted elements that the animator manipulates before recording each pose as a photo. It can take many hours to produce enough images to create even the briefest sequence.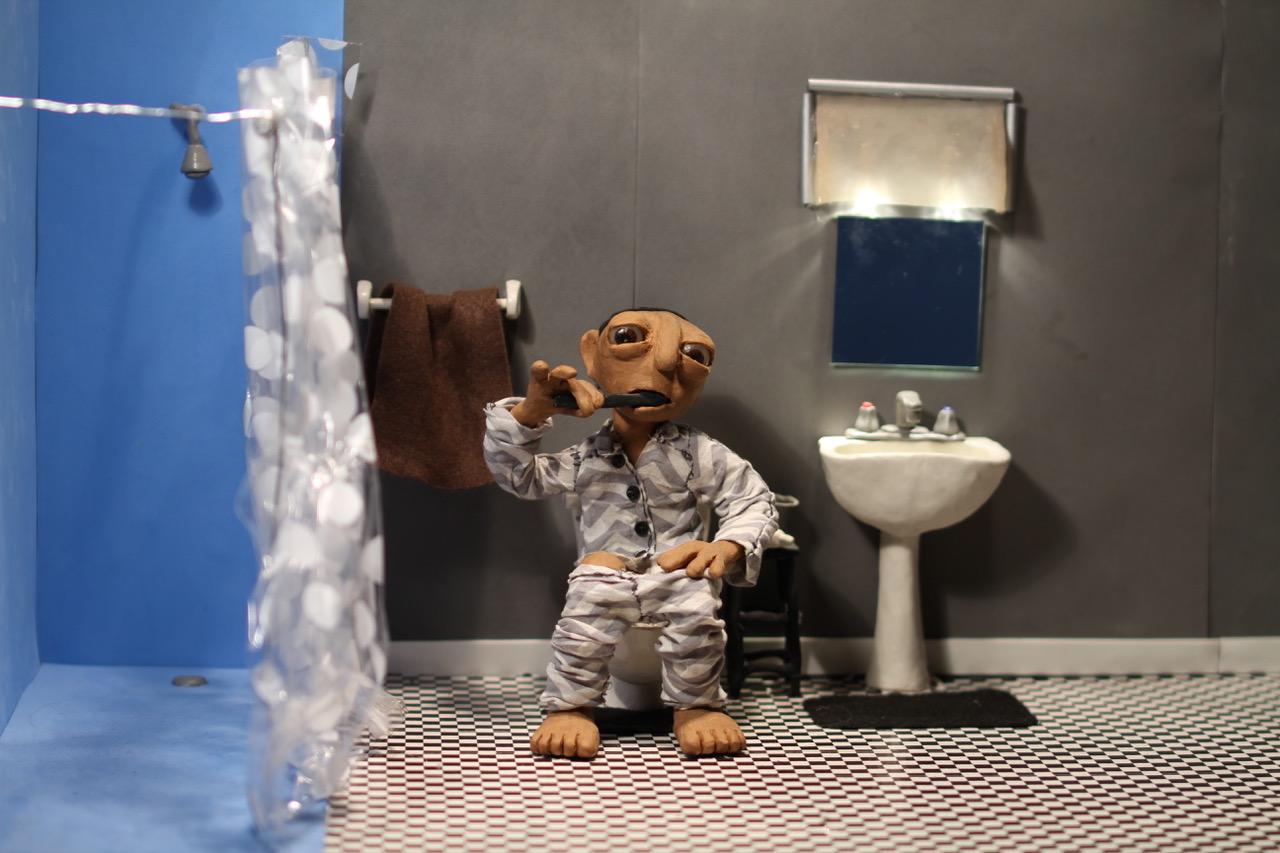 "It is incredibly slow going," says Long, "especially since I always tend to make things as complicated as possible. I rarely do more than one shot in a day, and I breeze through podcasts, music, shows. It's very meditative in a way, but it's nice to have something on in the background."
The unrefined look that sometimes accompanies claymation suits Long's visual style as well.
"To put it simply, I love the flawed handmade aesthetic. The animation industry is rampant with perfectly-polished lovely, sparkling films. I miss the grit and practical look of the animations I grew up on. Across the board, I love practical effects and creatures, so I guess that side of me is drawn to claymation. Plus, there is no more rewarding way to make a film than to spend 12 hours shooting a 10 second shot, then finally getting to see it in motion. Sounds silly, but it makes the nauseating tedium worth it."
Long's biggest project to date has been a feature length, live-action comedy/sci-fi film, "Point B," which was released in 2013 and was screened at festivals like the Salt Lake City Film Festival, Boston Science Fiction Film Festival, Little Rock Horror Picture Show, and the Seattle Truly Independent Film Festival. Currently, Long is creating animated shorts and a new live-action film that will be portfolio pieces for his thesis. He's especially focusing on the live-action film, which will be his largest production since "Point B."
His new film is tentatively titled "Mortal Coil," and will follow the character Tia, a young sex worker who loses her last baggie of heroin, and must confront the wrathful withdrawals from the grotesque "junky monster" she keeps in her closet. In addition to "Mortal Coil," Long is busy at work on "Dumplings," a claymation story that depicts a Beijing resident's unfortunate experience with a toxic dumpling. Long utilizes humor, the bizarre, and the unexpected throughout his works. He wants to leave his audiences wanting more.
"My greatest goal is to try to show them something they haven't seen before. We'll see if that's possible, but it's certainly something to strive for. That's probably why my movies are so weird..."
After the films for his thesis are completed, Long has no intention of taking a break. He is already in development for his next feature, as well as some "passion projects" on the horizon. You can check out Long's animation reel along with tons of other work on his website.
Photos courtsey of Conor Long.