The School of Dance will close its 2020/2021 season on April 22 – 24 with an evening of classical and contemporary ballet. Spring Utah Ballet will wow audiences with free live performances of excerpts from "Don Quixote," "Raymonda," and "Sleeping Beauty," beautifully restaged by faculty members Christopher Alloways-Ramsey and Justine Sheedy-Kramer. Additionally, two original pieces from the School of Dance's Melissa Bobick and Justine Sheedy-Kramer will premiere at Utah Ballet.
Justine Sheedy-Kramer has reimagined the Dream Scene from Act II of the beloved "Petipa" masterpiece, "Don Quixote." With modifications to accommodate current COVID 19 protocols, the scene follows the character Dulcinea as she visits the Dryad's enchanted garden. The audience will enjoy a gorgeous display of costume colors and full movement from the corps de ballet in this stunning excerpt of "Don Quixote."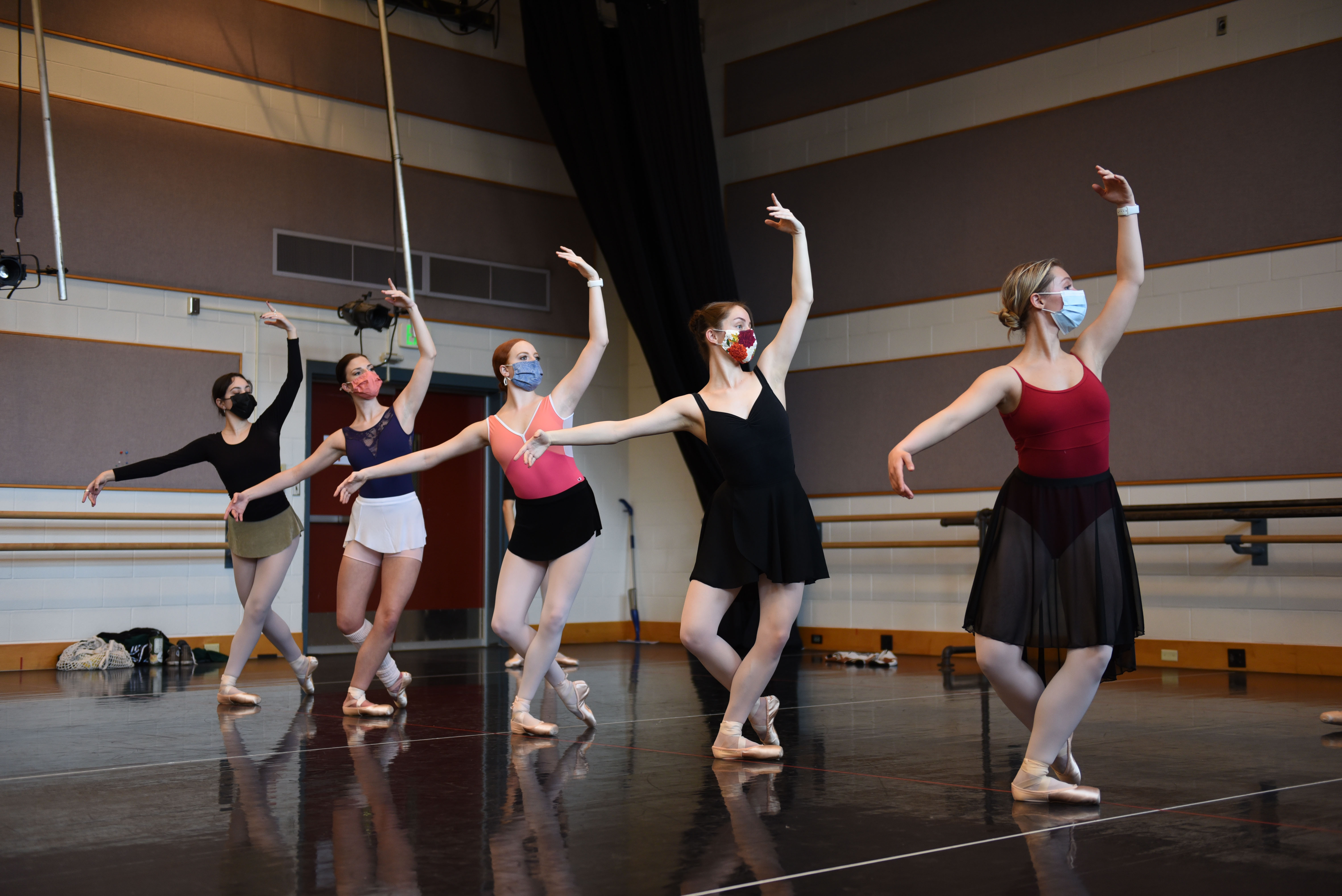 (Photo: Rick McCullough)The program includes Christopher Alloways-Ramsey's restaging of the technically challenging "Prologue Fairies" from "Sleeping Beauty."
"The 'Prologue Fairies' are an enormous task and a rite of passage for ballet artists worldwide," says Alloways-Ramsey. "'Sleeping Beauty' has become a staple for showcasing the mastery of classical technique for the various soloists and principals, and, too, the corps de ballet's architectural formations."
Additionally, Alloways-Ramsey has restaged excerpts of "Raymonda" on the Utah Ballet dancers. Set in Medieval 12th-century Europe during the Crusades, the ballet was choreographed by Marius Petipa, and the score composed by Alexander Glazunov. "Raymonda" is one of "Petipa's" final masterpieces created for the Imperial Theatre in 1898 and contains many of the identifiable themes from "Petipa's" canon: character dance, large corps de ballet sections, grand pas de deux and variations, with an explosive coda and finale.
"For these excerpts, I have taken variations from each of the three acts of 'Raymonda' to create a small suite of dances," says Alloways-Ramsey. "Please note that under current COVID protocols, all pas de deux have either been replaced with new choreography or taken out of our performance."
Utah Ballet audiences will enjoy original choreography from School of Dance faculty member, Melissa Bobick. "Press Against the Glass" was created for and in collaboration with the Senior Ballet Majors of the School of Dance.
"Taking inspiration from conversations and personal thoughts shared, this work is a response to the visceral feelings that we each have in important transitional moments in our lives," says Bobick. "These dancers, on the precipice of graduation and with the addition of anxiety felt from uncertain times, reflected on the commonality and individuality of this moment in their lives. They have shared so much together in the past four years but soon their paths will diverge. As we each press our face to the glass to see what is out there and what might lie before us, we can take courage from those around us as we step into an uncertain future."
Justine Sheedy-Kramer presents her original piece, "Intermission," a meditation of the impact of the pandemic on performance spaces, preparations, and artistic collaborations. "Intermission" was created in partnership with the University of Utah School of Music, and was filmed in David Gardner Hall, accompanied by recordings from the Utah Campus Symphony.
"I reached out to Dr. Robert Baldwin to inquire about performance activities in the School of Music this semester," says Sheedy-Kramer. "There were several recording sessions planned, including George Gershwin's 'Lullaby' and Dmitri Shostakovich's 'Waltz No. 2,' which stood out together as a metaphor for the current pause and future renewal," says Sheedy-Kramer. While these dancers and musicians must perform apart for now, the intermission will be over soon for artists across the world, and we can celebrate a return to the stage together. I appreciate the opportunity to collaborate across departments and I am especially grateful to the School of Music for sharing their artistic and spatial resources."
In an effort to allow as many people into the audience as possible, The School of Dance is live-streaming the work at no cost. We are excited to share the amazing talents of our students and choreographers. Tune in to Utah Ballet at dance.utah/edu/virtualshows
Showtimes are April 22 at 5:30 p.m., April 23 at 7:30 p.m., and April 24 at 2:00 p.m. & 7:30 p.m.