By April Goddard

Carmen Hall has seen over the past two years teaching in the School of Music's Piano Outreach Program (UPOP) that each of her students gains something slightly different from learning piano.
"You're not just there to teach notes," Carmen explains.
For 20+ years, thousands of students from Salt Lake School District low-income elementary schools have taken free after-school piano lessons from U graduate piano instructors. Then the COVID-19 pandemic hit.

As K-12 and university students moved to online learning overnight, UPOP piano labs went silent. Children lost 10 weeks of lessons and the reward of year-end recitals in David P. Gardner Hall's soaring performance spaces.

Once it seemed clear that Salt Lake public schools would remain online for fall, UPOP director Mio Cowden crafted a plan to resume. U instructors would give one-on-one private lessons to students on Zoom.
With Covid-19 exacerbating already existing educational inequalities, the chance for children to keep studying piano seemed more critical than ever. But UPOP would need to buy inexpensive keyboards to loan to children without a piano at home.

"I am a very firm believer that the arts reach the whole child, providing opportunities to learn and grow, which directly impacts their academics," says John Kelly, principal of Washington Elementary. "It's just such an amazing opportunity for our kids."
Carmen, a DMA candidate in piano performance, sees that some of the children she teaches need an emotional outlet. Others benefit from building good habits. Some appreciate "a soft place to land" among friends.

And then she has students like Ben, who light up while studying music. "He's got so much spunk," says Carmen.

A second grader, Ben started taking UPOP lessons at Washington Elementary in winter 2020. His parents bought him a keyboard because of his dedication to practicing.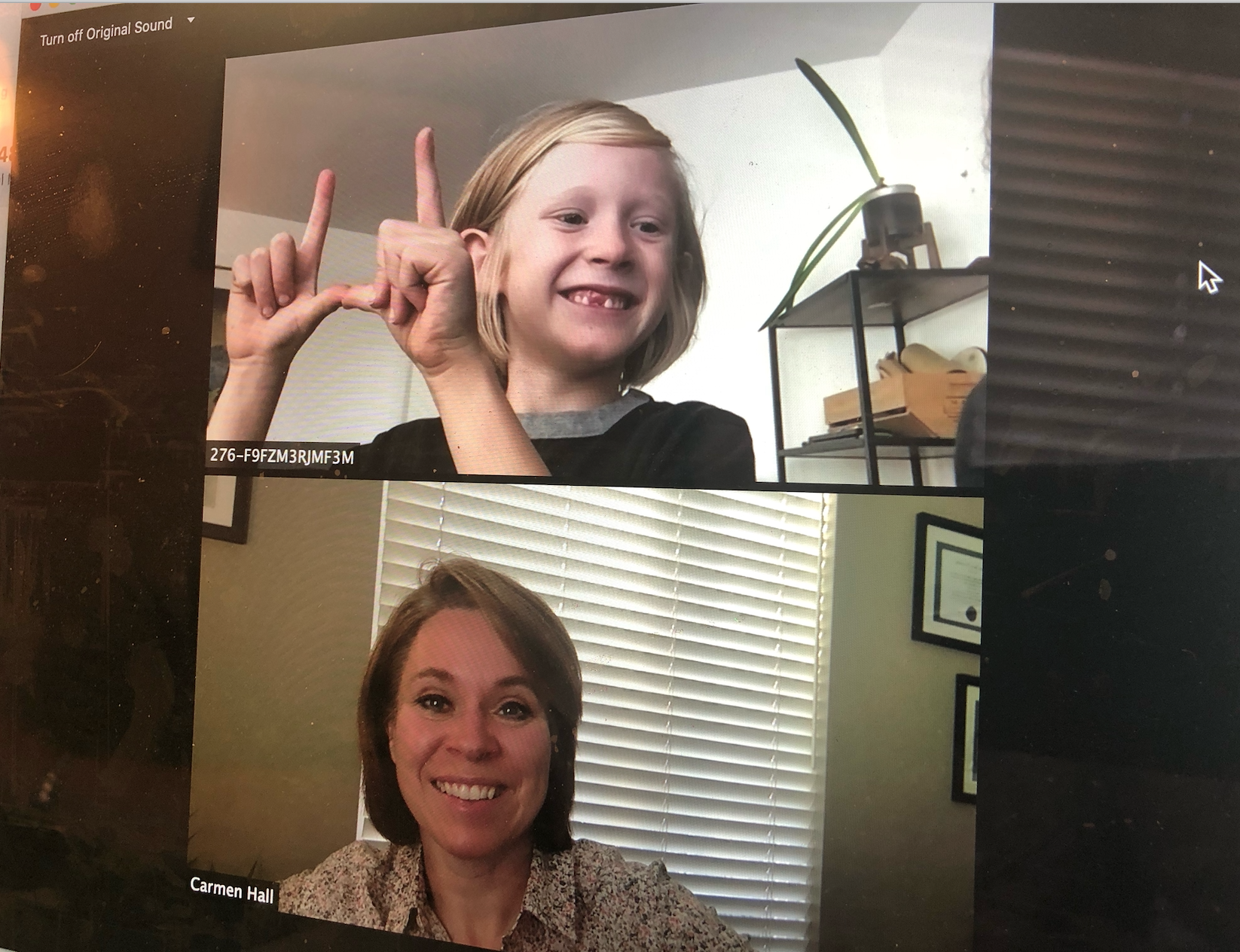 Carmen Hall and student Ben in a zoom lesson
"He's excited to learn," explains mom Liz Gleason. "He's making connections with the music around him. It has opened up this world of creativity."
Carmen finds igniting a love of music in students like Ben deeply rewarding. In under six months, Ben has learned to play songs and read music. He says he wants to become "a piano person." His UPOP lessons add richness to his life, and his family's.

While Ben misses learning piano in person, he looks forward to his weekly Zoom lessons with Miss Carmen. "She's truly a wonderful teacher. She's kind, patient and warm and uses terminology he understands," says Liz.
Without UPOP, most of the students at the four Title 1 elementary schools the program serves couldn't take music lessons.
You can help us purchase inexpensive keyboards so more children can take piano lessons online during COVID-19 with UPOP. Find out more here.