For many, including U Theatre's Laurel Morgan, Shakespeare and "The Tempest" feel like old friends.

"I did the log scene with Miranda and Ferdinand in a high school competition!" exclaimed Morgan, referring to a well-loved section of the play—Act III, Scene 1, to be exact. A fourth year student in the Department of Theatre, Morgan plays Ariel in  the department's production of 'The Tempest' that opens this weekend  and runs through Nov 19. 

"It was exciting and so playful, and both of those characters are so naive and curious. I was excited to revisit the production in my fourth year of college, after seven years," she said. 
Fellow fourth year student and assistant director Camden Barrett related a similar experience. "I also did the log scene! I feel like that was one of my first experiences doing a scene from Shakespeare with my peers…I look back on that as one of the moments that ignited that love for Shakespeare." 
"Theater offers a shared opportunity to communicate emotions and feelings. I think what's so beautiful about 'The Tempest' is it's about forgiveness. It's about finding compassion in people when it's hard. It's about taking time to heal."

Camden Barrett, assistant director
Director Melinda Pfundstein has had over 25 years of formal Shakespeare training and is a long-time member of the acting and directing team of Utah Shakespeare Festival. It is surprising –– and perhaps serendipitous –– that this experience with the U Theatre cast is her first with the famed play.
"I feel really lucky to do [The Tempest] in this environment with such a supportive program and in a place where all of my 'Tempest' dreams could come true –– not just because of the world that I was interested in creating, but in the devised aspects I feel are so woven into the fabric of the story," Pfundstein said. "This cast, and these artists have been yes all the way."

U Theatre student Kirsten Henriquez plays Prospera, a powerful noblewoman betrayed by her own family, now living in exile with her daughter Miranda. "There were more layers of her that were discovered throughout the process," Henriquez reflected. "I think I focused a lot on the themes of, at least in the beginning, power and the misuse of power. Later on, she discovers her own humanity, I would say." Henriquez allowed this process of discovery to happen naturally: "Prospera takes her time trying to find [forgiveness] in the end, and I took my time to find that in the end for Prospera as well as an actor."
For Laurel Morgan, the show's lessons have bled into life.
"I feel like 'The Tempest' specifically is a show that has kept me curious about how we are all the same," she said. "I think it's so easy in life and in art to focus on how we are different, but from Caliban, who's seen as the bad servant, [to] Ariel, the fairy –– how do these otherworldly creatures connect and feel in the same way as a human? All of the ways that, instead of trying to be different, how can we look at each other and see ourselves reflected back?"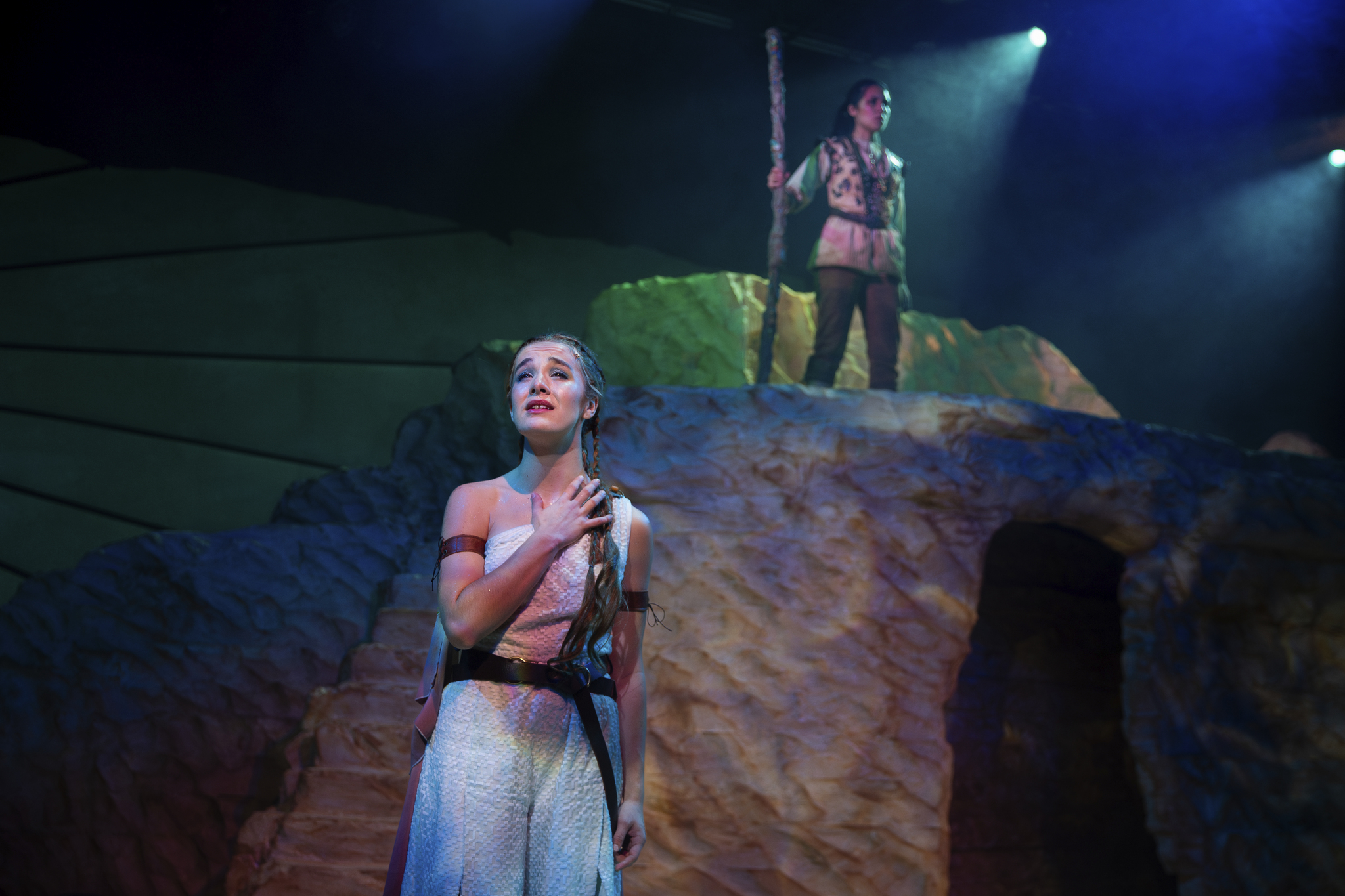 Laurel Morgan and Kirsten Henriquez in "The Tempest" | Photo Todd Collins
The themes of forgiveness, evolution, and transformation are carried not only in the performances but in scenic, costume, and sound design as well. One prominent motif is seaglass: previously used glass that has been discarded and given a new shape by the ocean.
"Early on, I knew I wanted to dig into the generational habits and what was being passed on to Miranda and the next generation, and what was being burned off or healed," Pfundstein explained. "[Seaglass] is known to wash up on the shore, smoothed by the ocean, and then becomes this beautiful symbol of transformation. And then the lore around it is that when you wear it, it breaks when it's been used up."
Scenic designer Kyle Becker, U Theatre's technical director, found and incorporated imagery of rising strata. Brenda Van der Wiel, costume designer, worked seaglass into the costume pieces. Props master Arika Schockmel led students to build seaglass lights that immerse the audience in the sea, then spill onto the stage. 
"It's just magical. Just from word 'go,' the whole team has been at their creative best," Pfundstein said.

The cast and crew have found countless modern lessons in the well-known play, and urge the campus community to discover — or rediscover — "The Tempest" through this production.
"With every production we see, we always take a message for ourselves –– we walk away with a feeling," Henriquez said. "I think some of those for 'The Tempest' could be how to seek for connection, and how to do the inner work in order to reach for each other."
Camden Barrett echoed the sentiment.

"I think it's hard being a human right now in a really contentious world. I think as students too, it's hard to know what to do with those hard feelings and speak about them when our bodies always feel in conflict with the conflict in the world. Theatre offers a shared opportunity to communicate emotions and feelings. I think what's so beautiful about 'The Tempest' is it's about forgiveness. It's about finding compassion in people when it's hard. It's about taking time to heal."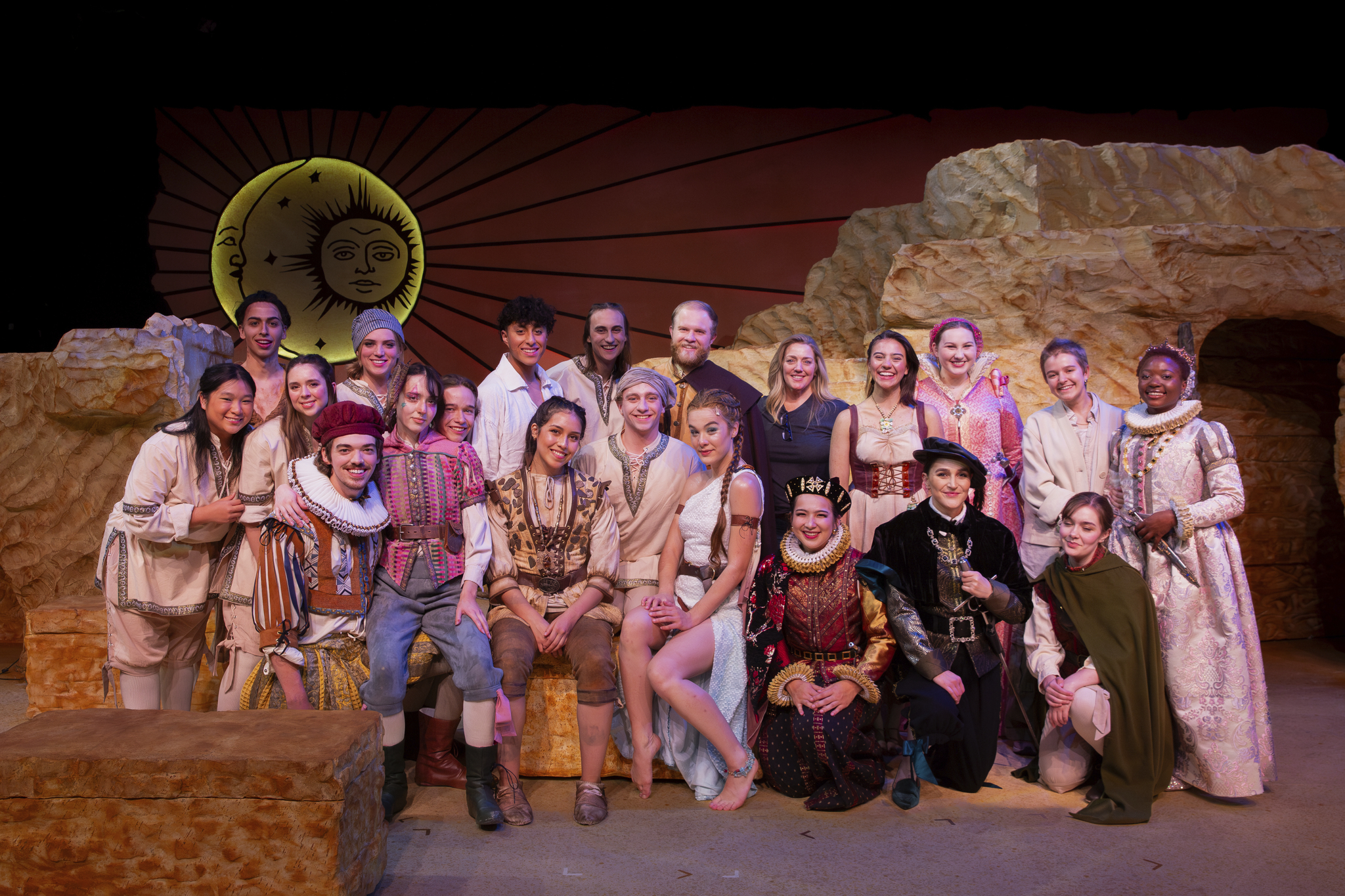 Cast of U Theatre's "The Tempest" | Photo Todd Collins
Friday, 11/10 @ 7:30 PM
Saturday, 11/11 @ 2 PM
Saturday, 11/11 @ 7:30 PM
Sunday, 11/12 @ 2 PM
Thursday, 11/16 @ 7:30 PM
Friday, 11/17 @ 7:30 PM*
Saturday, 11/18 @ 2 PM**
Saturday, 11/18 @ 7:30 PM
Sunday, 11/19 @ 2 PM
*ASL Interpreted performance and Audience Talkback
** Sensory-Friendly matinee

U Students free with Arts Pass!