The WA! Four Corners Tour is a powerful exchange of culture and music, highlighting six extraordinary Japanese musicians in performances across the Mountain West. Supported by a grant from the Council of Dee Fellows at the University of Utah, and led by School of Music Professor Kirstin Chavez in partnership with Assistant Professor Ashton Lazarus from the Department of World Languages & Cultures in the College of Humanities, the tour will culminate this week with multiple interdisciplinary campus presentations and a special free, public concert in Thompson Chamber Music Hall on Nov 8 at 7:30p.
The project has been a long-time coming –– a story of chance meetings, lasting connections, and a mutual passion for music as a universal language.
The connection first began in 2004 when, singing the title role in "Carmen" (her signature role) in China, Kirstin Chavez met musician Yuka Munehisa through mutual friends, and they hit it off instantly.
Years later in 2011, "Carmen" brought Chavez touring once more, this time to Tokyo. Yuka brought her mother, Kayoko, to the performance at the opera house. Afterward, Kayoko brought Chavez home to her native state of Yamaguchi, where she has directed the Yamaguchi Music Academy for many years, training young Japanese children in music. While there, Chavez had the chance to perform for school children, an experience that she says changed her life.
"It was one of the first opportunities for me to sing up close and personal," she explained. "I did several of the pieces just walking in and amongst the children who were seated on the floor. I realized how powerful it was to sing close to people –– to not have the separation of being on stage where there's an orchestra in between us, and you're seated at the back of the house. When you don't have that distance, the effect is immediate and profound."
Plans for future collaboration were not far behind that Tokyo trip.
"We long dreamed of my coming back to Japan, and we finally managed it with some grant support from the University of Utah for the summer of 2020," Chavez recalled. Of course, plans in 2020 were postponed for several seasons. In summer of 2022, Chavez traveled back with her production "Carmen Inside Out." She and her friends were sure to take the opportunity to include a tour of school performances in the region. During the trip, they started to think about a possible tour in the U.S. to share Japanese musical traditions in the same way Chavez had shared her craft with the local community.
At this point, Chavez brought Qiao Zheng Goh, a pianist from Malaysia who had toured with her, in on the planning. Zheng and her husband had recently relocated to Phoenix, AZ and had connections to the music community there. Along with Chavez connections to Salt Lake City and the University of Utah, they felt confident they could devise a tour that would feature singing, trumpet, piano, and koto – a 13-string traditional Japanese instrument.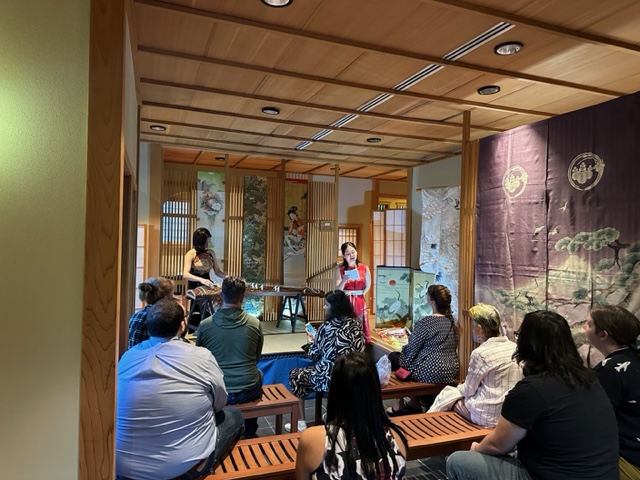 The tour of school visits and performances across the four corners, including an engagement at the Japanese Friendship Garden in Phoenix, culminates this week at the University of Utah where the group will speak to all School of Music students, as well as students studying Japanese in the Department of World Languages & Cultures. They will then crown the trip with a concert Wednesday evening (Nov. 8).
Included in the program is a special world premiere commissioned specifically for the occasion, written by a composer and long-time friend of Yuka, Yasuzumi Tokubi, based in Tokyo. The is composition in four movements, each based on a traditional Japanese folk song. Chavez invited 14 vocal performance students in the U School of Music to perform the piece alongside the touring group.
I conducted three different rehearsals with them during their opera workshop class," Chavez explained. "We've been working on learning how to sing in Japanese, something we are never called upon to do as classical musicians, which is very unfortunate because it's a beautiful language."
Fortunately, adjunct assistant professor Dr. Haruhito Miyagi was able to help Chavez and the students understand the deeper context of the language in order to better enter into the piece. Fittingly, Miyagi's choral arrangement of the famous "Sakura, Sakura" will also make its world premiere in the program.

For Chavez, the opportunity to share culture through music is core to deeply understanding humanity.
"Sharing with my students, and as many people as I possibly can, the value of other cultures, knowing them, being willing to see them, to listen, to imagine –– all of that is very important," she said. "But also, through the help of music, it becomes so much easier to bridge the gaps, I believe. Thankfully I have dear friends who think as I do. And they came all this way to help me show it."