A beloved interdisciplinary tradition is alive once more in the University of Utah School of Music October 26 and 27, just in time for Halloween.

"Nightmares & Visions," the annual haunted orchestra concert, features the Utah Philharmonia, choreographers and dancers from the School of Dance, and young students from U Music's Preparatory Division. The all-ages event gives audiences the chance to celebrate the spooky season with the arts.
"This year's theme being 'Nightmares and Visions,' we have lots of eeriness to offer, with scores ranging from John Williams to Danny Elman," Yasmine Abuelhija, an undergraduate student studying cello, said. "Getting to play the music that I grew up hearing in Halloween movies is a feeling of excitement that never really goes away. These concerts are never just a performance, but more so an experience, which is what gets younger kids engaged and excited about our music."
Two of the program's selections, "L'Histoire du Soldat" by Igor Stravinsky and "Conga del Fuego Nuevo" by Arturo Marquez, feature original choreography.
Something unique about this collaboration is that everyone involved comes from all kinds of different departments and backgrounds. This concert is an opportunity for all of us to unite our different art forms into one coherent experience that can be enjoyed by all."

-Yasmine Abuelhija, cellist
Student choreographer Kendall MacMillan, studying ballet and film, dove headfirst into the Stravinsky score. "Stravinsky is such a special composer and it's also really hard to count. I just took the opportunity to forget all the boundaries that we've learned as dancers, and choreographers, and artists, in general, and just break the rules and just move," she explained.
Exchange Student in ballet from Universidad de las Américas Puebla, Anette Garcia Fuentes, sought inspiration from Folklorico in her choreography for "Conga del Fuego Nuevo."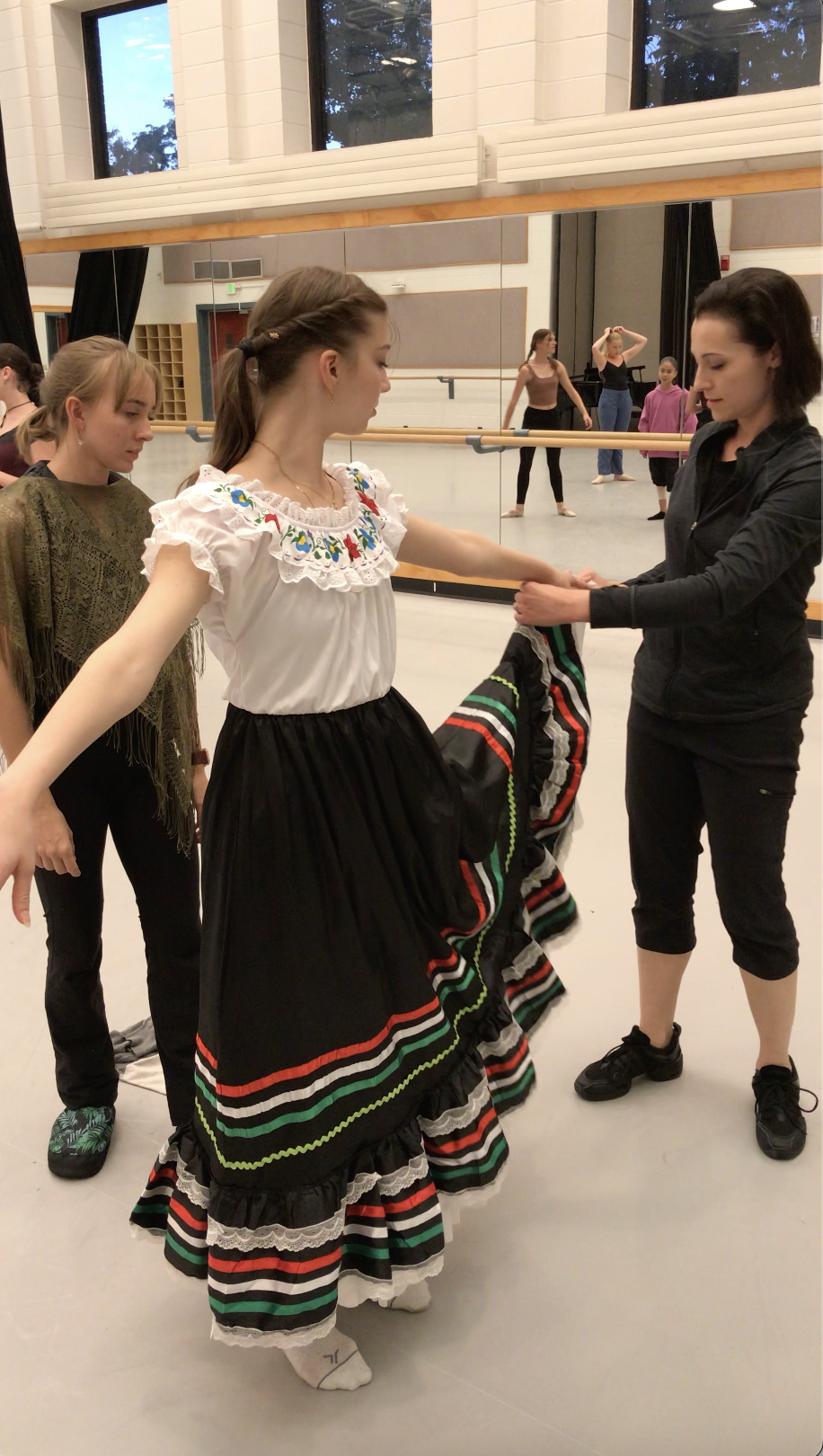 School of Dance, Adjunct Associate Professor, Justine Sheedy-Kramer, helps students try on their Folklorico-inspired costumes."I'm trying to show the combination between the music and the beautiful movement of the arms and skirts," she said. "Live music allows dancers to feel every single note...Once [the dancers] get used to it, they can start hearing the rhythm and that allows them to not just think about the timing or fixate on specific counts."
Each artist of a different discipline must be confident in their role in order for the collaboration to come together.
"Part of our responsibility as musicians is to prepare our individual parts beforehand, so that our rehearsal time can be used to piece the ensemble together," Yasmine Abuelhija explained. "As we approach concert week, our priority shifts towards putting all the finalized moving parts (dance, music, preparatory students) together. It's a pretty complex process on behalf of our conductor, but he always finds a way to make it happen. These concerts really are magic."
Costumes are the final crucial element, fully embraced by company and audience alike. Conductor Dr. Robert Baldwin even gives young audience members a chance to join in a costume parade, making them a part of the celebration.

"Getting to collaborate with the School of Dance and Preparatory division is such a treat for us, Abuelhija said. "Something unique about this collaboration is that everyone involved comes from all kinds of different departments and backgrounds. This concert is an opportunity for all of us to unite our different art forms into one coherent experience that can be enjoyed by all."