By Emeri Fetzer
Sally and Kenneth Burbidge never missed a Utah game. Donning their crimson, they'd show up come rain or shine, home or away. The truest of fans.
When halftime would arrive, many fans would take the moment to stretch their legs and grab a bite. Not Sally.
Sally adored the marching band above all other parts of the game. She'd savor every tune, cheering along with each note. Her enthusiasm was contagious. Family and friends knew they were not allowed to leave while the band was on the field. Through her, an entire circle of Utah marching band loyalists grew.

A quintessential Utah woman to her core, Sally always wanted the band to flourish, but they didn't always have adequate resources. Back before the sharp appearance of today's Marching Utes, the band wore uniforms that had, to Sally, a certain pirate-like quality: black bell bottoms, ruffled shirts, and feathered hats. She felt strongly that the uniforms didn't adequately represent the band's excellence. She phoned her friend Ted Capener to see what could be done. Capener asked her to put her money behind her vision. Of course, she stepped up to the plate to sponsor an upgrade.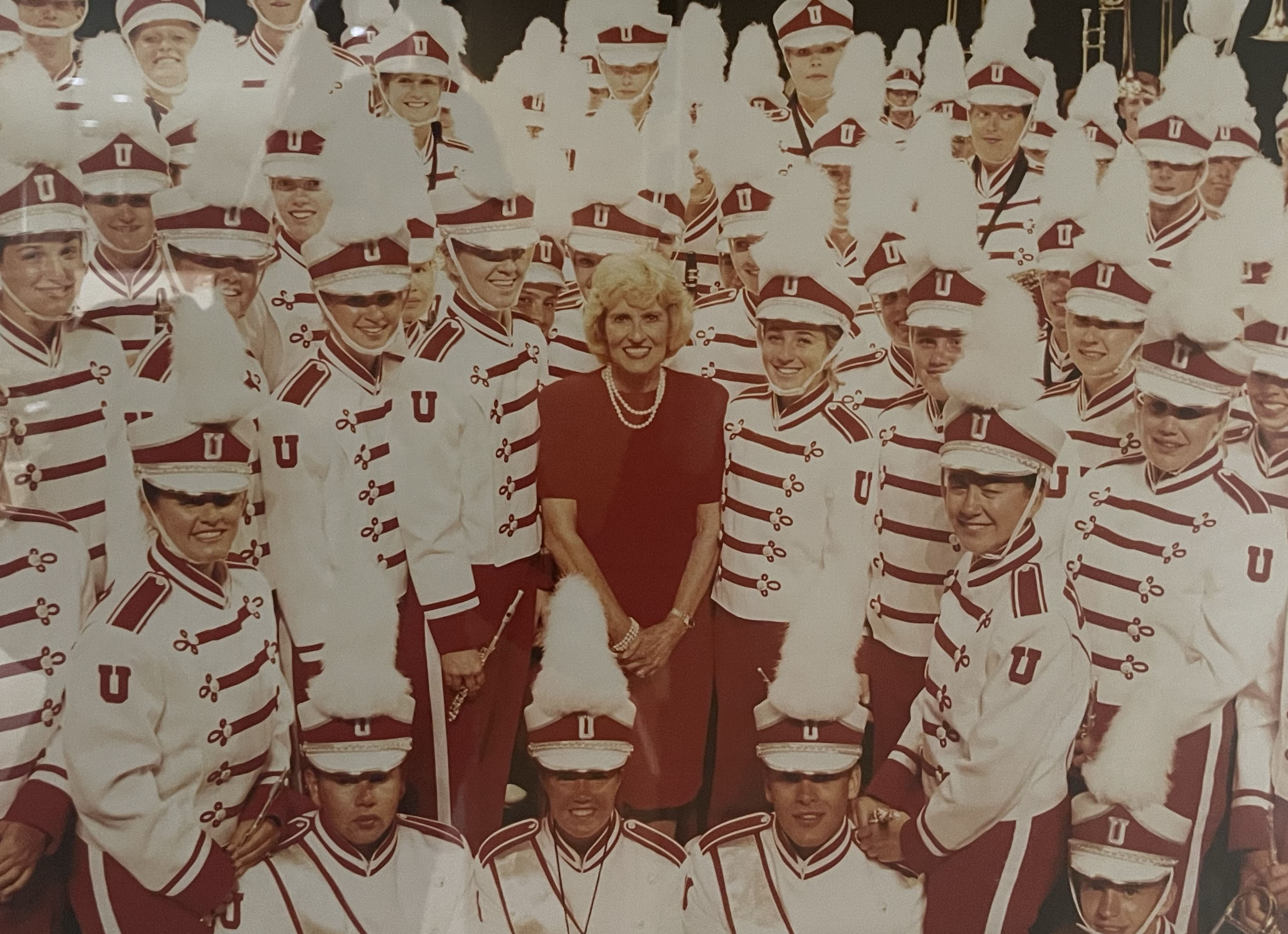 It was not the first gift directed to her alma mater's development, nor the last, by any means. But her connection to the band was special, and her commitment was tangible.
"Fairy Godmother" to the band ever since that moment, she would routinely show up to practice, children –– and later grandchildren –– in tow, bearing baskets full of cookies or doughnuts for band members. She'd show up to their summer retreats and hand out pins. She supported students with numerous scholarships. She led them in their signature U formation on the field. She knew them each by name, and they her.
The band was one piece in a lifelong tapestry of Sally's community service and philanthropy.
Her board and committee service included Ballet West, Kingsbury Hall, Libby Gardner Hall, U Alumni, Red Butte Gardens, University of Utah Board of Trustees, Fine Arts Advisory Board, and more. Along with her late husband Kenneth, Sally led the completion of the Kenneth P. Burbidge Jr. Family Athletics Academic Center and the establishment of the Kenneth P. Burbidge Presidential Endowed Chair in Pulmonary Medicine and Lung Transplantation. She was the recipient of many honors including the University of Utah Distinguished Alumni Award, and the Camerata Award in the School of Music.

Originally from Ogden, Sally met Kenneth at the U while studying education. She was a proud member of Pi Beta Phi sorority, while he was a Sigma Nu studying business. To them, family and service were paramount.

Their Utah pride was not lost on the next generation. Family photos were often taken in matching Utah red. Sometimes they wore shirts branded for the family's most beloved causes, such as the Lung Transplant Center, where Kenneth was one of the earliest recipients. Deeply moved by his own struggle, Kenneth was determined the U would be equipped to lead in modern medicine. After his passing in 1998, Sally and her children saw to it that his dreams were achieved.
Later, in 2001, Sally married Burt Cassity and enjoyed over six years of travel, service, and happy memories with her and Burt's family.
The week of Sally's unexpected passing in 2007, she had helped organize a band reunion and was all set to march with them at the Homecoming game. When she went to the hospital for surgery, she reminded her family and doctors alike that she simply couldn't be there long because she needed to go be with the band. The following week, dressed in their best uniforms as far as the eye could see, the Marching Utes delivered a final salute and tribute to Sally at her memorial.
Her family knew without a doubt their "gram gram," would want them to continue to ensure that the future of the Marching Utes remained bright, bold, and full of pride. To honor her, the Burbidge family continues to spearhead funding efforts. In fact, just last month, they matched gifts in a campaign to support new instruments the band urgently needs.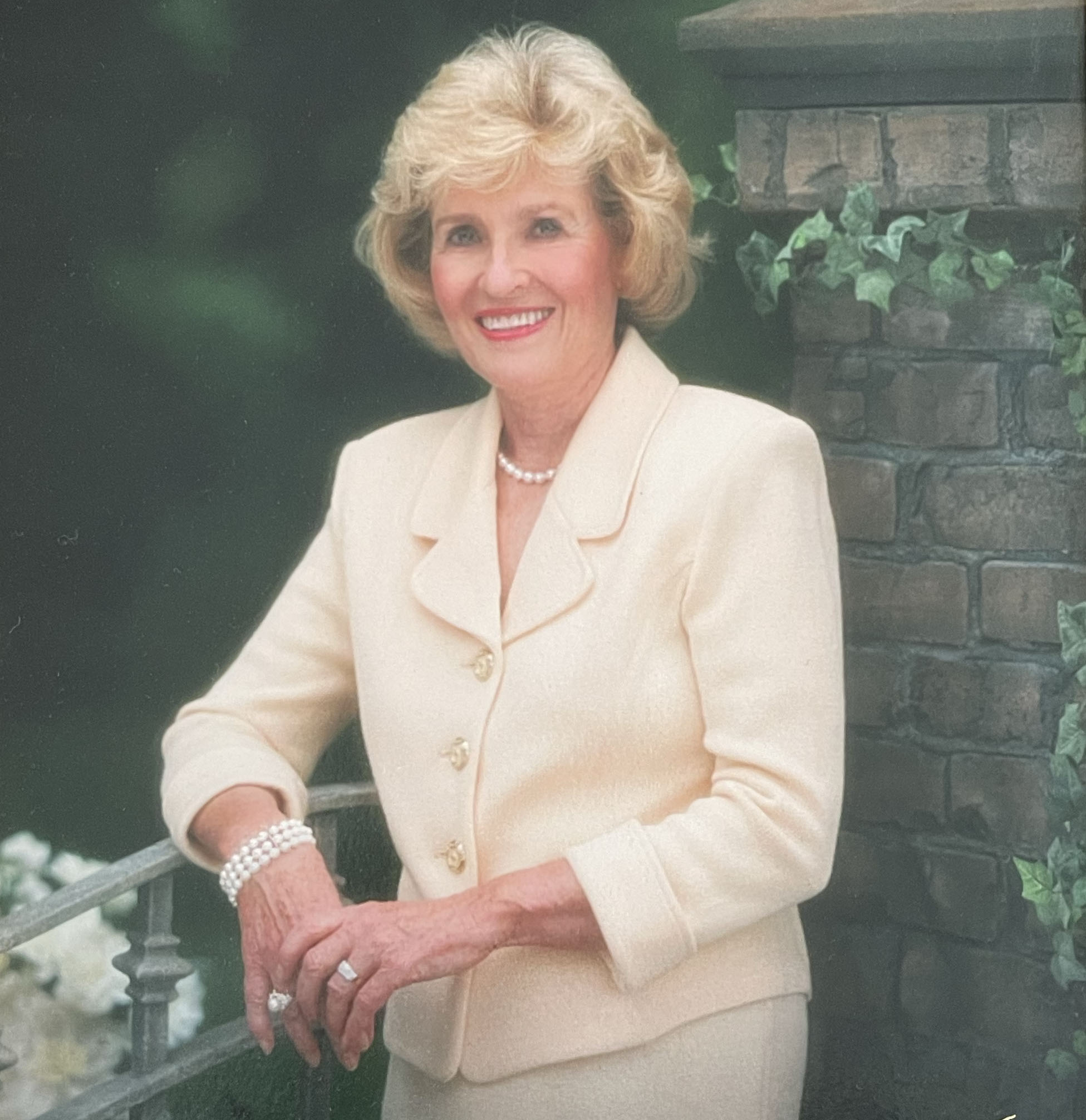 Sally Burbidge | Image courtesy Burbidge family
As each new generation of Marching Utes rushes into the rehearsal hall named in Sally's honor, to begin a new season, they can recall the contributions and love that forever shifted their trajectory.
Today, Sally's family still gathers to cheer on the Utes, come rain or shine, just as they always did. Alumni all –– including Sally's three children, as well as her 15 grandchildren –– they represent an unparalleled legacy of love.
And you can bet they never miss the band.