Peter and Cathie Meldrum (Photo courtesy Cathie Meldrum)
A community cannot thrive without the arts.
For Peter (BCH '70, MBA '74) and Cathie Meldrum (BS '69), this was and remains an enduring conviction — one that drives extraordinary commitment to arts and culture in Utah.
"My dad really believed that wherever you lived and worked — you should help make that community vibrant. The arts, whether the symphony, ballet, or museums, enrich the community and make people want to stay," son Chris Meldrum explained.
Pete was the co-founder and CEO of Myriad Genetics in Salt Lake City. Before his passing in 2018, he lent his time and brilliance to many local arts organizations including Pioneer Theatre Company, Ballet West, and the U College of Fine Arts Advisory Board.
His advocacy for local arts programming extended to his own company. Knowing that employees of Myriad Genetics would benefit from experiencing Utah arts, he established a company cost-sharing program that would allow families to regularly access performances.

The Meldrums established the Grace Durkee Meldrum Endowed Scholarship in the Department of Art & Art History in honor of Pete's mother who was an avid painter. They also made possible Pioneer Theatre Company's Meldrum House, a dedicated space for housing acclaimed guest actors, directors, and designers who travel to collaborate with the company. Arts & Culture remain one of the three core pillars of the Meldrum Foundation's priorities, alongside Education and Humanitarian Aid.
One gift in particular will change the lives of students pursuing theatre at the U.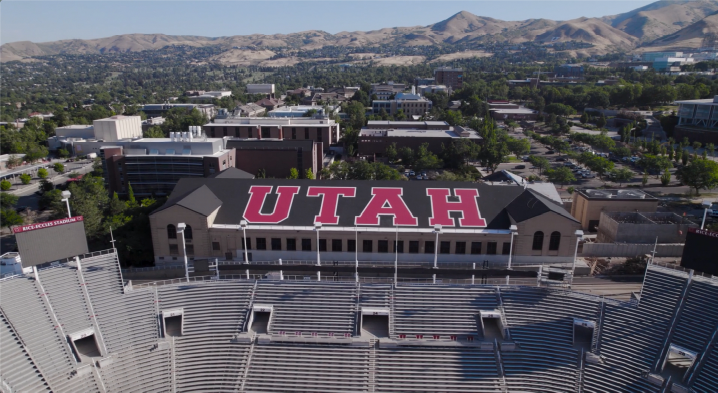 Aerial photo of the Einar Nielsen Fieldhouse. (Photo: University Marketing & Communications)
When an opportunity arose to build a modern, 375-seat theatre within the renovation of the historic Einar Nielsen Fieldhouse, Pete jumped in with both feet. The vision for the project emerged from a pressing need for a dedicated space for student productions, specifically in the Department of Theatre's growing Musical Theatre Program. To be shared with Pioneer Theatre Company, the Meldrum Theatre also allows for deeper collaboration between students and working professionals.
The lead $4.5M gift from the Meldrum Foundation allowed the College of Fine Arts to begin to dream of the possibilities of the new proscenium theatre. And now, it is set for completion at the end of this year.
It is icing on the cake that the Meldrum Theatre will live within a beloved campus landmark, one that Cathie remembers fondly from her time at the U. From basketball games to drill team practice, both she and Pete made lasting memories in the Fieldhouse. Like so many, Cathie is grateful that the building will see a second life.
Because of the generosity and leadership of the Meldrums, students will rehearse, design, and perform without space limitations. But they aren't the only ones who will benefit. In the Meldrum Theatre, arts lovers statewide gain a beautiful new venue where they can enjoy quality productions. In short, the Meldrum family continues to work to make Utah a place people love to call home.
"We loved going to the theatre," Cathie Meldrum said. "We'd bring guests, and get tickets for family, who would also bring guests — and just like that, it spreads. There are so many places in our state to see the arts now. We are very hopeful the community will see the value in this project." ▪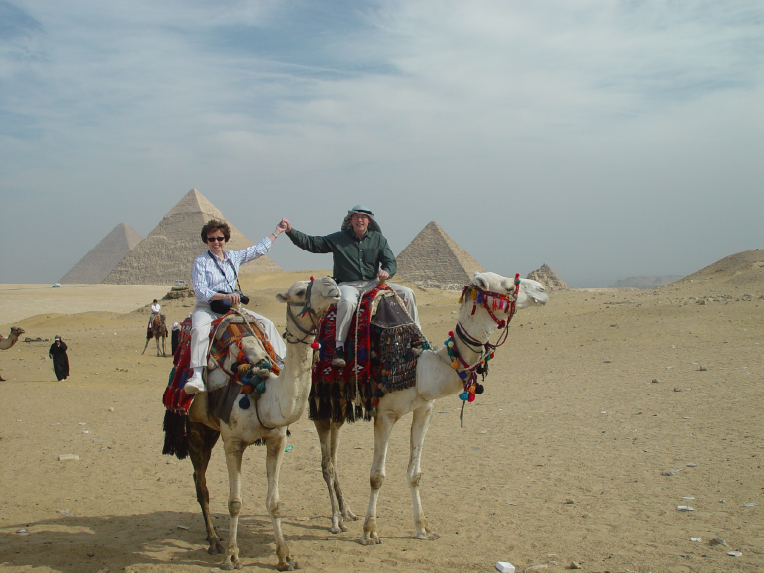 Peter and Cathie Meldrum (Photo courtesy Cathie Meldrum)