WRITTEN BY JULIA LYON
PHOTO NORA LANG

The world has come to the University of Utah School of Dance and it's transforming students' education.
With professors in the Ballet Program hailing from Argentina, South Korea, and other countries, students are learning from faculty who have trained and performed around the world. Many of the American professors have performed and researched internationally. Others have trained stateside with international dance experts. They all bring that experience and insight back to the classroom, helping to widen students' perspectives.
"When faculty members have the opportunity to work outside the University, it provides an enormous benefit for their students on campus," said Melissa Bobick, the Ballet Program Head. "The artistic, professional, and personal experiences they have abroad enrich their creative and academic perspectives in the classroom, enabling them to provide the students with in-depth knowledge about the field in which they hope to compete."
As a native of South Korea who studied in the U.S. and his home country, Jay Kim knows the benefit of working and studying outside of one's country and culture.
"It lets me look at the world with a different perspective," said Kim, who was a principal dancer with Universal Ballet Company in Seoul. The company was directed by a Russian and had a roster of 80 dancers from 16 countries.
Kim, now an assistant professor, will run the first-ever ballet intensive at the University of Utah Asia Campus in South Korea this summer.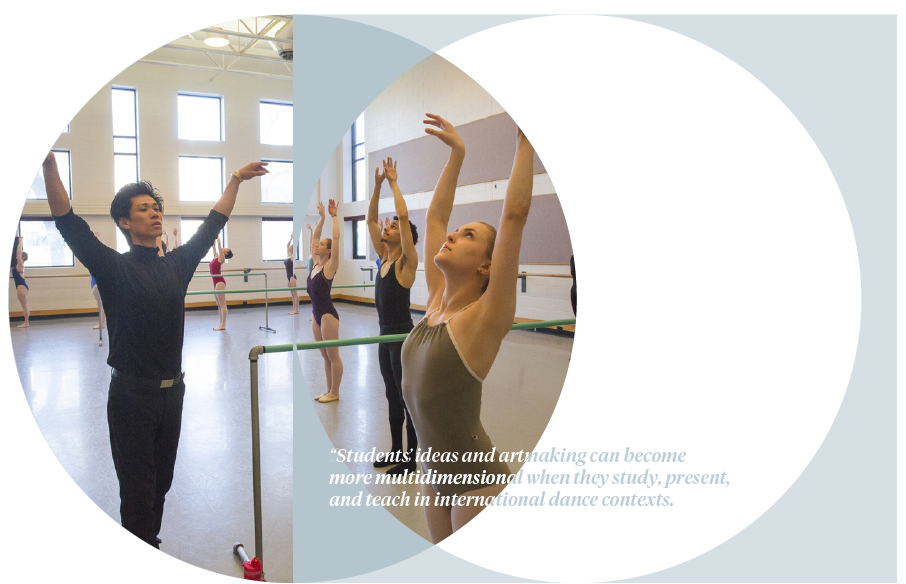 School of Dance Assistant Professor Jay Kim teaches a ballet class in the Marriott Center for Dance.
At least 50 dancers — a combination of American and international students — are expected to participate. Those may include students from China, Russia, South Korea, and Japan, as well.
"These international trips give our students more opportunities to become global citizens," said Kim, who performed in 14 countries and whose own choreography has been seen in Spain, Costa Rica, South Korea, and across the United States.
While travel gives students unique opportunities to see international performers first-hand, professors can provide that connection to the broader world by sharing their own life experiences.
During the decade that Assistant Professor Kate Mattingly spent periods living and studying in Europe, she discovered dancers experimenting with methods very different than their American counterparts. She uses her knowledge of European choreography, festivals, choreographers, and funding to shape her discussions with students about the state of dance.
"I share with students the conversations I had with artists who were part of the Sommerszene festival in Salzburg, Austria, in 2008, like choreographer William Forsythe and film director Thierry De Mey," she said. "We discuss how the different funding structures for the arts in Europe influence how dancers are treated and the risks that choreographers are encouraged to take."
While abroad, she saw dancers and choreography that are more difficult to see in the States, including Living Dance Studio based in China and Chandralekha Dance Company based in India.
Her newest research project has taken her to France to study "Meanwhile," created by Gaëtan Rusquet, a work that "challenges our ideas about humans being in control or determining the course of events."
"We are living in a moment in which 'ballet' means different things to different people," Mattingly said. "My time in Europe taught me that… there is more blurring of categories like 'ballet' and 'theater' and 'contemporary performance' overseas…I know that some of our ballet students will thrive in environments where they are encouraged to experiment and to question."
The interconnected nature of the dance world allows professors to glean knowledge from international choreographers — sometimes without leaving the United States.
Bobick's 2018 residency at the University of North Carolina School of the Arts allowed her to collaborate with faculty there and learn from Helen Pickett, a renowned contemporary ballet choreographer. Pickett danced in William Forsythe's Ballet Frankfurt in Germany for more than a decade.
"It gives me another perspective to draw upon when painting this picture of what choreography is and can be for students at the University of Utah," Bobick said.
Professors hope their work can help expand students' vision for their own future.
"Considering the current political climate in the world, having a sense of how other people think is vitally important to artists and students," said Satu Hummasti, originally from Helsinki, Finland, who is the Associate Director for Undergraduate Programs at the School of Dance. "Students' ideas and artmaking can become more multidimensional when they study, present, and teach in international dance contexts."
Professors can also be a living link to international choreographers' work.
Assistant Professor Pablo Piantino, who is originally from Argentina, met the Spanish choreographer Alejandro Cerrudo when he joined Hubbard Street Dance Chicago in 2005. After Piantino retired from dancing, Cerrudo asked him to re-stage his works on major companies across the U.S. and also in Germany.
He has to painstakingly learn all the parts so he can explain them in a way the new dancers can understand. At the University of Utah, he's often teaching Cerrudo's choreography, a process which helps inform Piantino's research.
Students are eager to learn from him. In 2017, Piantino had seven students in his repertory class. In 2019, he had 31.
"I get to teach students and I get to practice what works for them," said Piantino while in New York re-staging a Cerrudo work on Juilliard School students. "I'm giving them a professional environment so when they go out and audition for professional companies, they've had some experience in the re-staging process."
When Piantino danced with the San Francisco Ballet, he traveled to Iceland, Russia, and Spain, among other countries. Hubbard took him on trips to Italy, France, and all over the world.
Often while on tour, he would meet dancers from other companies and share different experiences such as ballet classes, performances, and even meals together.
"Those trips change the way you are as a human being and change who you are as an artist," he recalled.

School of Dance Associate Professor Satu Hummasti, teaching class. She will co-lead a group of students from both ballet and modern programs to Panama this summer as a part of Movement Exchange. They will be teaching at orphanages, the National Dance School in Panama, the University of Panama, and also taking classes there.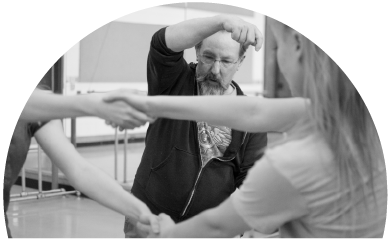 Piantino wishes more international students could come to the U, but knows the cost is often prohibitive. So, Utah students will have to continue to come to them — or learn from the increasingly diverse faculty.
Visiting professor Rick McCullough is encouraging School of Dance students to apply for a three-week dance intensive this summer in London, Project | CONNECT, where he will be on the faculty. Faculty include former dancers with Nederlands Dans Theater, Dance Theatre of Harlem, Compañía Nacional de Danza, National Ballet of Canada, and Staatsballett Berlin, among others.
Not only will students be able to learn from international choreographers, the weekly showcase will be like a mini job fair — giving students a chance to demonstrate their talent.
"They get to experience what dance culture is like in Europe," McCullough said.
But if they stay home in Utah, they'll still get a taste of how big the dance world can be.
Guest Artist, Rick McCullough working with students in the studio.