WRITTEN BY JULIA LYON
PHOTO EMILY TREASURE

Inside the tunnel, more than 150 students have their arms around each other as they prepare to run out on the field. They sway back and forth and slowly begin to cheer: U-T-A-H! Their voices grow louder. The chant speeds up. And they sprint out to the screams of more than 40,000 fans.
No, these aren't football players. These are the Marching Utes, whose loyalty to the University of Utah is as strong as any team's.
"It's the best thing that's happened in college for me," said Casey Overfield, a sophomore sousa-phone player.
The Marching Utes are the first sound many students hear when they arrive on campus and also the last. They play outside the President's Welcome at Kingsbury Hall and at commencement.
"We refer to it as the soundtrack to everybody's university experience," said Brian Sproul, Director of the marching band.
The friendships and memories the students create while making that music are Sproul's ultimate goal. While they share a love for music, most are not music majors.
"We have a place where students from all points of campus can come together and share the common love for the arts and the common love for the university," Sproul said. "I want them to forge friend-ships, professional connections, and have a musical experience they can carry with them for life."
It all starts before school even begins. At the end of summer, students attend two weeks of band camp where they practice both music and marching for eight hours a day, six days a week. They make friends quickly.
"It really helped me to transition from high school to college," said baritone player Raymond Hernandez. "I had this whole new support system I wouldn't have had before."
The marching band, which is a for-credit class, practices four days a week during the fall to prepare for seven home games, two or three away games and typically a Bowl game. Many of the same students participate in pep band throughout the year for sports ranging from basketball to lacrosse.
"It doesn't feel like a huge commitment for me because I'm enjoying every minute that I'm in band," said Overfield.
Marching band's power to bring together people of varying backgrounds mirrors the goal of President Ruth Watkins' growing "One U" movement on campus. Collaboration has always been key to the organization and coordination of the musicians as they rehearse, perform, travel, and represent the school across the country.
"It's been happening for years at the marching band," Sproul said. "We have a long-standing tradition of working together with so many varying entities on campus — it leads to collaborations, not just on the field but in the classroom and professionally beyond the university."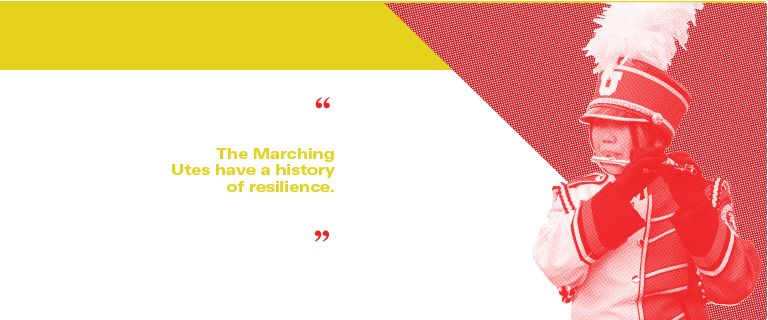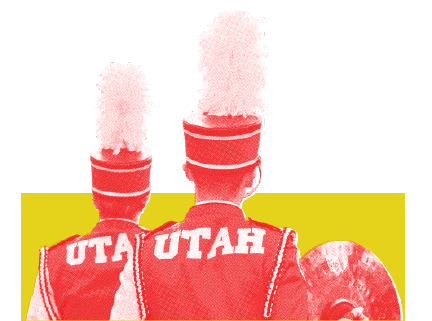 faces were really serious," said Adam Parker, who was in his high school marching band in a small town in Virginia. "If you look at us now, I don't think you're going to see a straight face on a single person. We dance all the time."
Now they sometimes swap out their heavy, wool uniforms for lighter apparel. It's allowed the students to loosen up — literally.
Though they aren't the largest band in the Pac-12, Parker, who's a senior and drum major says, "Our size is smaller, but our spirit and excitement level at every game rivals some of the biggest bands in the country."
And this isn't just the talk by students in leadership positions.
For Overfield, the sophomore, the band has helped her come into her own. The former Bay Area resident had played in her high school marching band, but during her first week of band camp she was scared. The camaraderie — "tuba players notoriously have a good time" — buoyed her and even helped her academically. Now she has more confidence in class.
At football games and pep rallies, marching band members can't hide.
"When you're wearing a tuba, people come up to you and talk to you," said the 20-year-old Strategic Communications major. "It's contributed to making me a more outgoing person in general."
Hernandez grew up around the west but finished high school in Smithfield, Utah, where he played in his school's marching band. A YouTube video of the spirited Marching Utes helped convince him that the University of Utah was the right choice.
Now a junior studying music education, the baritone player still gets nervous before the game.
"Once you're out on that field, it's no longer about you as a person — you're now a part of something much bigger than yourself," he said. "So my nerves go away, because I'm not nervous for me any more now. I'm performing with my best friend next to me or my best friend 10 feet away."
Football season is over, but planning for next fall has already begun. Student leaders are already talking about what worked, what didn't, and how to make the Marching Utes an even more memorable experience.
They know that a six-minute halftime show may take more than 18 hours to put together. Some pieces must be memorized. Older students will mentor freshmen as the band rushes toward a new football season.
These are students who succeed.
When they put on their Marching Utes attire, they know they are representing something much bigger than themselves. That connection doesn't go away.
Parker, the drum major and double major in Recreation Therapy and Parks, Recreation and Tourism, doesn't plan to pursue music as a career but he does plan to keep on playing with the Marching Utes even after graduation.
He knows he'll rejoin his section at Homecoming and in the alumni band. Because, after all, being a Marching Ute isn't just about joining a band.
"You're getting a family," he said.