WRITTEN BY MARINA GOMBERG
PHOTO COURTESY OF ANNE OSBORN
Anne Osborn is a University Distinguished Professor, Professor of Radiology and Imaging Sciences, and holds the University of Utah's William H. And Patricia W. Child Presidential Endowed Chair Honoring Pioneering Utah Women in Medicine.
She is a by all accounts a world-renowned medical professional. What may be less known, however, is that she's an avid appreciator and supporter of the arts.
Her love for all things creative began when she was a young child growing up in Culver, Indiana. Her parents took great care to expose her and her sister, Lucy, to literature, language, and the performing and visual arts.
From road trips to Chicago museums to their family's treasured annual visit to the American Ballet Theatre's touring production of "The Nutcracker," Osborn relished every chance she could get to experience art in its varied forms.
Well, except the piano lessons she was forced to take, but even now she's glad she did it.
"I can't imagine being illiterate in music," she said. "Understanding how to read the notations is what allows me to hear the music in my mind and helps me understand and appreciate it more deeply. I'm so grateful for that experience."
She remembers when she first heard a classical symphony. She was a freshman at Stanford and a woman down the hall was playing Dvorak's "New World Symphony" loudly enough for it to float down the hallway.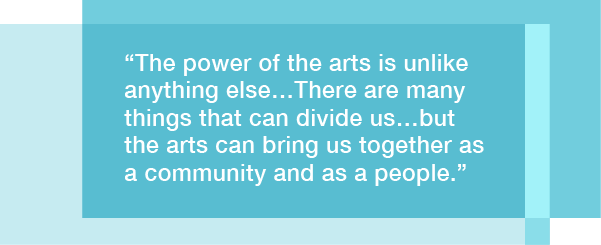 "I had to know what that was," she said. "It was one of the most beautiful things I had ever heard. And that was when I decided to go out and buy a used record player and I began collecting classical LP records."
While she's still a devoted fan of music and the performing arts, it is her connection to visual art that has been an interesting thread through her professional career. She remembers studying art history in college and being able to remember all the artists and their works from medieval art through the impressionist period.
"That time taught me a trust in my visual memory that has been key to success as a diagnostic radiologist. I can remember images I've seen in a journal article decades ago that discussed a rare disease and then make the diagnosis in a puzzling patient case," she said. "Art taught me that."
Imagery has always had a profound place in her mind, and it becomes easy to understand how she and her colleague, Ric Harnsberger (also a professor in radiology at the U) started Amirsys, an online radiology clinical decision support system and medical publishing company that produced what became internationally-renowned digital images of the human body.
"That's actually one of the things so unique about the University of Utah," she said referring to the ability to collaborate as medical professionals with other disciplines on the same campus. She's seen the partnerships, the interdisciplinary research, and the effects of those collaborations, and it is groundbreaking.
"The power of the arts is unlike anything else," she said. "There are many things that can divide us: politics, geography, economics, religion, whatever, but the arts can bring us together as a community and as a people. Some public schools cut back on arts because they're not considered core, and yet they are core — they go to the very heart of who we are and what we do as a people. We can find common ground in the arts and music we seem not to be able to find in many other ways. And for University of Utah students to have access to that — for free — is nothing short of amazing."
But one of her favorite things about the University of Utah is how the arts engage the broader community through outreach.
"We are the University of Utah, and we are the University for Utah — we are Utah's university. And that means all of Utah. Not just the Wasatch Front. I look forward to seeing our arts extend to every corner, nook and cranny of the state, and that's part of what drives my giving to the College of Fine Arts."
Osborn has been a longtime contributor to the College of Fine Arts and started the Raymond Tymas-Jones Endowed Scholarship in 2017. She has also provided for an endowed chair in Fine Arts in her bequest.