TAIWAN'S gender norms are quite different from those in the United States, and it's a difference that Lien Fan Shen, Associate Professor in Film & Media Arts at the University of Utah, knows well.
"In Taiwanese culture, women are not encouraged — and sometimes not even allowed — to do things that would make them stand out," she said. "There, it's really all about fitting in and being 'normal.'"
Shen was born and grew up in Taiwan, and even now uses her artistic medium, animation, to examine some unique subsets of the overall gender construct in her home country.
When she started her work creating comic books, there was great pressure to tell stories with strong heterosexual romantic themes. Despite that, she's been inspired to tell less traditional stories, including one that was probably the first Taiwanese lesbian-themed comic book ever.
Her interest in atypical women's lives grew, and paved the way for her most recent project, an animated film called "Seeing Through the Eyes of Crocodiles" about the lives of Ts, masculine lesbian women who resemble what Americans
call tomboys. The film's name plays off one of the first Taiwanese books to explicitly write about queer characters called "Notes of a Crocodile."
"I wanted to explore what people would think about women who don't conform," she said. "But I wanted to do it from their point of view."
Shen recorded interviews with six Ts on a trip to Taiwan funded, in part, by the University and the College of Fine Arts. She took those stories and transformed the likeness of these women into animations.
She wanted to go beyond just representational media to find a sort of imaginary space between her and her subjects. It allowed her to create ideas of these people and to represent what they imagine is their form of masculinity.
"Animating the interviews gave me the artistic freedom to create more abstract versions of these women. And, while much has changed in Taiwan, and even though I had their permission, I was fearful of the repercussions of outing these women to their families. It can still be remarkably hard on familial relationships to be different — and especially to be queer."
The film has been screened at festivals all over the world, from Beijing to Seattle, and won multiple awards. She has more footage than would fit into the film and looks forward to where the continuation of this project will take her in the future. •


SATU Hummasti grew up bi-culturally, splitting her time between Finland and the United States because of her dad's work. Going back and forth between the two countries and cultures gave her a sort of outsider's perspective everywhere she was. She doesn't describe that as being bad, and, in fact, she credits that experience for becoming more socially observational.
Hummasti is now an Associate Professor in the University of Utah's School of Dance and has used her unique gaze to inform her work.
"The movement I create, the classroom conversations I facilitate, and the guest artists I bring in all aim to provide new ways of seeing the world for my students," she said.
So, when she had the opportunity to bring acclaimed New York City film/installation artist, Maya Ciarrocchi, to campus with funding from a Dee Grant, she took it. Ciarrocchi works alongside Kris Grey, a queer performance and mixed media artist, and together the pair have a collaborative working methodology called Gender/Power, where they produce work that addresses social justice issues around power structures and gender.
Their creative process is uniquely collaborative.
When the duo came to campus — their first university visit ever — their engagement began in the classroom with what's called table work. For the first three days of their visit, they facilitated conversations about expressions of gender, sense of gender, and what affects hierarchies and patriarchy. And they recorded it, transcribed it, and picked the most poignant stories to bring to the stage.
They then began devising the movement for those stories. With unique fluidity and strong collaboration, they created a script and staged material.
The culmination event, which also included a mini table session and intimate audience participation, was unlike anything most attendees had ever experienced. The impact, even in such a short amount of time, was remarkably transformative.
"It was deeply profound to hear those involved describe the empowering experience of being able to vocalize their truths in a safe space and put into the forefront how limiting and harmful rigid heteronormativity can be," Hummasti said. "Some, for the very first time ever, had a forum to use their voice — to articulate a pain or injustice. To take ownership. And to reclaim their power."
If that isn't ultimately perspective-changing, it's hard to imagine what could be.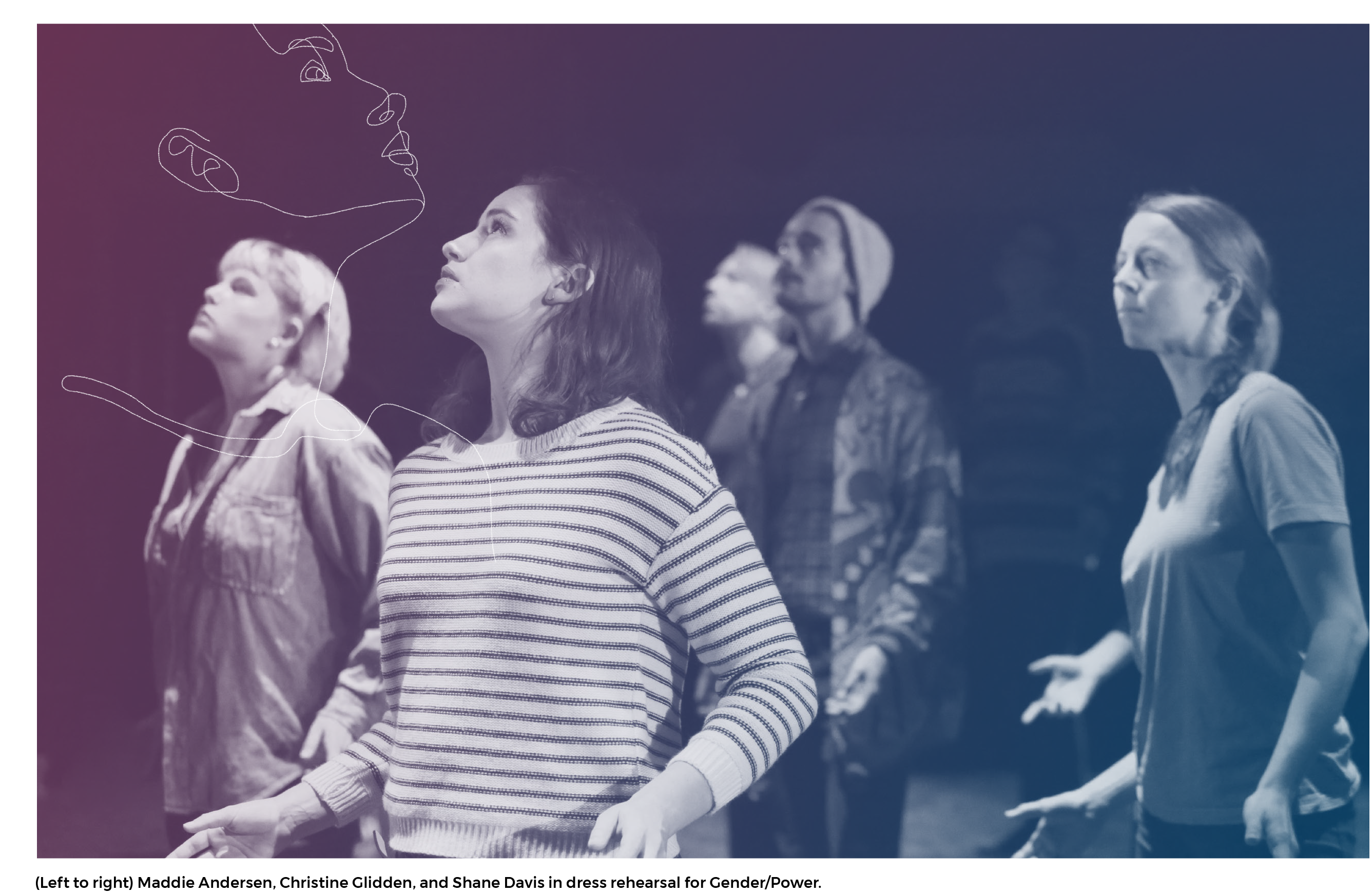 GEND-ART RESEARCH ACROSS THE U
Melonie Buchanan Murray, Dance
In her traditional scholarly research, Melonie Buchanan Murray explores how gender is performed in early ballet training, and how traditional ballet training can reinforce cultural norms of gender performance. As a choreographer working in contemporary ballet, Murray is continually exploring ways to incorporate pointe work into timely themes that counter traditional modes of ballet and choreography. For example, she has choreographed for male dancers on pointe (without irony — not trockadero).
Kirstin Chavez's work as a professional opera singer, and especially her new one-woman adaptation of the opera "Carmen" called "Carmen Inside Out," dives deep into the function of the strong female spirit both in art and in community. She tries to impart all that her experiences have taught her to her students at the U.
Jane Hatte, Music
Jane Hatter's research investigates how complex music, traditionally associated with all-male ensembles of church musicians, functioned in women's lives in the Renaissance, from music performed for women's rituals in the early years of the Reformation to what a manuscript associated with the young Anne Boleyn can tell us about the role of women as singers in domestic devotions.
Beth Krensky, Art & Art History
Beth Krensky is a gatherer of things — objects, words, spirit — and a connector of fragments, to make us whole. She often uses women's stories to inform her work, which consists of sewn-together domestic textiles and children's clothing.
V. Kim Martinez, Art & Art History
While considering the emotional and physical effects women's experiences have had on their persona and appearance, V. Kim Martinez makes paintings that are created from fragments of her memory of specific women, deconstructing their personalities, gender, and behaviors.
Kate Mattingly, Dance
Kate Mattingly's research examines the intersections of dance criticism and the criteria audiences use to value specific artists. With a keen eye on systems of exclusion — racism, sexism, classism, ableism, homophobia — that are present but undiscussed in many critics' writing, she works to dismantle the hierarchies that prevent certain artists from being acknowledged and appreciated.
Jared Rawlings, Music
Jared Rawlings investigates two intersections having to do with adolescent school-based music ensemble participation. The first intersection utilizes the frame of how society perceives musical instruments as possessing a particular gender (i.e., gender-based instrument stereotypes). Specifically, he's interested in knowing if adolescents who are atypical or counter this stereotype are victimized by their peers in school. The second intersection examines homophobic name-calling and mental health.
Sarah Projansky, Film & Media Arts
Sarah Projansky's in-progress book manuscript, "Gender and the Transmedia Blockbuster Film Franchise," traces shifts in the depiction of gender in major film franchises, from the 1990s to the present. As the franchise has come to dominate Hollywood film production, girls and women have moved from background, to sidekick, to ensemble member, to hero; boys and men have moved from solo hero to reluctant team player; and queer and racialized characters can carry a franchise film. Her book explores the impact these changes have had on both industry structure and the stories these films now tell.
Sarah Sinwell, Film & Media Arts
Sarah Sinwell's work on representations of gender, queer identity, and asexuality in contemporary film and media culture has appeared in "Women's Studies Quarterly, Asexualities: Feminist and Queer Perspectives," and "Indie Reframed: Women Filmmakers and Contemporary American Cinema."