The bright lights of Utah theatre shone on the University of Utah Department of Theatre this school year, giving students an unprecedented opportunity to learn from multiple local experts.
"It never hurts to study with the master," said Gage Williams, the Department Chair. "And these are people who are not only very advanced in directing and leadership, but they're also very conscious of what's going on in the theatre today and the skills the students need."
Cynthia Fleming, the Executive Artistic Director of Salt Lake Acting Company, Karen Azenberg, the Artistic Director of Pioneer Theatre Company, and Jerry Rapier, the Artistic Director of Plan-B Theatre Company, taught acting, discussed playwriting, mentored, and inspired students in a variety of courses from fall to spring. Although the U regularly brings in theatre experts to work with students, it's unique to have these three local leaders at the same time.
Studying with them may be the first step toward a career in Salt Lake City and beyond.
"When you have a professional come into your classroom, it makes the stakes greater," Williams said. Fleming, who performed in "A Chorus Line" on Broadway, worked with students to create their own version of the hit musical, using material from their own lives. The Musical Theatre senior class project is a student-driven show: some students write while others perform. Some make costumes or design scenery.
"It's like this room is one theatre company putting on a show," said Fleming, who attended the University of Utah, which "completely changed my life."
"Saying 'yes' to teaching these students was a gift I gave myself," Fleming said. "I am really too busy to be doing this, but I absolutely love to mentor and to see people reach their goals or even potential beyond what they thought they had."
As a student, Fleming worked at Pioneer Theatre, which is an independent institution housed on campus but affiliated with the university. The experience was so powerful that she helped create a program at SLAC, where students can act and work behind the scenes.
Pioneer continues to hire students to assist with its productions. In addition, three seniors from the U Actor Training Program participate each semester in an internship program created by Azenberg and Associate Professor Chris DuVal. Those students are either an actor or understudy in a production and help the crew with everything from wardrobe to the business office.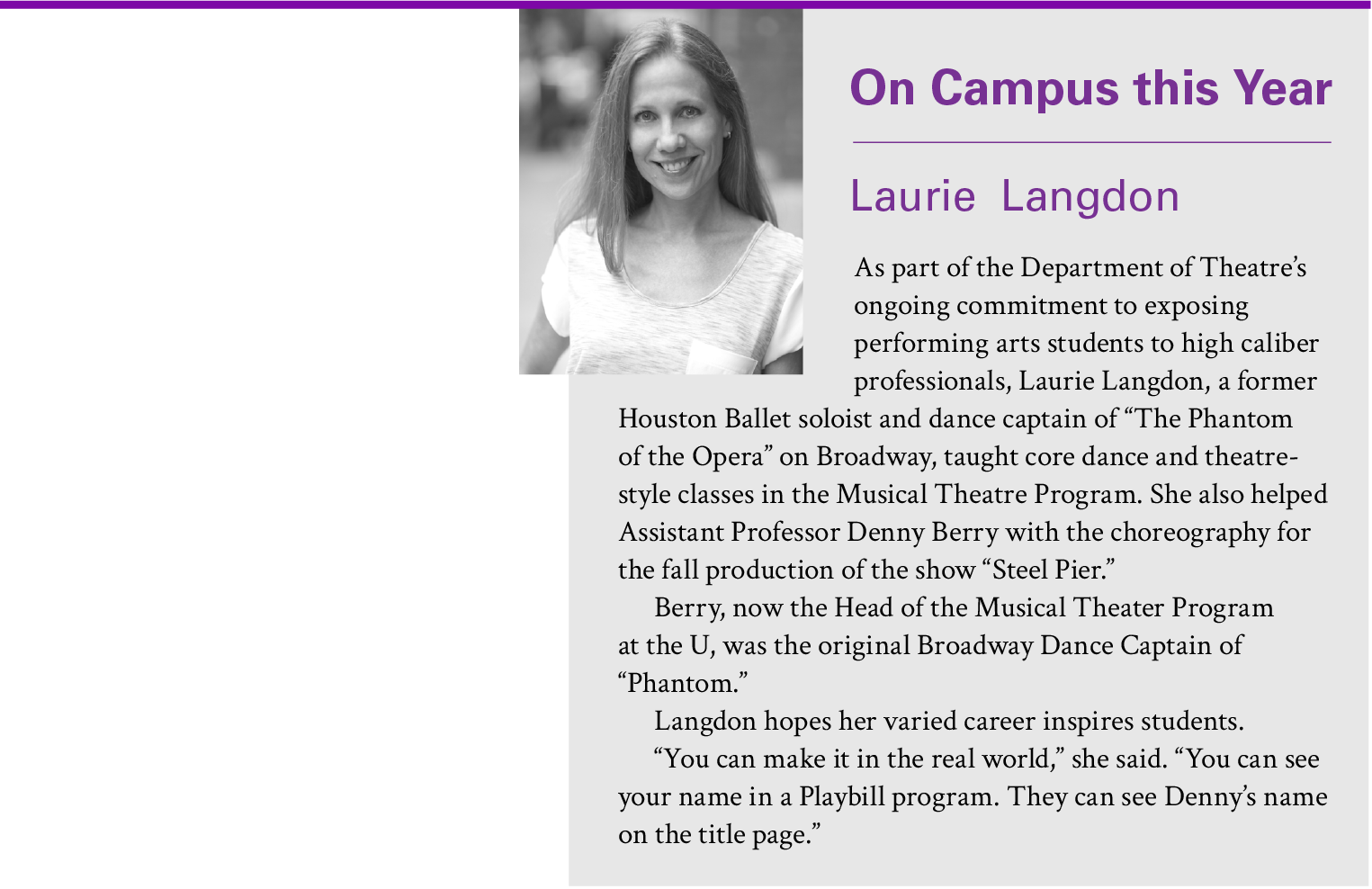 The connections the students make can be life changing. "The people coming here who are working professionals are great contacts," explained Azenberg, who is the former Executive Board President of the Stage Directors and Choreographers Society.
"These students have a little bit of a lifeline in a very big city and someone they can call up and say, 'Let's have a cup of coffee, because I have a few questions.'"
This spring, Pioneer Theatre's Artistic Director taught a class at the U on professional practices. Azenberg, who came to Pioneer after a New York-based career as a director and choreographer, taught students about the realities of auditions and resumes while introducing them to professional actors, directors, and playwrights who came from across the country to work at Pioneer. She hopes they learned that being successful means appreciating the diverse cast that makes a show go on from the set painter to the wardrobe designer.
"There's a culture of paying it forward in the theatre community," Azenberg said. "There's a sense that somebody offered me a hand at one point and that we need to keep doing that," she said.
"Why not let it be these students who get that help?" Jerry Rapier, who has been Plan B's artistic leader for 17 seasons, last taught at the U more than a decade ago. The Artistic Director's teaching focus is on Queer Theatre. In light of the shift surrounding LGBTQ issues, he described the return after 10 years as "eye-opening."
"The world has quite literally changed," he said. "The canon of queer theatre has proportionately expanded and is far more gender-balanced, far more inclusive of the experiences of transgender persons and people of color."
He exposed students to that canon this spring through the work of two-dozen playwrights. The class was able to interact with many of those artists: three via Skype and four in person.
"I would have lost my mind to be able to do something like that as an undergrad," Rapier said.