Assistant Professor Elizabeth Craft (Photo: University Marketing & Communications)

When Elizabeth Craft started studying musicals, the subject wasn't exactly cool. "Hamilton" had yet to electrify the nation with its hip hop-influenced tale of an American outsider.
But Craft noticed someone many people did not: Lin-Manuel Miranda, a newcomer on the Broadway scene who, at the time of her graduate school research, was working on a then little-known show called "In the Heights."
Miranda was young, of Puerto Rican descent, and would break the rules of Broadway with socially relevant storylines, racially diverse casting, and innovative marketing techniques. His energy and vision would catapult him into American mainstream culture at a time when race and diversity were becoming hotly contested issues.
"Musical theater is a genre and art form that very much speaks to the present cultural moment," said Craft, an Assistant Professor of Musicology at the University of Utah School of Music.
Her insight into Miranda's importance made her one of the earliest scholars to publish on him and his shows. Her timing was right. Now Craft is continuing to explore his impact and his collaborators along with another, earlier musical great: George M. Cohan.
For a long time, the American musical had seemed stale. A reprise of past successes and uninspiring safe bets without much future. Some had sounded the death knell of the art form.
Scholars didn't study musicals. They weren't opera or so-called "legitimate" theatre. People thought they were too commercial or entertainment-oriented to be taken seriously, Craft explained.
"I kind of reject highbrow/lowbrow distinctions when it comes to what's worthy of scholarly study," she said. "Just because something is commercially popular doesn't mean it's not aesthetically valuable."
Millions of Americans obviously agree with her.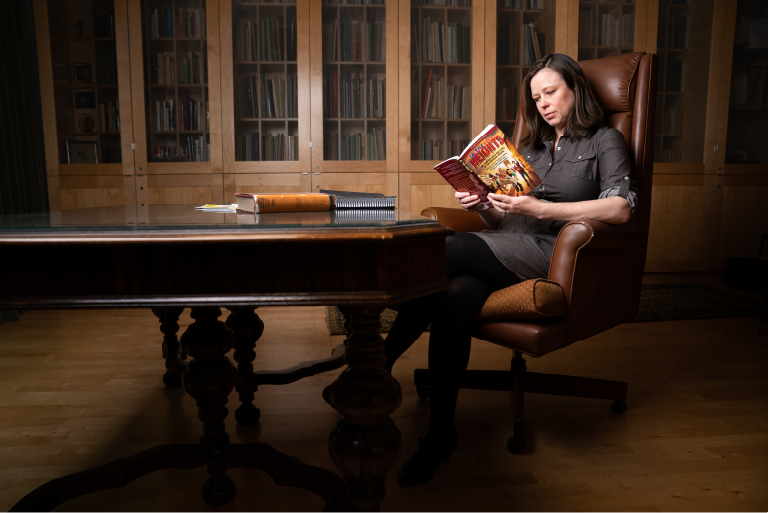 Assistant Professor Elizabeth Craft (Photo: University Marketing & Communications)
"The musical hadn't been hitting Billboard charts like this since 'Hair,' and suddenly 'Hamilton' is on the rap charts," she said. "It made the musical culturally relevant to a degree it hadn't been for decades."
Miranda isn't the first musical theater creator to have such an outsized impact on Broadway. Craft is writing a book on the multi-talented Cohan, perhaps best remembered for his songs "The Yankee Doodle Boy" and "You're a Grand Old Flag."
Cohan was a performer, playwright, lyricist, and composer who created more than 50 shows. He was also a major celebrity and a master of self-promotion who harnessed the power of the media.
"Cohan was the Miranda of his day," she said.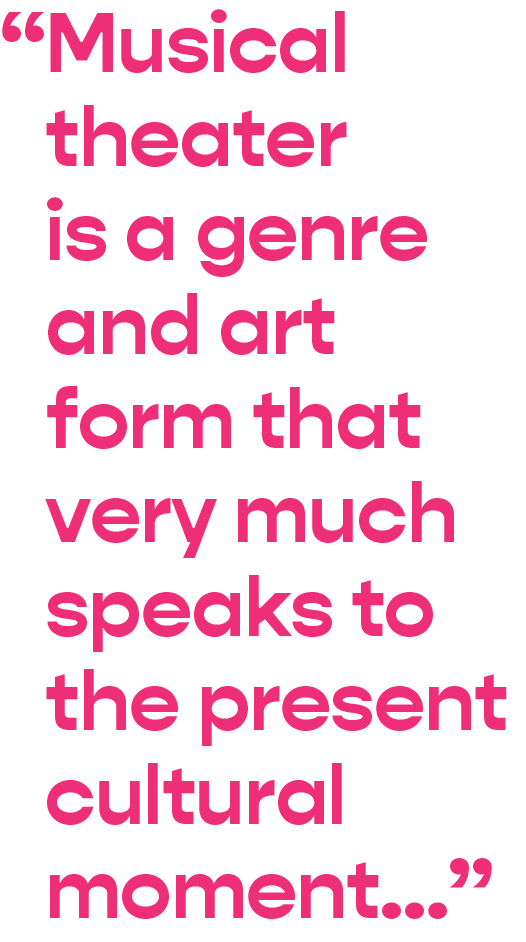 The funny thing, Craft explained, is that he has become known as this quintessentially patriotic American — but was also descended from Irish immigrants at a time when some people perceived the Irish as undesirable citizens.
"So when he got on stage and sang 'I'm a Yankee Doodle Dandy,' audiences — many of them — would have known he was Irish," she said. "That was cocky and transgressive, the kind of move claiming cultural citizenship that we see Miranda doing in playing Alexander Hamilton."
Instead of hip hop, it was ragtime that Cohan brought to the musical theater of his era, helping it become a mainstream "American" musical sound.
Unlike for some musicologists, many of Craft's research subjects are alive today and revolutionizing musical theatre in real time. In the fall of 2019, she interviewed arranger and orchestrator Alex Lacamoire, who is also a music director, music producer, and keyboardist. That conversation is a chapter in a bookon musical arrangement studies scheduled to be released this year.
His work is evidence of how collaborative musicals really are, Craft explained.
Miranda might not sound like, well, Miranda if it weren't for his consistent collaborations with Lacamoire, she said. The two teamed up for both "In the Heights" and "Hamilton." Lacamoire's job was to take Miranda's melodies and flesh them out instrumentally.
Craft's lengthy interview with Lacamoire reveals the influence of pop and rock music on Lacamoire's style and how he's embraced technology.
"He's helped bring the sound of Broadway into the 21st century," Craft said. One example of that was weaving hip hop into "Hamilton." Lacamoire helped shape the musical's texture, making choices about whether to use acoustic instruments, machines like synthesizers, or both.
As Broadway music evolves, scholarship on musical theatre is changing rapidly.
"It's exploding," Craft said. "So much is being written."
When she looks to the past, one challenge is tracking down historic scripts and scores. They weren't always published. No one imagined that one day they'd be important to researchers.
"And some aren't performed anymore and shouldn't be in their current form because they're racially inappropriate and culturally dated," she explained.
As Craft realized early on, these shows were and are so much more than just entertainment. They reflect their time: what was funny, what was acceptable, and what happened when people broke the rules.
"It tells us something about American history," she said.
Alexander Hamilton would probably agree. ▪