If you were a child who loved the arts, chances are you remember your teacher.
Maybe they lit the fire that made you take your art seriously, encouraging you to pursue the next challenge year after year. Maybe you found a new piece of you within their classroom walls. Perhaps you went on to pursue something entirely different. Still, they are the background of your favorite memory — waiting in the wings, counting you in, guiding your hand, sharpening your tools.
Many of Utah's extraordinary arts educators studied at the University of Utah College of Fine Arts. Our alumni now foster the next generation of creative minds, grasping both the privilege and the responsibility of their work. Whether within the hustle of public schools, or in private studios, they encourage young people to grow both as artists and as well-rounded individuals.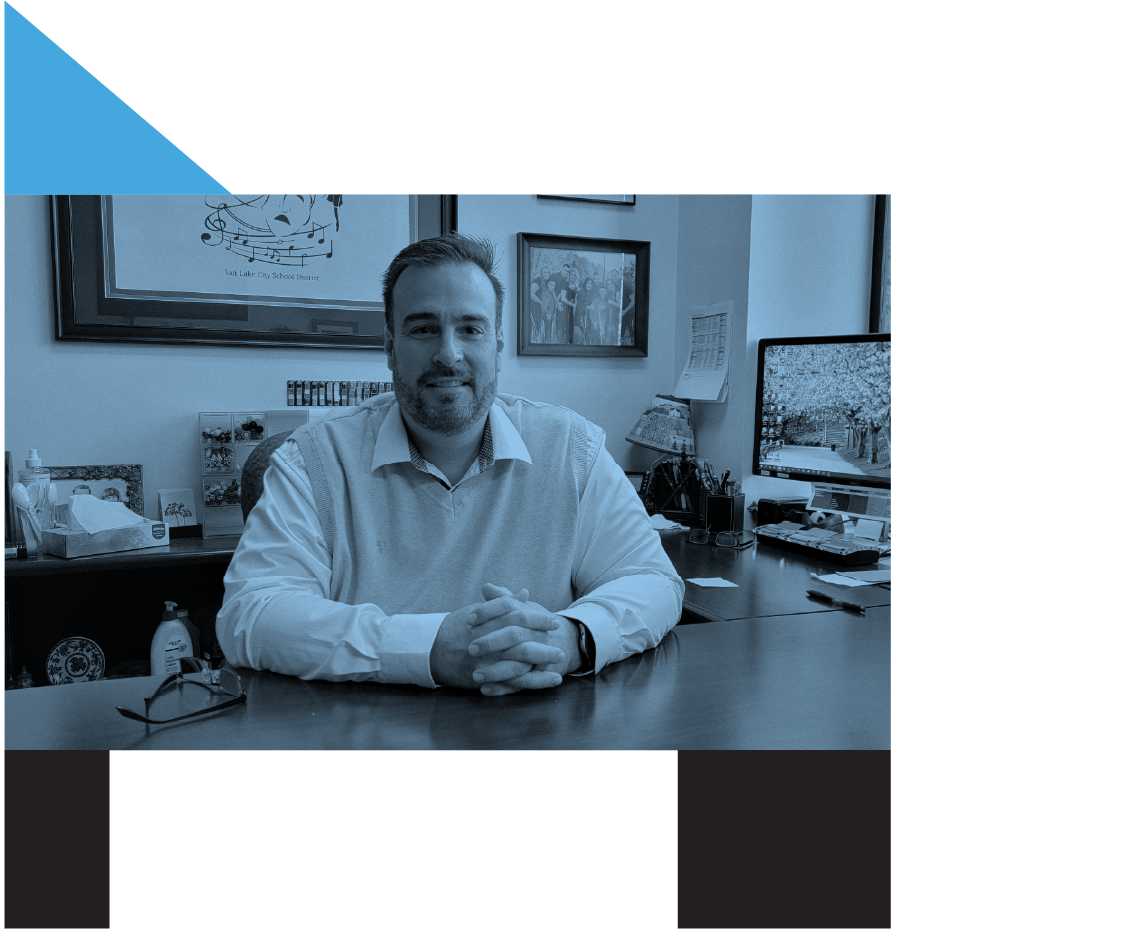 Adam Eskelson (Photo courtesy of Adam Eskelson)
U School of Music alumnus Adam Eskelson ('98) supervises all arts programming for Salt Lake City School District. Having spent 10 years in the classroom at Hillside Middle School teaching choral and orchestral music, he moved into administration eight years ago. Each year when he trains new arts educators, he reminds them of this:
"We're here today because we love our art form, and believe that it shaped us and played a significant part in the people we have become. Let's remember that our job is to plant and cultivate that love in our students. We are in a unique role where we teach content that taps into the creative side of kids. Let's
be sure to inspire kids to love what we do so that they will choose to continue."
Students don't often end up in art classes because they are required. They choose it. Eskelson sees this as an advantage — an opportunity to plant a seed that just might last a lifetime. "Sometimes art classes are the only ones kids enjoy or excel in," he said. "Particularly up into high school, these classes keep kids coming. If those opportunities go away, the dropout rate rises."
A musician since the age of five, Eskelson initially pursued a degree in vocal performance. His penchant for teaching crept in around his second year, and he switched to music education. "My parents instilled the value of education in me and my siblings," he shared. "Of the eight of us, six have education degrees."
The value of prioritizing art in curriculum, he says, is undeniable. A favorite quote by John Quincy Adams is his guiding light: "I have to study politics and war so that my sons can study mathematics, commerce and agriculture, so their sons can study poetry, painting and music." He explained: "Almost everything we have learned from other cultures and civilizations throughout history comes from studying their art forms. It's how we understand what they valued. We want to cultivate that in kids in our time, too." ■
Jordan Nelson ('09,'20) is an alumna of both the U Department of Theatre, and the nationally-ranked Master of Arts Teaching in Fine Arts program (MAT-FA), of which she was a member of the first cohort. She now teaches theater at Midvale Elementary where she will connect with 700+ students at some point during the year. At the end of the MAT-FA program, Assistant Dean for Arts Education & Community Engagement, Kelby McIntyre-Martinez suggested that Nelson take a look at Midvale. "[Kelby] said she thought they could use my energy," Nelson said. "I didn't even think about another school."
Growing up in small-town Wyoming, she did not have wide access to the arts as a kid. She remembers being surprised when her fifth-grade teacher brought
a guitar to class. "She'd have us write blues songs about being 10 years old," she said. "She would encourage us to be creative with our projects. I still remember a song I wrote about Washington state to the tune of 'Under the Boardwalk.'"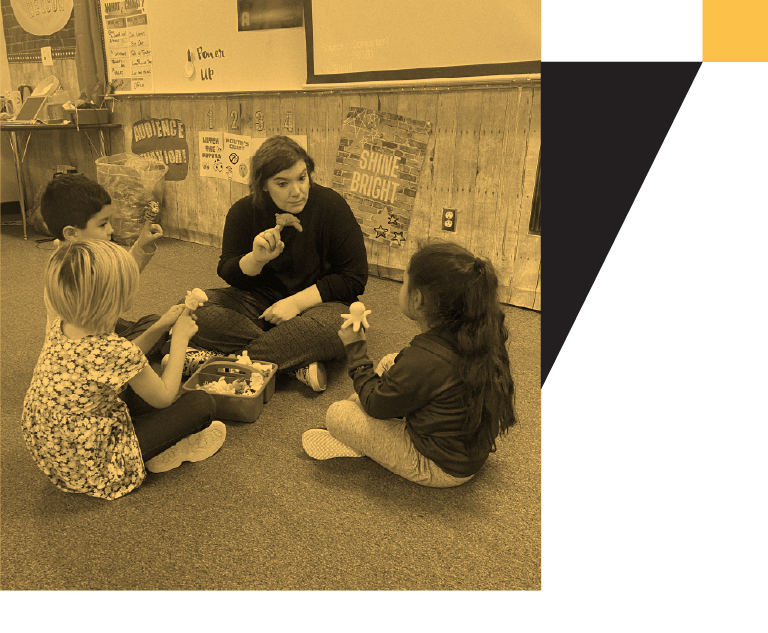 Jordan Nelson and students (Photo courtesy of Jordan Nelson)
She was involved in theatre as she grew up, but it was a professor in her first year of college in Wyoming that cracked open the possibility of teaching. When she transferred to the U two years later, she was determined to follow that path. During her two short years in the program, she took advantage of every opportunity — assisting Youth Theatre at the U, conducting a classroom project with Professor Xan Johnson, working in technical aspects of productions, and studying abroad to London.

After graduation, Nelson was the Executive Director of Casper Children's Theatre back in Wyoming for seven years. The MAT-FA program is what called her back to Utah. "I really wanted a master's specifically in teaching fine arts. The program was so hands-on. They really wanted to work with what we had and make us better teachers."
Nelson's classroom is ultimately a safe space for play, where students can take risks and unfold at their own pace.
"My highest priorities for my students are imagination, movement, character, and body and voice," she explained. "I am working on life skills through theatre skills. So, character is on and off stage. We work on controlling our bodies and voices, validating emotions, and understanding everyone has a unique story. And if we were successful people in my classroom, we had a great day." ■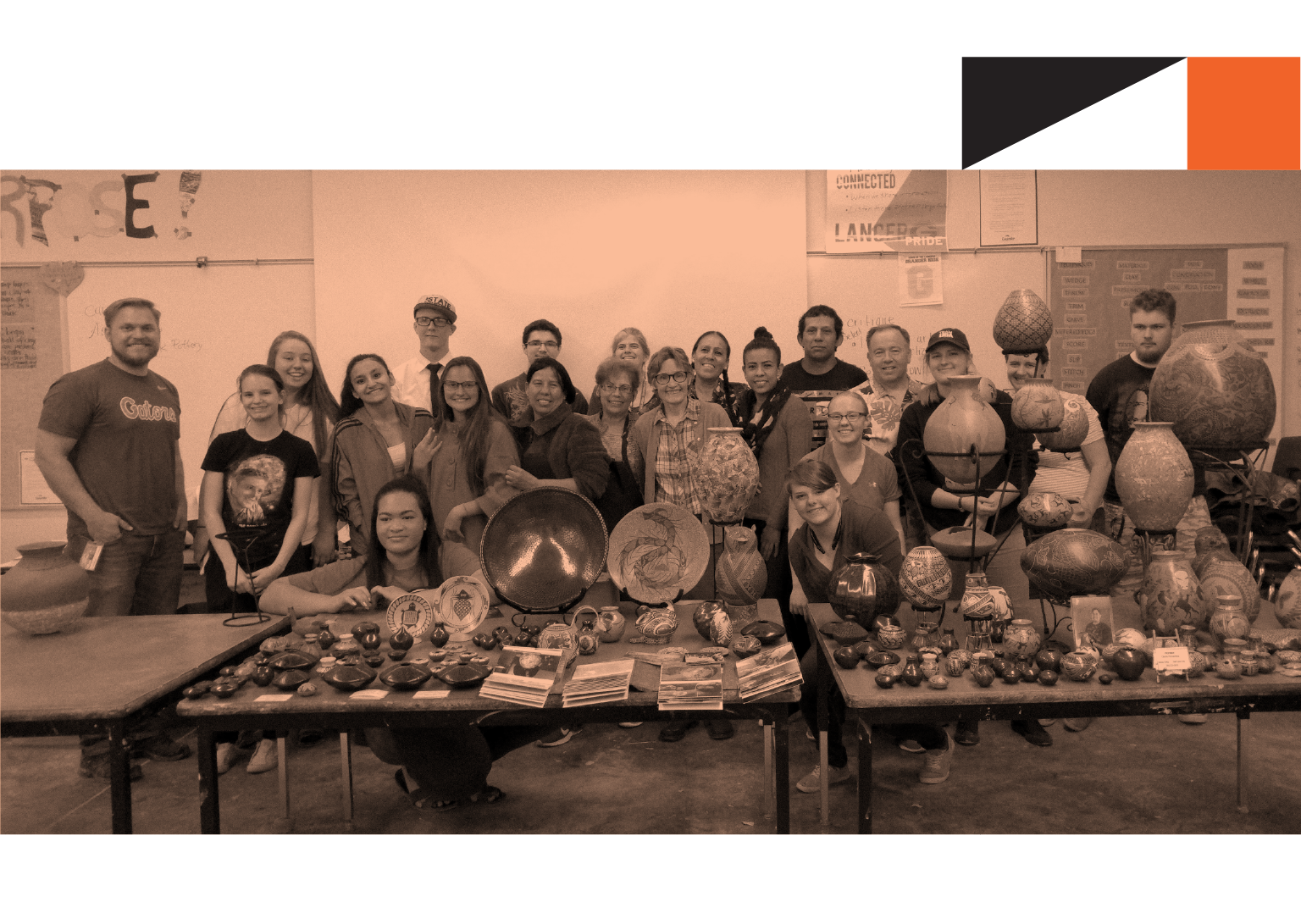 Chad Zielinski, Mata Ortiz Pottery Workshop at Granger High School (Photo courtesy of Chad Zielinski)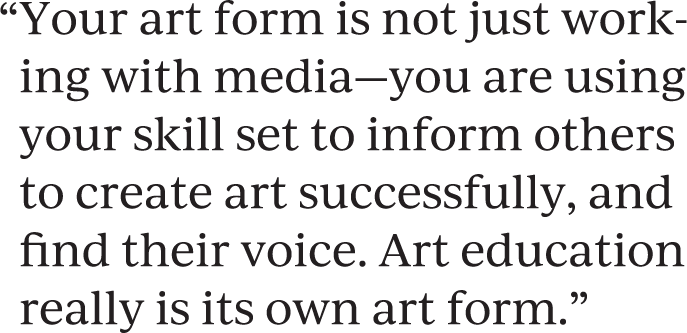 Fellow MAT-FA alum Chad Zielinski ('20) sought out the program to further sharpen his teaching skills. Originally from Florida, he never expected to find such security and fulfillment in the career. "I graduated during the recession, when all art electives were being cut drastically. Secondary art teaching in Utah is a much safer career than I ever would have expected. I am lucky to be one of four art teachers at my school — it is part of the common core."
Zielinski teaches ceramics, sculpture, and 3-D design at Kearns High School. His classes fill up so quickly that they had to enroll additional course periods. He doesn't mind.
"They come in all shapes and walks of life. Sometimes we cry together, we jump for joy when someone gets an awesome opportunity," Zielinski said. "Having the intimate space of the art studio to work with kids brings out their stories like no other classroom."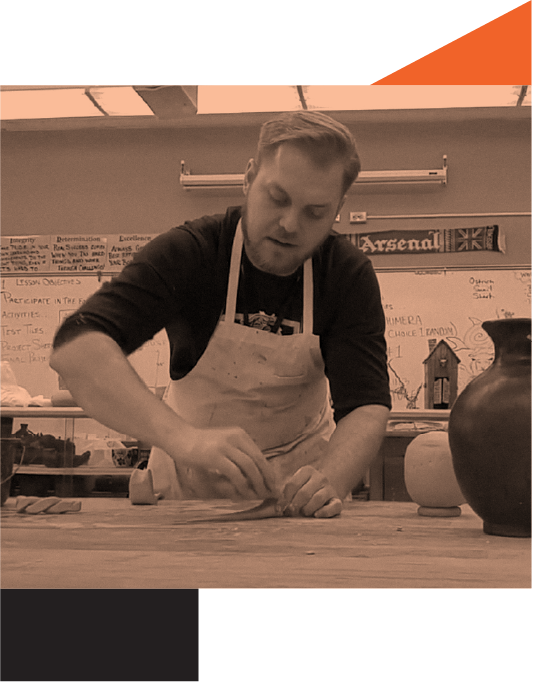 Zielinski acknowledges, like so many arts educators, that it is not enough to be a good artist. Being a practitioner is one expertise, and teaching is another. Both require equal attention.
"Your art form is not just working with media — you are using your skill set to inform others to create art successfully, and find their voice. Art education really is its own art form," he said.
Of the many students that come through his classroom, a few may just go on to pursue art professionally. One is already making and selling work online, and just received a scholarship and portfolio review. Another completed a beautiful piece inspired by her family's immigration story, and it was accepted in the state show. Zielinski's pride is evident. But his focus is always process over product. "It's icing on the cake when you can get a nice result," he said.
With a reverence for lifelong learning, Zielinski's classroom is about mutual growth.
"I realized it's ok to not be a total expert, if you are willing to learn along with your students. Not only will you learn about the medium, but if you treat the environment cooperatively, you'll learn more from them than just the curriculum. That's what keeps me coming back every day." ■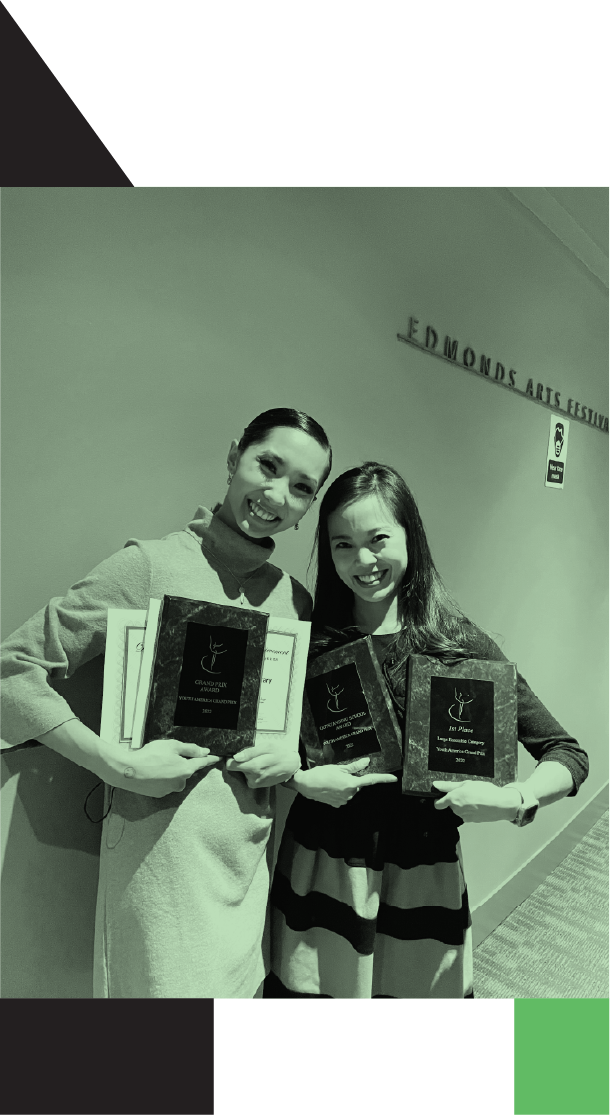 Youth America Grand Prix accolades (Photo courtesy of Misa Oga Hansen)
Beyond the school day, students receive invaluable guidance in private studios across the valley. It is often in their extracurricular pursuit of the arts that students build the foundation of their adulthood.
U School of Dance alumna Misa Oga Hansen ('13,'19) is Owner and Director of MOGA Conservatory of Dance in North Salt Lake. She holds an MFA in Ballet as well as a BFA in Ballet Pedagogy and Performance, and a minor in Child Development.
Oga Hansen is deeply intentional about the classroom environment, dedicated to making a space where students can thrive. This stems from her own training experiences. "As a young student and aspiring dancer, I know that my personal performance in class was significantly influenced by my teacher's energy and behavior," she said. "I believe productive learning is fostered in a positive and mindful classroom. I believe in a student-centered environment. I aim to deliver open and generous energy into every class that I teach — to offer students the space to approach their work with confidence and authority."

Oga Hansen is an American Ballet Theatre Certified teacher whose students regularly receive awards at prestigious international ballet competitions such as Youth America Grand Prix and Prix de Lausanne. While she aspires to help each of her students reach their highest potential in the form, she never loses sight of them as individuals.
She believes in arts education not just as a vehicle to make successful artists, but to make successful people. "I teach my ballet students to be intelligent, to think critically, to pay attention to detail, and to be articulate, thoughtful, responsible, and strong," she said. "The qualities that we admire in human beings, such as honesty, courage, wisdom, creativity, and compassion, are the qualities that we value and nurture in the arts. I am confident that through the arts, students can learn and connect with themselves, with other individuals, and with the wider world." ■
Juliana Vorkink Martin ('12), Owner and Director of West Point Ballet Academy, earned her BFA in Ballet with an emphasis in teaching at the U School of Dance. She attributes the roots of her teaching philosophy to her undergraduate mentors, specifically professor Maggie Wright Tesch. Like Oga Hansen, she earned certification from American Ballet Theatre's National Training Curriculum, a pedagogy that is deeply respected worldwide.
While the quality of training in pure, classical ballet is paramount to Vorkink Martin, broadening access is also top of mind.
"We're cultivating a program where people feel like ballet is accessible and approachable — one for someone who is on a pre-professional track with ambitions of dancing professionally, as well as your average three-year-old who is dreaming of being a ballerina, and everything in the middle, including beginning adults," she said.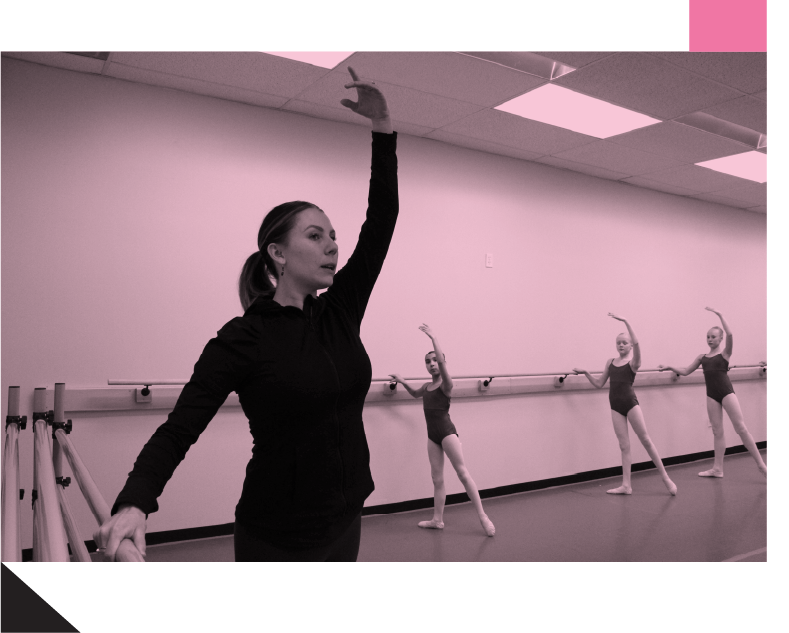 Juliana Vorkink Martin (Photo: Leann Anderson)
Particularly in the last years of the pandemic, it is crystal clear that nothing can replace the growth that takes place in-person in a dance studio.
"Arts education is crucial, and particularly in the studio for ballet, because you have that beautiful relationship with the dancer. You can tell when they begin to get it — you build off their energy. You can see in their eyes that they are connecting with you," she explained.
It is no surprise that individuals who grew up with the arts reflect positively not just on the hard skills they gained, but the experiences that built their confidence, independence, commitment, and connection.
"We're really trying to train humans how to think critically, how to be responsible, how to show up to class and be ready to go, how to be committed to something you love," Vorkink Martin said.
That's an invaluable beginning, no matter the medium. ■