(Left)"un common" By Alec Bang & Douglas Tolman, Inkjet on Photo Paper, 2020
(Right) "Battlegrounds," By Wendy Wischer is a multi-media exhibition that compares land ownership, management, and policy with the ownership, management, and policies around women's bodies, addressing some of the conflict and controversy among those who set out to stake claims. Photo: Wendy Wischer

A woman in white runs away. And bullets smash into a "Private Property" sign in Wendy Wischer's new multimedia work, "Battlegrounds."
Comparing land ownership, management, and policy to the ownership, management, and policies around women's bodies, the installation reflects its moment of creation. The conflict over land management and the fight over a woman's right to choose filled the news.
"I noticed that it was the same kind of language in several ways," recalled Wischer, Associate Professor of Sculpture Intermedia in the University of Utah Department of Art & Art History. "And it's often the same men making the decisions about both."
Wischer is among a community of faculty, alumni, and graduate students at the University of Utah exploring the connections between the body and the land. A recent show titled "LAND BODY" at Ogden Contemporary Arts featured her art as well as pieces by Assistant Professor Jaclyn Wright, Associate Professor Al Denyer, and other female artists working in Utah, New Mexico, and Arizona.
"Hopefully people walk away with how complex this is," Wischer said of the exhibit. "There isn't just one way of approaching it — it's almost as diverse as looking at land in the West to begin with."
Multiple video clips weave together in Wischer's "Battlegrounds," but the artist delved into different mediums and messages in her other works in the show. "The Insecurity of Shape Shifting," her digital drawings, show the former and current boundaries of Bear's Ears and Grand Staircase Escalante, both national monuments in Southern Utah. The art reflects the ongoing controversy around the stewardship of these significant landscapes.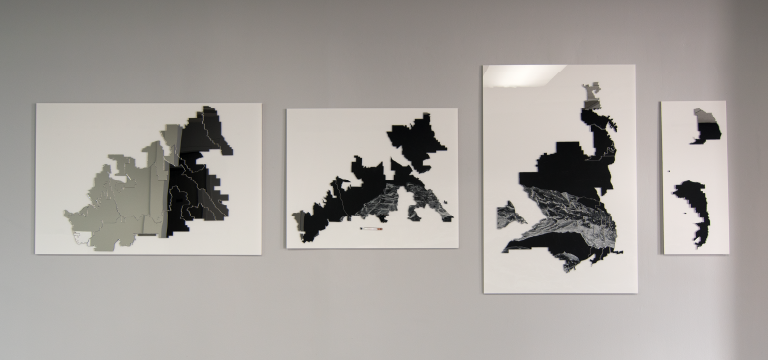 "The Insecurity of Shape Shifting" by Wendy Wischer created with a URC Creative Research Grant from the University of Utah, 2019, 36" x 10', mirrored and white acrylic (Photo: Amelia Walchli)
Wright's work in the Ogden show touched on many of the same themes as Wischer's: "The eco-feminist perspective — particularly the language around nature that is intersecting with the female body — that's been used for hundreds of years to oppress women," the Assistant Professor of Photography & Digital Imaging said.
She exhibited a still from a video piece and a double panel of dye sublimation prints on aluminum. Both reference target shooting sites in Utah's West Desert where people have shot and abandoned an array of large household items from dishwashers to refrigerators.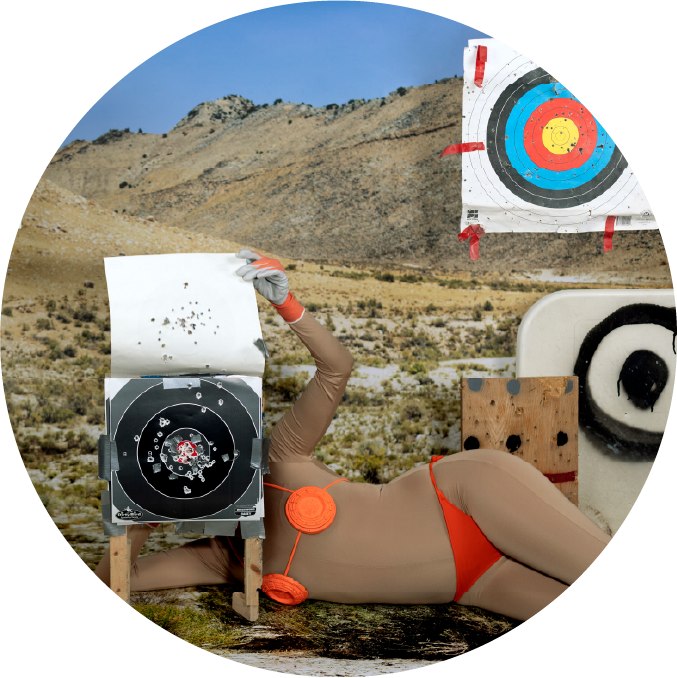 "Untitled (Studio Targets)" By Jaclyn Wright, Archival inkjet print, 2021
"I am interested in acknowledging the absurdity of how people are treating these spaces," said Wright, who has lived in Utah for three and a half years. "My first encounter with these spaces was that this is incredibly traumatic and horrible."
She is also part of the art, wearing a bodysuit with a clay pigeon bikini, her face hidden by a target.
"The reality is a lot of people who are shooting guns happen to be white people, so there is this [assumption of] inherent privilege and entitlement that I see dating back to manifest destiny: 'This is our land and I can do whatever I want on it,'" Wright explained. "This is at the expense of other histories."
The body suit is symbolic and Wright says it's "another layer of white skin meant to speak to that innate, inherent privilege."
The breadth in the Ogden show — from the materials to the artists' approaches — reflects how complex issues related to land can be.
"There's no black and white way to talk about it," Wright said. "The exhibition does a good job at complicating the narrative in the ways that it is complicated."
Associate Professor of Painting and Drawing Denyer used line as a unifying form in her piece "Ridgeline." This work, consisting of thread and yarn, has a traditional aesthetic often associated with feminine arts and crafts practices.
"Ridgeline" directly references the view from the Pipeline Trail in Millcreek Canyon. At six feet long, the work is comprised of multiple blue lengths of thread hanging down at different lengths. The frayed end of each thread, when viewed from a distance, creates the illusion of a hard line.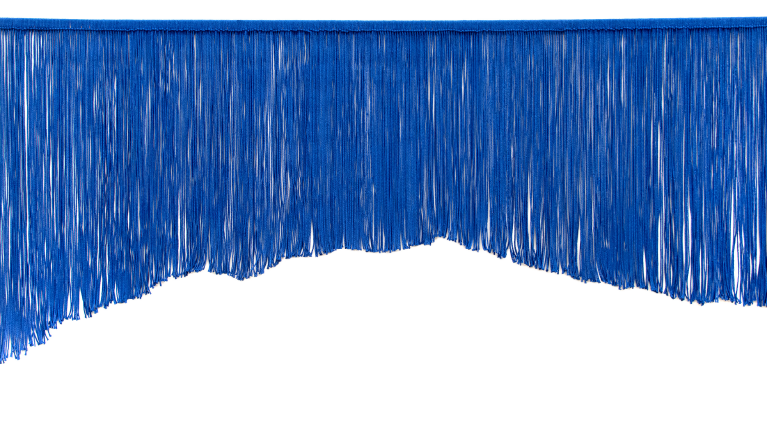 "I'm intrigued by how our brains translate and simplify form in space, especially in our understanding of large-scale landscapes," she said.
This theme of place and belonging in the American West was the focus of a graduate critique course that Denyer taught in the spring of 2021. This collaborative project was funded with a Collections Engagement Grant, jointly awarded by the Utah Museum of Fine Arts and the J. Willard Marriott Library Special Collections.
MFA students embarked on individual projects after researching in library archives, museum collections, and their own studios to examine how artists from the past portrayed and created their identities in reaction to their environment.
"The project brought together students from all disciplines of our MFA program to work on the same research question," Denyer said. "Students authored their own research plan for the two collections, and utilized their area of specialty in creating completed artworks in response to their findings."
During the course, Denyer created her own new works: a series of drawings inspired by Howard Stansbury's 1849 survey of the Salt Lake Valley. Using Google Earth, she located his triangulation points, allowing her to record the landscape in a contemporary way.
"A Sense of Place" was shown in the Gittins Gallery in February and will be on exhibit at the Utah Cultural Celebration Center in December.
Doug Tolman ('20) and Alec Bang ('20), both University of Utah BFA graduates, also explored their connection to the land in a recent show titled "[in]land" at Finch Lane Gallery
"Ridgeline," By Al Denyer, cotton thread, 72X32", 2021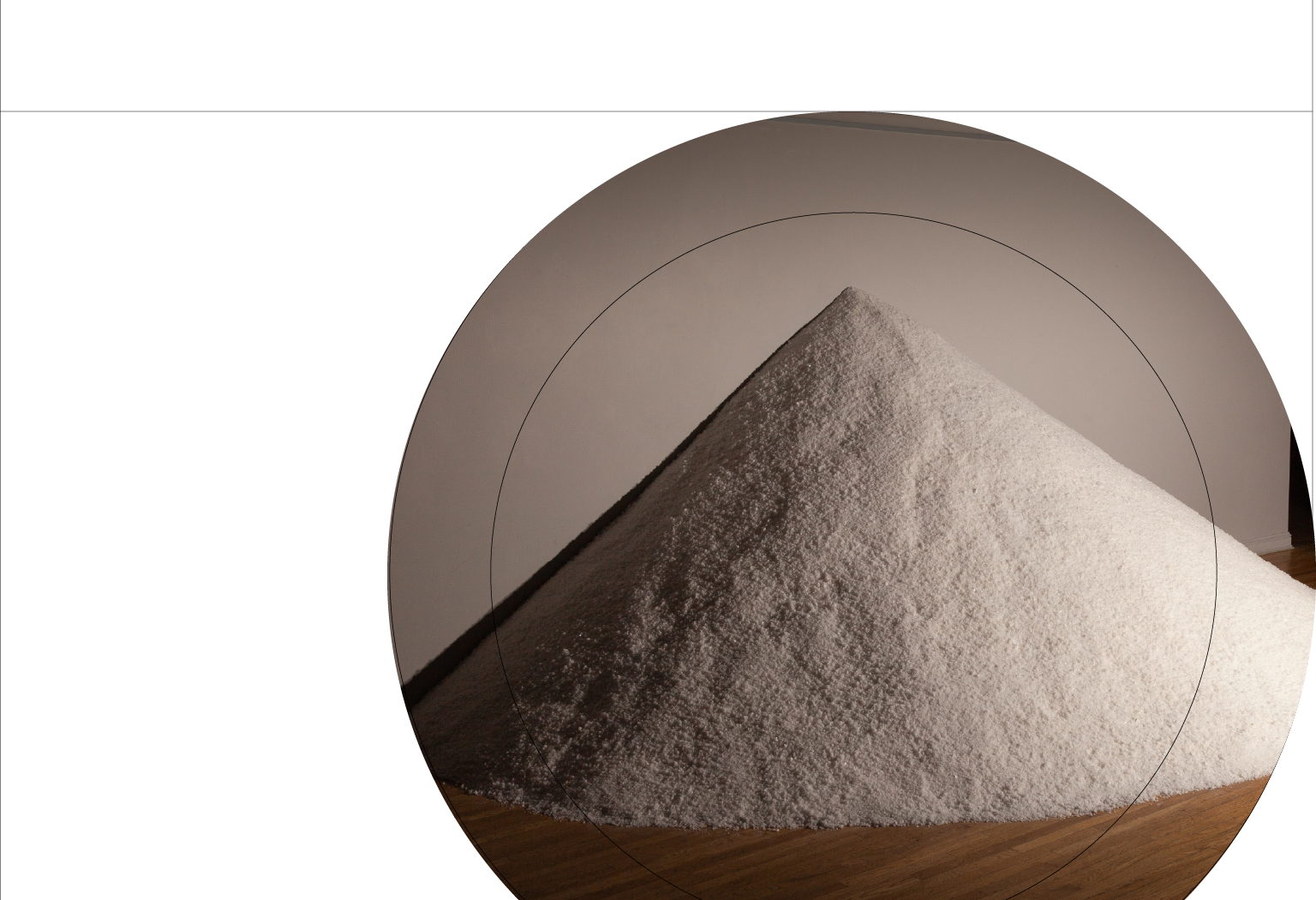 "(in)habit" By Alec Bang & Douglas Tolman, Lake Salt, 2021
"My personal art practice is intended to foster a reciprocal sense of belonging and responsibility to the land in people who view or interact with my work," said Tolman, who is now an MFA student.
The main piece in the show was a seven-foot-tall pile of salt. Weighing about 3,500 pounds, the salt was purchased from a company that mines at the Great Salt Lake. Tolman views the piles of salt commonly seen at the lake as unintentional, monumental earthworks.
"They're a direct representation of us mistreating the land, but also they're beautiful," he said.
When the artists first started planning the exhibit, Bang wanted to focus on who has access to the land — he was from a family of immigrants and now he was seeing other immigrants denied access to his country.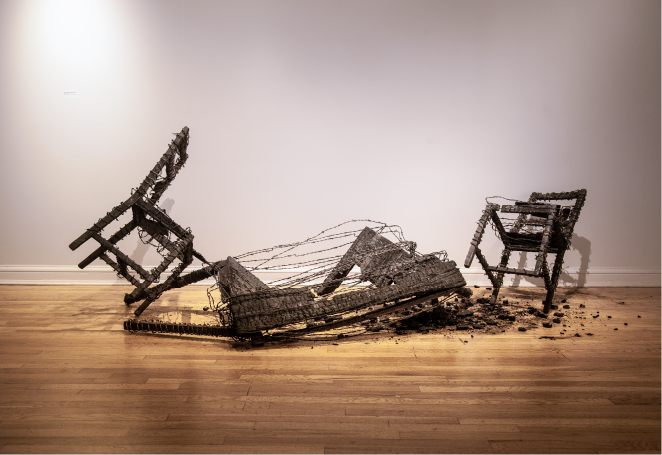 "We do have a responsibility as people born into the system to talk about the system from which we directly benefit and which oppresses others," Bang said.
Across the towering salt pile at the gallery was the charred remains of a dining set. The artists had wrapped a table and chairs in barbed wire and lit them on fire.
"We saw the dining set as a symbol of traditional western values," Tolman said. "The barbed wire — in the same way it tore about the West — it's holding it together by keeping the pasture separate from the protected areas."
Bang explained further.
"While burning the dining set, we portrayed a version of our ancestors sitting as the other half went up in flames," he said. "We asked ourselves who has a seat at the table as decisions are made which affect all who live on this land — and noticed that although our half was not yet on fire, it soon would be." ▪