WRITTEN BY JULIA LYON
PHOTO KEVIN HANSON
WRITTEN BY JULIA LYON
PHOTO KEVIN HANSON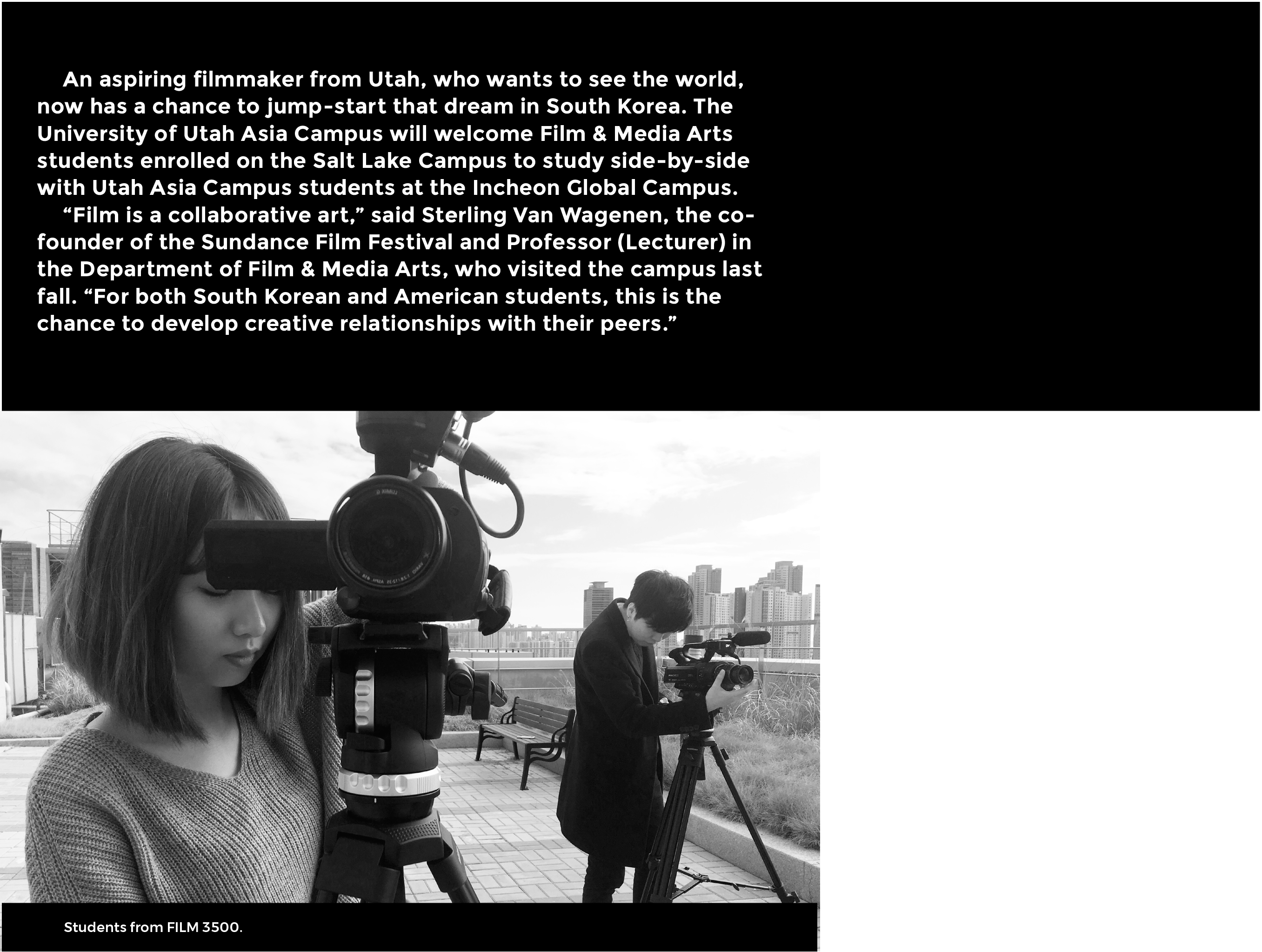 When Van Wagenen visited the campus along with Kevin Hanson, the Chair of Department of Film & Media Arts, to introduce the program to students and the public, they also attended the Busan International Film Festival in South Korea with 40 students from the Asia Campus.
Both had previously known very little about the festival and were impressed by the venues and the programming.
"We Americans tend to focus on what's important to us," Van Wagenen acknowledged. While the appeal of Hollywood and the Sundance Film Festival — which is well known to South Koreans — may play a role in students' interest in U Asia, the students aren't just hoping to move to California after graduation.
"South Korea has a sophisticated, national cinema both commercially and independently," said Hanson, noting that the film industry seems more open to women than in the U.S. "This is not a backwater enterprise."
To complete a Film & Media Arts degree, students admitted to the Asia Campus will spend up to three years there, coming to Salt Lake for one year to take specialized and capstone curriculum. Conversely, students from the Salt Lake Campus could spend a year at the Incheon campus working on general education courses as well as film core in Korea. Students on either campus must meet the rigorous admission standards of the University of Utah, and receive the same University of Utah degree.

The 22nd Annual Busan Film Festival in Busan, Korea.
Students from the Salt Lake Campus would continue to pay the tuition they pay in Utah, resident or non-resident. Residential dormitory costs, however, at the Incheon campus are about $250 per month.
Not only would students have a chance to fly easily to points across Asia, the city of Songdo, where the campus is located, is like "living in the future," said Alysia Klein, an Assistant Professor of Film & Media Arts and the first in the field to teach at U Asia.
"Songdo looks like the movie set of the next big science fiction film," said Klein, who added that she can't wait to begin filming there. "There is even a section of the city center that is called Tomorrow City."
The diversity of the faculty and the student body means students are being educated by the world while having the unique opportunity to hear international speakers, attend international film festivals, and access specialty scholarships, the professor said.
Klein had longed to live abroad after finishing her MFA at the University of Utah. She was drawn to the idea of being "completely immersed in another culture, to see new landscapes, and to have conversations about film, media, and the arts with people halfway around the world. To open my eyes to their perspectives, their lives, their history, and their ideas about the future."
The University of Utah Asia Campus launched in 2014 and moved into its permanent
home in Incheon in 2016. The new, 170,000-square foot facility is within the Incheon Global Campus, whose partner institutions include George Mason University, Belgium's Ghent University, and New York City-based Fashion Institute of Technology. Undergraduate degree programs at U Asia include a BA/BS in Communication, a BS
in Psychology, a BA in Film & Media Arts, and a BS in Urban Ecology.
About 350 students are enrolled and more than 45 of them were expected to be studying Film & Media Arts as of this spring. The major became available in fall 2017.
The University of Utah was not unknown in South Korea before U Asia opened its doors. Approximately 1,100 U alumni live in South Korea, many of whom attended graduate school at the University of Utah in Salt Lake before returning home.
"The University of Utah in Salt Lake City is a place that fits the South Korean culture very well," said Todd Kent, the U Asia Dean of Faculty. "It's conservative, easygoing, and can remind you a little bit of living in South Korea."
Incoming U Asia students are fluent in English but may need to adjust to a Western-style learning environment that encourages more student participation. The Global Campus is an English-speaking campus in its entirety.
"Maybe there's not a right answer, but we talk through it," Dean Kent said. "We expect the students to challenge the teacher—the students here are not used to that."
Some South Korean parents seem to put a premium on an American-style education, Van Wagenen observed during his visit last fall. Many Americans feel equally strongly about giving their children the chance to study internationally.
Filmmaking is about creative problem solving. "The most successful filmmakers have figured how to do that and do it well," he said. "So, to get off your home turf…is really challenging and really healthy."
Even if American students travel thousands of miles to South Korea, they won't be leaving Salt Lake City far behind. Administrators have tried to create an environment that is philosophically and operationally similar to the home campus. A University of Utah letter jacket isn't hard to find.
As Hanson says, "We have the program on the Incheon Global Campus in which everyone wants to be."