WRITTEN BY ADAM GRIFFITHS
PHOTOS SARA KNIGHT PHOTOGRAPHY


The multi-talented musician, Kris Johnson, always has a project to pursue. As the Director of Jazz Studies at the University of Utah School of Music, a professional trumpet player, a composer arranger, and an educator, he leads a unique career that most musicians can't even comprehend. But in his words, "You can't complain about having too much on your plate when you wanted to eat. I signed up to be busy."
Johnson is an award-winning jazz trumpeter and has appeared on an impressive list of albums, including four Grammy-nominated releases with the Count Basie Orchestra, Tony Bennett, and Karen Clark Sheard. He has appeared at some of the world's most prestigious jazz venues, including the Apollo Theater, the Blue Note Jazz Club (U.S. and Japan), Sydney Opera House, Blues Alley, and the Hollywood Bowl. He is decorated with many awards and honors, including receiving an ASCAP Herb Alpert Young Jazz Composers award, and in 2012 he was selected as one of 25 Detroit performing and literary artists to receive a Kresge Artist Fellowship.
Johnson recently released an album by The Kris Johnson Group & Lulu Fall entitled "The Unpaved Road." A few months prior to this release, he received attention for his original musical, "Jim Crow's Tears," which examines the controversial practice of blackface minstrelsy in the 19th and early 20th century. This work is written for six ensemble members, a jazz ensemble, and a chamber orchestra, and combines a variety of musical genres, including jazz, hip-hop, pop, and R&B.
"The Utah Review" said of this work, "'Jim Crow's Tears' emerges as a masterful exemplar championing jazz not as a racial but as a cultural phenomenon. Johnson is astonishing in his depth and ease at writing jazz music that echoes virtually every point of its historical development."
Johnson said, "I wanted to shed light on the painful stereotypes that the media has adopted from minstrel shows and spark dialogue about what we can do to combat the damage it's done to the world's perception of African Americans."
"Jim Crow's Tears" has gone through many iterations since its first performance in 2007 and was performed in March 2017 at the Rose Wagner Performing Arts Center.}


Every musical virtuoso begins somewhere, and Johnson says that one of his first significant performance experiences was attending the Detroit Jazz Festival with his brother Kurt during his freshman year of high school. He was inspired watching trumpet player Dwight Adams perform.
"I was blown away by his fearlessness, soul, expression, and his command over his instrument," Johnson said. "I knew that I HAD to learn how to do that, even though I had no belief that I was capable of it, I knew that I was supposed to figure it out. Kind of like destiny or some other cheesy cliché, but it was very real! This set me on the course of listening, studying, and seeking out how this music worked."
Shortly before his senior year of high school, he attended a concert tribute to Louis Armstrong led by Roy Hargrove. Also performing that night was trombonist Wycliffe Gordon, who Johnson said became his hero. Following the concert, Johnson approached Gordon, who invited him to attend a set at the Village Vanguard with Eric Reed the following night that was, in his words, "hands down the best concert I've ever seen." He expanded, "I didn't fully realize at the time how spoiled this performance would make me. How much it would tarnish my perspective of what to expect from a live concert, but it set the bar VERY high and I immediately got to work."
Johnson finds that the best way to stay motivated as a performer, educator, and composer/ arranger is to always work towards a project.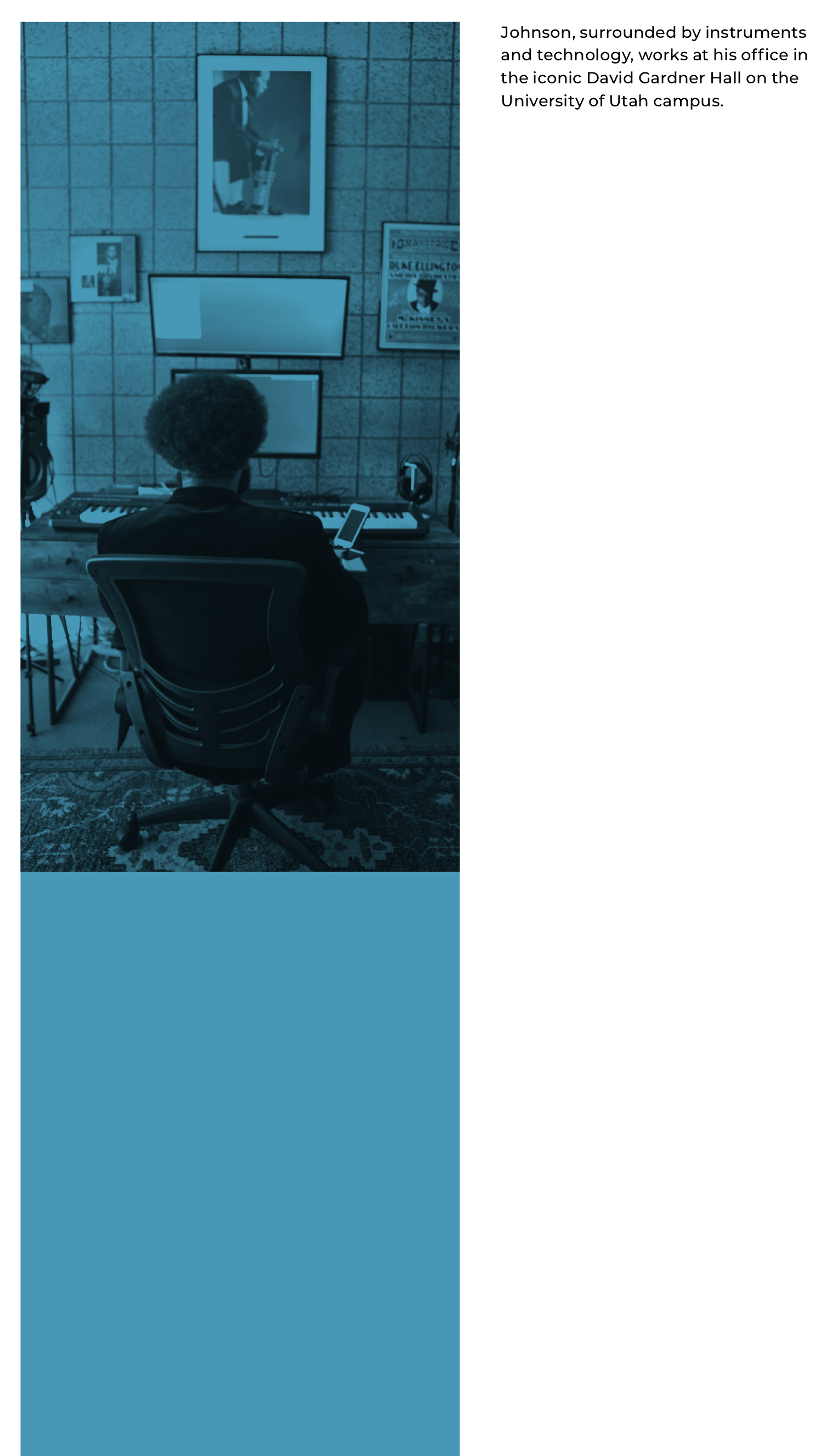 "It's very rare for me to write something without a specific purpose. The music will be used for something, so it becomes a priority."
However, he doesn't necessarily encourage his students to be as busy as he is.
"I'm wired differently than other people because I like to be busy and I'm capable of a big workload." He believes the key to his success is being thorough and efficient. "I hate getting weighed down with technical issues that block my expression or freedom, so I believe in streamlining practice, technology, or any other tools used for my art."
Johnson sees his position at the U as a chance to educate the students and community about Black American Music, establish himself as a leader of the local arts scene, and continue to perform, compose, arrange, and educate around the world.
"My teaching philosophy is centered around mentorship, mastery of universal musical principles, and the pursuit of artistic expression through our creative output," he said. "I want my students to have fruitful careers as performers, educators, composers, arrangers, music producers, or whatever else they find themselves drawn towards. The lessons I focus on prepare them for a wide variety of professional activities; how it's applied is completely up to them."
He finds success with his students in being honest and straightforward with them.
"I demand a lot out of them and push them to always challenge themselves and not accept mediocrity or laziness. All that does is block us from our goals." Johnson continues to find new and exciting projects to engage in, including a new web-series he's launched, entitled "Office Hours with Kris Johnson." He explained, "The concept is simple: provide FREE high-quality music lessons to students around the world on concepts ranging from improvisation, business, composition, arranging, technology, and whatever else is on my mind that I want to share with students."
To any aspiring artist, here are Johnson's words of advice: "Be passionate about what you do and don't try to separate your art from your life. You are what you create and what you create is who you are. Enjoy the journey and respect your craft and the legacy that has allowed you to be the artist that you are. Be thorough, expressive, and intentional in all of your pursuits."
Website: krisjohnsonmusic.com