MAKING ART WORK is a series that taps into the knowledge and experience of seasoned creatives from our community and beyond for the benefit of our students.

Gavin Yehle is a Seattle-based stage manager, actor, and designer, originally from Salt Lake City, UT. Some Seattle credits include: "Troilus & Cressida" (Seattle Shakespeare Company), "The Revolutionists" (Theatre22), "Oedipus the King" (Play Your* Part virtual livestream), and "The 12 Days of Christmas" (Bellevue Youth Theatre). Gavin got his start in theatre when he was nine at the University of Utah Youth Theatre where he was a member of the UUYT Conservatory and performed with them at the Edinburgh Fringe Festival. During his time at UUYT, he got his start in stage management and design, stage managing numerous shows for them over the next couple of years. He recently graduated as the 2019 Department of Theatre Outstanding Senior with a BFA in Acting and Stage Management from the University of Utah where he was a part of 13 department productions during his time as a student.

For the department, he appeared in "Our Country's Good," "You Never Can Tell," "The Two Noble Kinsmen," and "Arcadia" and stage managed or assistant stage managed "Company," "Amahl and the Night Visitors," "Julius Caesar," "The Beautiful Game," and "The Importance of Being Earnest." In addition to acting and stage managing, he has also sound designed, mixed, and assisted sound on various shows including "You Never Can Tell," "Steel Pier," "Bring It On," "American Idiot," and "A Funny Thing Happened on the Way to the Forum." He also was the lighting designer for "The Rivals" and has helped with lighting on various other smaller projects inside and outside of the department. Outside the University, Yehle has worked with Salt Lake Acting Company, The Grand Theatre, Pioneer Theatre Company, and Utah Opera.

You have recently relocated to Seattle to further pursue acting, design, and stage management. How do you begin to network and build relationships in a new city? What went into your decision to move?
Networking definitely has been a challenge, especially with COVID this last year. But it was a huge help to have connections through Amber Bielinski, the head of the stage management program. Seattle was one of the places I was looking at moving to after graduating, and Amber was able to set up some shadowing and touring opportunities for me the fall before I graduated. This was one of the main reasons that I chose to move to Seattle, because I knew it would be a lot easier to jump right into working as a result of these networking opportunities. But really just being able to do theatre and having a job before I even got to Seattle I think was the biggest help. Most of the shows I worked on were because I met someone working on another show before that.
What skills or mentors from your time at the U have had a lasting impact as you built your career?

There are so many amazing professors and mentors at the U, but there are two that really stand out for me. First, I always have to give a shoutout to Penny Caywood, the director of the University of Utah Youth Theatre. She's the reason that I "caught the theatre bug" almost 15 years ago; and through her program and mentorship I was able to develop a passion for theatre. Her program also gave me a good way going into the theatre department, and I think having over a decade of experience doing theatre on campus gave me a special experience that I'm always grateful for. Then in my time as a college student, Amber Bielinski provided constant support — not only academically, but also on a personal and individual level, which is something that is invaluable in an arts education. She has a visible passion not only for theatre, but also for teaching and has done so much for the stage management program, as well as the department. I'm lucky to have had such good support and passionate teachers. Thanks Penny and Amber!

How do you balance performing with design work and stage management? When approaching a new opportunity, how do you choose which way you'd like to be involved?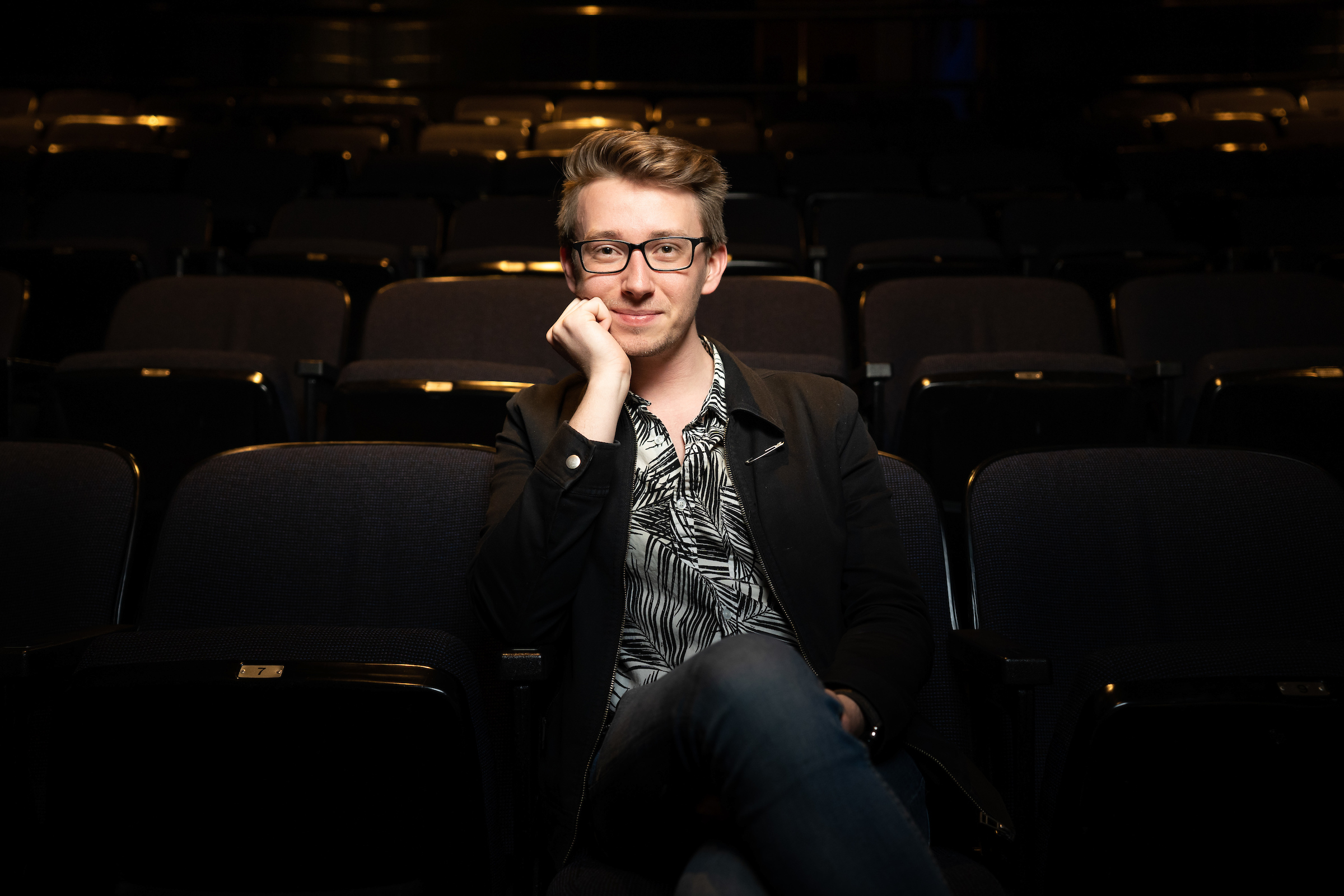 I've definitely been doing more stage management work recently, mostly due to the connections I've made. I'm still at a point in my career where I will take most jobs that are offered to me, and at the moment that seems to be mostly stage management jobs. But I'm not complaining. I think that even when it comes to a particular type of job, having knowledge in other areas only makes me better. It is nice to be able to tell people about the different areas that I work in, and I've gotten opportunities mostly through people that I've worked with before. I just hope to do more of it all in the future!

What is a favorite memory from being on stage?

That's definitely a hard question. I have so many good memories and lifelong friends I've made from being onstage. But definitely one of the highlights was getting to travel to the Edinburgh Fringe Festival in Scotland with the Youth Theatre Conservatory. Not only being able to perform there, but also being able to see some really cool shows from all over the world.

What has surprised you the most thus far on your artistic path?
I honestly haven't had a lot of surprises along the way. But one that comes to mind is when I went studying abroad in London as part of the University's program. Before going, I thought that theatre in London would somehow be fundamentally different in some way, but after seeing a ton of plays and even getting to meet people who worked on those shows, I realized that theatre is still just the same. It was somehow empowering to realize that I'm doing just the same thing as those on an internationally renowned level. Yes, there's always room to learn, grow, and evolve; but at its core, theatre is theatre, no matter when or where you are.

You can follow Gavin's work here!