MAKING ART WORK is a series that taps into the knowledge and experience of seasoned creatives from our community and beyond for the benefit of our students.

Nancy Rivera is a Mexican-American visual artist and arts administrator based in Salt Lake City, UT. Rivera earned her MFA at the University of Utah Department of Art & Art History and her BFA at Weber State University. Through her photography-based projects, she addresses notions of authenticity, translation, and appropriation. Her most recent work reflects on her experience as first-generation Mexican-American. She has exhibited nationally in a variety of traditional and non-traditional venues and her work is part of private and public collections. She currently manages the Visual Arts Program at the Utah Division of Arts & Museums and is the vice-chair of the Salt Lake Art Design Board.

Can you tell us a bit about your most recent exhibition at Granary Arts, "Facing Home?"
The exhibition came about when Amy Jorgensen, who runs Granary Arts, invited me to curate and coordinate an exhibition in the space. I invited Denae Shanidiin to collaborate with me. We started talking about the things we were both currently working on and, more so what was the meaning behind those things. We really started thinking about home and the ways in which the concept of home has changed because of the pandemic, and also because of our multicultural backgrounds, what home meant in relation to places that we couldn't visit, places that we missed, and how that translated into artwork.

Some of the work in the exhibition I had been working on before and we decided to include it, which were the cross stitched pieces. Maybe two years ago I started thinking about needlework and how it can be used as a medium in fine art. I was inspired by artists who have used crafts, needlework, and textiles to create something conceptual. The overarching themes of my work involve thinking about the relationship between the real and the artificial, and what it means for something to be considered authentic. I started thinking that with needlework you can create anything as 2D, tactile artwork. And I started wondering what happens if I used that to create facsimiles of something a little bit more personal. In this case, it was government issued documents. Three years ago I became a naturalized citizen. It became a catalyst that made me realize there was a lot I wanted to express about that experience, but also the experience of being an immigrant and a newly identifying Mexican-American person.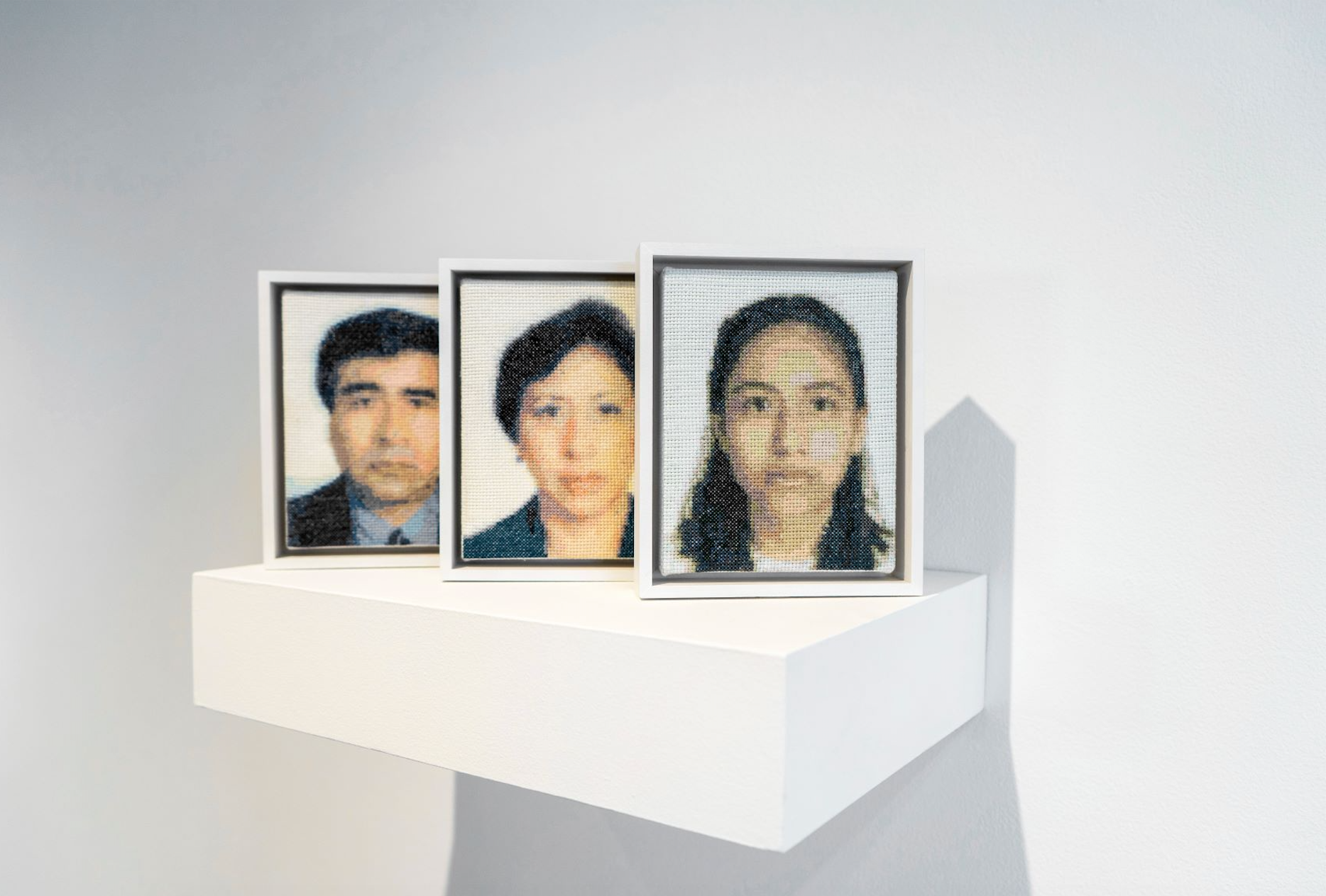 From Facing Home, by Nancy Rivera


Looking back through some of the documentation that I had kept over the years, I started realizing that between my parents and myself, we had all these documents but most important were our passports. Those passports we used when we traveled from Mexico to the states became an object that I really held onto — because of the history, but also it was something that identified us as Mexican. Through the process, I started realizing that passport photos were a big element of other documents, like our green cards, and then my naturalization certificate. So, I took all of those photographs and used them to create the cross stitched pieces. I'm always really interested in thinking about photography, which is what I graduated in, in a multifaceted way. How can you create images that don't always necessarily utilize a camera to produce them? My grandmother would always spend her time with needlework. For me, it clicked when I realized there was a history there that was really important to the traditions of being Mexican.

Alongside being a working artist, you have taken on administrative and curatorial work as well. How do you balance both pursuits?
It was during my second year of grad school that I decided to grow in an arts administrative career. I had an opportunity to manage a contemporary art gallery in downtown Salt Lake. It was just an opportunity that I could not pass up. I knew that I enjoyed that type of work more than being a professor, which was the other option while being a grad student. I decided to explore, in full, what being an arts administrator was. The work that goes into growing and developing a non-profit was something that you just don't learn in school. From there, I started working for a couple other non-profits which led me to my current job, managing the Visual Arts Program at the Utah Division of Arts & Museums. It is an incredible job. I work with artists directly, creating opportunities for them, career development, exhibitions, grants — all those types of opportunities.

Running a visual arts program while being an artist myself, it's hard to not also be able to apply to those opportunities and career development that I would want for my own practice. But in this situation, it is about uplifting the amazing artists we have in the state. I've had the opportunity to grow my curatorial practice, which has been really exciting. I've been able to create a community of artist colleagues who interact with me as an administrator or curator, and that feeds into my own work. It's a great area where I am there as both an artist and a curator, talking about the types of conceptual art that we see here in Utah specifically — what we are exploring. It is very different from what we see in other parts of the country.

You also have active board and committee duties, correct?

Currently I am the Vice Chair for the Art Design board for Salt Lake City. That was an opportunity that I didn't even know existed until someone introduced me to the idea of applying to be on boards. I wish that students were more aware of the opportunities that we have, especially in a city like Salt Lake. We're small enough that these types of opportunities are within reach of anyone who is willing to fill out an application and spend some time. This board is specifically about public art, something that I was not aware of until I joined. I've learned what it takes to be a successful public artist, and creating proposals that are appealing to the board. It's fascinating.
I wish that students were more aware of the opportunities that we have, especially in a city like Salt Lake. We're small enough that these types of opportunities are within reach of anyone who is willing to fill out an application and spend some time.
What went into your decision to earn your master's degree at the U?

When I first had the idea of going to the U for a master's, it was solely to grow and develop my art practice. I really just wanted to become a better artist and devote two entire years to just making art. And in that way it worked out fantastic. It was a really nice experience to develop my work with an amazing committee — including Ed Bateman, who is one of my favorite people, and Beth Krensky, who was so supportive and full of ideas. Through having support from the committee and my cohort at the time, I could learn more about myself as an artist and get to know what other people were doing. Everyone was creating such amazing work.

As far as my goals, my intention was just to make connections and develop as an artist and it definitely provided that and more. In the end, being able to tick the box of "I have an MFA'' opens a lot of doors, just letting you in to have your applications reviewed and getting yourself known in the field. It does make a difference. I continue to work with a lot of U faculty and alumni because they are practicing artists. It just continues to grow.

How have things turned out differently than you thought they might?

When I was in undergrad, a lot of the talk around getting an MFA was to get out of Utah, especially as a visual artist. Everyone always tells you if you want to be a successful visual artist, you can't stay. I graduated with my BFA in 2010. So I waited several years before doing my MFA. Over that time, I don't think we ever expected that social media and the internet were going to make such a huge difference in changing how you can grow as an artist and make yourself visible to a national audience by just having an instagram account. That's been something that I think about quite a bit, because it's actually really incredible how by just being active in sharing your work on social media you create a community. That's been a really nice way to think outside of what Utah provides, and also learn about opportunities outside the state. It has completely changed the way we think about where you can live as a visual artist and still be successful.
What keeps you inspired, especially this year?

Over the last several months, because everything changed so much in the way that we interact. For example with museums, certain events were always so out of reach because of whatever city you were living. Now everyone is doing online or Zoom events. Even though there is Zoom burnout, it's been really nice to have access to those things, to log into Zoom and suddenly see a panel discussion happening at MoMA. Those are the things that have kept me going, as well as interactions with my artist friends, learning about what people are working on and just staying connected. I follow a lot of artists who show how they create their work, which is something I am not comfortable doing but I love to watch other people do it. That makes me feel inspired to continue creating and learning different ways of making work.

What do you have coming up?

I was recently invited to curate the upcoming faculty exhibition for the U at the UMFA. I'm super excited to be able to work with the staff and faculty and see the work that they are creating right now. I'm very much looking forward to working with both teams.