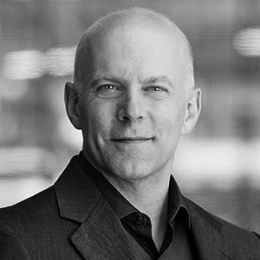 School of Dance Director Luc Vanier
On November 21st thru the 23rd, Repertory Dance Theatre presents "Sounds Familiar," a concert featuring new work by local choreographers using beloved classical music.

Luc Vanier, director of the School of Dance at the University of Utah is one of the selected choreographers. Working with the second movement of Beethoven's "Symphony No. 7," which was composed in 1812, Vanier tells the story of two people in a post-apocalyptic world.

"I can't possibly make a new work without acknowledging climate in some way," Vanier said. "So, you have this big, beautiful music and yet this very stern subject of what may happen if we don't heed the warnings or if we don't get together to address this crisis in some way. We're looking at a couple who survived, have a vague memory of a time and are negotiating this moment."

Vanier's piece finds dancers Lauren Curley and Dan Higgins in a space with a beat-up old TV, through which Beethoven's music plays. They are clad in FEMA raincoats. Around them, images are projected – everyday things that have also somehow withstood immense natural destruction.

For Vanier's collaborator, filmmaker Kym McDaniel, footage of these ordinary objects becomes quite eerie when considering they may outlive humanity. "Kym was in Wyoming when we were discussing the piece," Vanier said. "Just outside her window were these giant sprinkler units on wheels, passing by. What is the world that has gone on after us? It's the small things, you know? There is no longer any water, but the sprinklers are still turning on."

Beethoven's symphony in the piece reflects this same forgotten feeling. Vanier said, "It is not playing beautifully in the house. In fact, at one point Kym scratched up the sound so much you could almost not hear the melody."

The movement vocabulary Vanier and the dancers created sprung from real-life images. They began crafting phrases inspired by actions like distinguishing fire, or guiding someone who couldn't see. The choreography blends the classical and the distorted. Vanier would carefully listen to the symphony, then forget it for a while, piecing the elements together as they developed. It is exactly this kind of reinventing an iconic score that gives Beethoven new life more than 200 years since it's creation. This evening of 21st century choreography will reinvigorate the work of Bach, Puccini, Haydn, Mozart, Prokofiev, Khachaturian and more.

"Sounds Familiar" features 12 choreographers, including School of Dance Assistant Professor (Lecturer) Sara Pickett, Faculty Emeritus Stephen Koester, Faculty Emeritus Sharee Lane, Assistant Professor Molly Heller and dance alumni Nicholas Cendese, John Mead, Nathan Shaw, and Natosha Washington. Repertory Dance Theatre company members Daniel Do, Elle Johansen, and Ursula Perry are also alumni of the University of Utah School of Dance and will be featured in the concert.

See "Sounds Familiar!"
November 21-23 at 7:30 PM
Rose Wagner Performing Arts Center
Tickets $30, Students $15
Get tickets here.