MAKING ART WORK is a series that taps into the knowledge and experience of seasoned creatives from our community and beyond for the benefit of our students.

We had the pleasure of speaking with Broadway actor and CFA Department of Theatre Alum Claybourne Elder for this episode of MAKING ART WORK.

What skills or mentors from your time at the U have had lasting impact as you built your career?

I learned so many valuable things from my time at the U. Definitely the most important class I took was theatre history. Not only because that's where I met my now mentor, Sydney Cheek-O'Donnell, but because that class taught me how to respond in my own voice to theatre. Not only did I learn about the most important plays and playwrights in history, but I learned to talk about them and have opinions. This has proved an invaluable skill to me in my life as an artist.

Any unexpected twists in your path as an artist?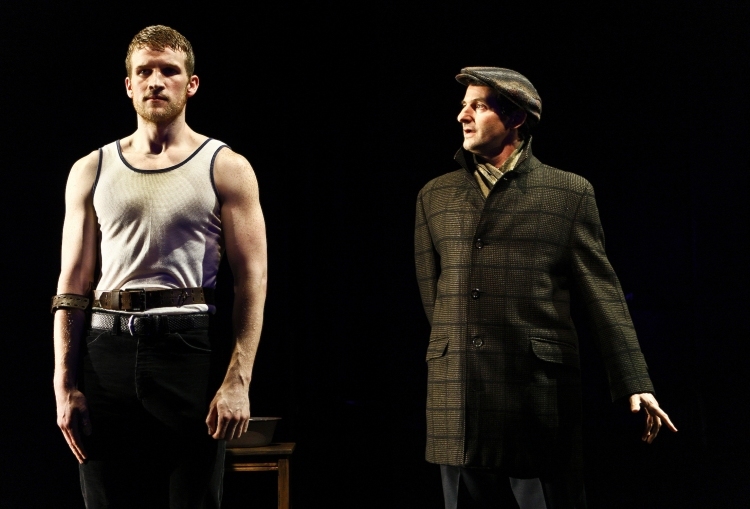 Part of the fun of being an actor is that your life is full of unexpected twists. One day you're sitting around your apartment and the next day you have an audition that changes your life. The hard part is the in-between times. Times when you are waiting to book your next job or waiting for rehearsal to start on your next project. Those are the times you have to be extra mindful and use the time to learn new skills or hone your craft. When I first auditioned for "Bonnie and Clyde," which was the first show I did on Broadway, they called me in for a different role than the one I ended up playing. In fact, they had already cast someone in the role I ended up doing. But I went in to the audition having worked hard to be prepared. After I auditioned they asked if I could step out and wait in the lobby for a minute. I waited in the lobby for a few minutes and the casting director came out and said, "So, there's another role in the show that we'd like you to read for. We've already cast someone but they'd like you to read for it anyway." He handed me a bunch of pages from the script and gave me about 10 minutes to learn them. I went back in the room and gave my audition for the other character. Two days later they called and said they wanted to give me the job instead of the original person they were going to cast. You just never know how it's going to happen!

If you could talk to undergraduate you, what would you say or advise?

Never underestimate people and always be kind. Kindness and generosity of spirit are what will keep you afloat in your career as an artist.

Where do you look to fill your well when inspiration runs low?

Everywhere! One of my favorite things about living in New York City is there is art everywhere. Some days when I have a bad audition I take myself to a museum to get myself out of my head. But you can do that anywhere! Read a book, go see a great film, listen to someone tell their story. Get outside your head and into the world.

About Claybourne Elder:

Claybourne Elder is a Drama Desk and Lucille Lortel nominee. Originally from Springville, Utah, he earned his Bachelor's degree in dramaturgy and directing from the University of Utah. He starred on Broadway in "Bonnie and Clyde," "Sunday in the Park with George" (with Jake Gyllenhaal) "Torch Song" and "Sondheim on Sondheim" at the Hollywood Bowl. He can be heard on the cast recordings of "Bonnie & Clyde," "Road Show," "Venice" and "Sunday in the Park with George."

Off-Broadway, Elder appeared in the original companies of Stephen Sondheim's "Road Show," Tennessee Williams' "One Arm" (Drama Desk Nomination Best Actor), and in the revivals of "Allegro" (Lucille Lortel Nomination Best Actor), "Two by Two" (with Jason Alexander), and "Do I Hear a Waltz?" He has premiered works by Stephen Sondheim, Frank Wildhorn, Bill Finn, Stephen Flaherty and Lynn Ahrens.

His regional credits include George in the Helen Hayes award winning Signature Theatre revival of "Sunday in the Park with George" (Arlington, VA), Wolf/Prince in Moises Kaufman's "Into the Woods," "Angels in America" (KC Rep, dir. David Cromer), "Oklahoma" (Curly), "West Side Story" (Tony), "Cinderella" (Prince), "Passion" (Giorgio), and "Pippin" (Pippin).Elder was a series regular, Pete O'Malley, on the WB's "The Carrie Diaries." Film credits include "Flatbush Luck," and "It Could Be Worse." He made his cabaret debut at 54 Below in NYC and his solo show "You and Me and Sondheim" has played to sold out houses around the country and in London.

He lives in New York with his husband Eric Rosen who is a playwright and director. They have one son, Bo, who is two years old.