On September 19th, the University of Utah's premiere orchestra, the 85-member Utah Philharmonia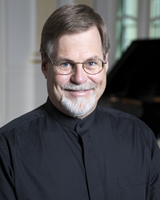 will perform with students from the prestigious Wuhan University in China in a concert that explores cultural musical traditions and builds international student relationships.

To gain insight into this exciting program, we spoke with Director of Orchestral Activities and School of Music professor Robert Baldwin about his inspirations surrounding this collaboration and what most excites him about bringing Wuhan University's students to the U campus.

Can you tell us about the program's selections and what inspired them?

We are going to truly share this concert with our friends from Wuhan, China. This means we will be sitting side by side, making music together.

The first half of the program will feature two American and two Chinese selections. George Chadwick's "Jubilee" and Charles Ives's "Fugue from Symphony No. 4" will represent the American works. I wanted to share music that was not too cliché (so no "Stars and Stripes" or Cowboy music for example), but still quintessentially American in sound.

We will contrast that with two orchestral works that Dr. Bo Wu is bringing from China. On the second half, we will play one of the monuments of the repertoire, Camille Saint-Saëns's "Organ Symphony." It's a massively powerful work that will utilize the combined forces and showcase the organ in Libby Gardner Hall. School of Music alumni, David Fox, will be the featured organist.

What is most exciting about this meeting of students from the U and Wuhan University?

I feel it is important anytime we can bring people together. The arts do this better than almost anything else because it relies on collaboration and sharing. We all need to work together to make a concert happen, and in doing so we concentrate on the goal rather than our differences.

From my experience, in the end, we realize that we are all essentially the same at the core. I believe the audience picks up on this as well. This generation of students represents the future. I know that sounds cliché, but I also know that coming together like this will be something they remember for the rest of their lives. Who knows where it might lead?

Another exciting element of this concert is the return of one of our alums, Dr. Bo Wu to the Libby Gardner Concert Hall stage. Dr. Wu will be sharing the conducting podium with one of his former classmates, Dr. Lawrence Spell. Both are exciting and capable young conductors. It is very gratifying for me as a teacher to watch their careers develop. The U of U is producing some very promising careers in the Arts!

Finally, we hope this is not a one-time shot,. The students of the Utah Philharmonia hope to be able to travel to China next year and return the favor of their stage, renewing these friendships that have formed over music. More than just a "trip," this is the path towards future understanding.

What musical traditions do you feel the students share, and what major differences do you see?

The western classical music tradition is solidly established in the U.S. and becoming more readily seen in China as well.

I've had the good fortune to conduct in two Chinese cities and was amazed at the depth and enthusiasm for western classical music there. Classical music is everywhere. I've been amazed that the concerts I've conducted in China have been sold out. I'm sure that's because of the music. Whether it is curiosity or love of the music doesn't matter—they keep coming back!

Famous European and American orchestras regularly tour there, but there are also many good local orchestras, Symphony Orchestras, in almost every city in China. The power of Beethoven's music speaks across time and culture!

I think that China has a bright future in terms of western classical music. I'm also certain that they are in a period of exciting discovery, as more of their composers write for symphony orchestras. There is some really exciting music being produced now in China, and it is different from what an American composer might create. But we must remember that those American composers' works also sounded different from their European counterparts.

Culture has a way of shaping art, and vice versa. So, yes, I hear some differences in terms of the scales employed, and perhaps also the form and rhythm in Chinese music. But overall, that which survives is nonetheless good music. From my perspective, the musical traditions of China are evolving in exciting ways, and at a very fast rate, much like America was at the time of Chadwick and Ives, the composers whose works will open the concert.

The concert will take place at 7:30 PM at Libby Gardner Concert Hall. Get tickets here.
Don't forget that this event is FREE to U of U students through Arts Pass (just bring your UCard)!
We hope to see you there!