It's one of our favorite times of the year – the time when we all come together to celebrate the past, present and future of the University of Utah College of Fine Arts. And this year, our 10th anniversary of the Distinguished Alumni Awards celebrations, will be one for the books.
It is our great pleasure to welcome to campus on September 26 and 27 a cohort of creative, inventive, brilliant, award-winning Distinguished Alumni, who after completing their studies here at the U, have gone on to influence art-making and the study of it wherever they have gone.
Join us on Wednesday, September 27 in Kingsbury Hall at 12P for the Distinguished Alumni Awards Legacy Assembly to see short documentary films on each distinguished alum with a performance or presentation from their corresponding academic unit – making for a powerful illustration of legacy and promise of University of Utah College of Fine Arts. (College of Fine Arts faculty and staff, along with special guests of our Distinguished Alumni can find information on the prior evening's Awards Banquet here.)
Without further ado, let us (virtually) introduce you to our 2017/18 College of Fine Arts Distinguished Alumni.
LORI NELSON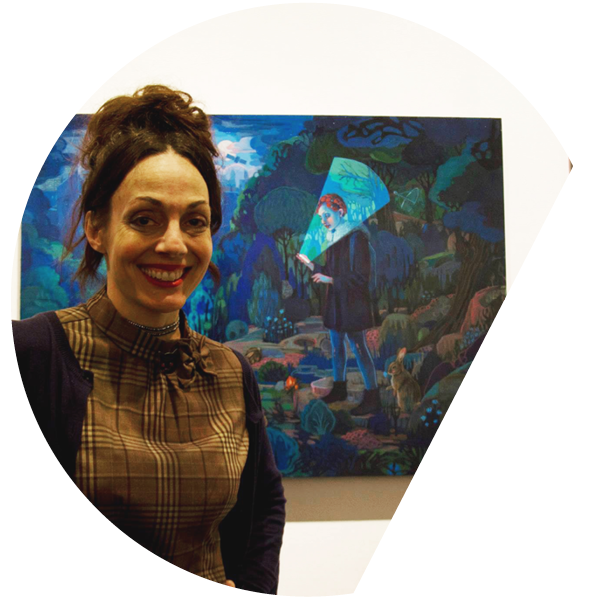 Originally from the West, Lori Nelson is now a Brooklyn-based painter whose narrative work incorporates aspects of traditional portraiture, Magic Realism, and vintage storybook illustration. Her work has an interest in the dual aspect of innocence and knowledge that defines tween and teen-hood, and can be seen in her ongoing "Cryptotween" series where she explores the vulnerability and essence of what it means to be young and monstrous. Since graduating with a BFA in Painting from the University of Utah in 1993, Nelson has exhibited her work internationally, including recent solo shows in Brooklyn and Los Angeles. Her work has been widely covered in a variety of media including Vice, Hi-Fructose, Juxtapoz, and Flavorwire. For seven consecutive years, Nelson has worked in different capacities with 4heads, the New York City nonprofit organization that produces the annual Governors Island Art Fair. Among her duties, Nelson currently serves as the Director of the Artist in Residence program and Director of the art fair's small-works pop-up shop.
Lori Nelson grew up in the Western Colorado desert, where her exposure to art was limited. She had no reference of what it meant to be an artist, only a need to make seen the ideas and stories she was inventing. At the U, she found a department that was not only open to the idea of narrative painting, but allowed her to form aspects of her own education. She was given a flexibility and encouragement to be explore her own style.
BARBARA JEAN HAMBLIN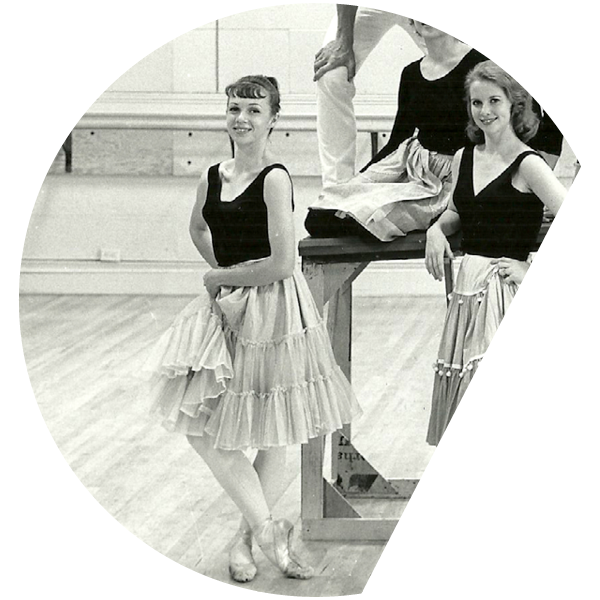 Barbara Jean Hamblin was born in Klamath Falls, Oregon. She came to Salt Lake City in 1958 at the age of 18 to pursue study in classical ballet at the University of Utah in the Department of Speech, at the time a division of the Theatre Department. Hamblin was a charter member of Utah Civic Ballet established in 1963, later to become Ballet West, where she became a principal artist in 1966. Hamblin was met with critical success in several leading roles including Balanchine's "Serenade," "Concerto Barocco," "Symphony in C," and Willam Christensen's "Coppelia," "Cinderella," "La Valse," and "Firebird." After her performing career ended in 1970, she continued her education and graduated from the University of Utah in 1973. She began teaching as an adjunct faculty member in the U's Department of Ballet in 1972. She was then awarded a full-time teaching position in 1984, and was appointed chairwoman of the Department of Ballet in 1988. Upon her retirement in 2007, she was awarded the rank of Professor Emerita.
While a junior year in high school Barbara Jean Hamblin traveled to Salt Lake City where she first took classes from Willam Christensen. His wonderful enthusiasm for ballet, his gregarious personality and his sense of humor captivated her. This experience convinced her to attend the University of Utah over Texas Christian University, which at the time, held the only other ballet program in the nation.
ASHKAN SOLTANI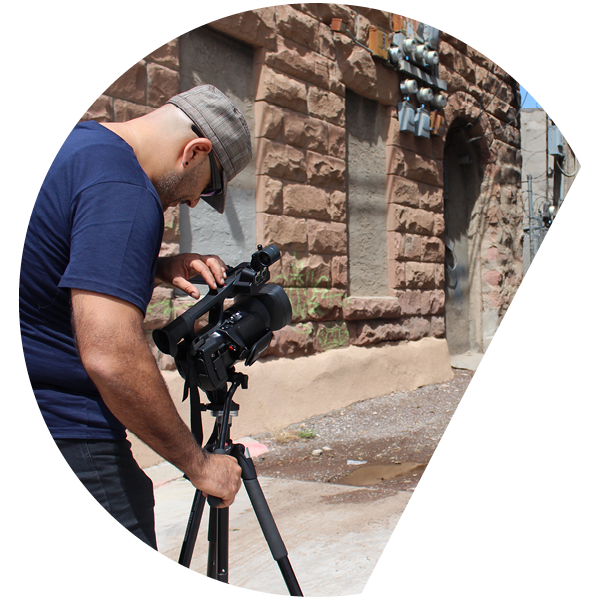 Ashkan Soltani is an award-winning Iranian-American filmmaker and educator based in Los Angeles. He studied theatre in Iran before moving to the United States to pursue his MFA in Film Studies at the University of Utah in 2007. In his films, Soltani explores a wide range of topics such as affordable housing, immigrant workers, indigenous land rights, and subversive music. In addition to winning multiple awards, Soltani's films have screened at numerous international film festivals. His most recent documentary, "I Know You Well," is about Jandek, an enigmatic American musician with a large international cult following. Soltani is currently working on a feature-length documentary "Rez Metal" (also subject of a book, University of Nebraska Press) about the Heavy Metal music scene throughout the Navajo reservations and the many ways in which heavy metal engages disenfranchised Navajo youth in constructive anger to cope with endemic poverty and high rate of suicides.
Ashkan Soltani came to the U.S. to study film, and originally choose the University of Utah for the equal emphasis the Film Department puts on production and theory, and its proximity to the Sundance Film Festival. The decision to come to the University of Utah gave him the opportunity to learn from great mentors while immersing himself in thriving film scene in Salt Lake City and of course Sundance Film Festival.
SERGIO PALLOTTELLI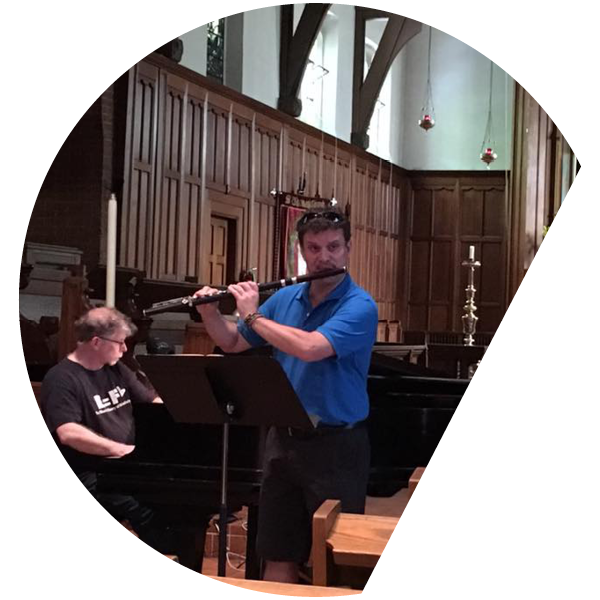 Sergio Pallottelli, originally from Italy, has performed as solo flautist and chamber musician in halls across Europe, Australia, the United States and South America. He holds performance degrees from the Giuseppe Verdi Conservatory of Music in Milan, Italy, the Yale School of Music, and received his MFA in Music from the University of Utah in 1997. Pallottelli is currently an Artist Teacher at Longy School of Music of Bard College in Boston, and has taught at the "Flauti al Castello," a week-long flute workshop in Tuscany, for the past five summers. Pallottelli is versatile flautist and teacher who effortlessly works in styles ranging from the Baroque to the contemporary, and frequently collaborates with composers to increase the repertoire for the flute.
Sergio Pallottelli moved to the United States with the hope of studying music outside of Italy. On a visit to family friends, he auditioned for the School of Music and was admitted. Pallottellis is grateful for the serendipity that lead him to the University of Utah, where he had a remarkable experience and received his first American degree.
ODAI JOHNSON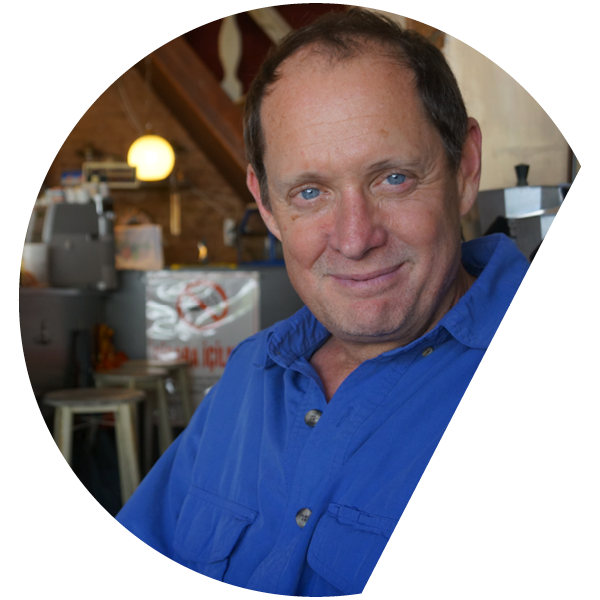 Odai Johnson received his BA in Theatre Studies from the University of Utah in 1987, followed by his MFA with an emphasis in playwriting in 1990. He then went on to receive his PhD from the University of Texas at Austin. Johnson is currently a Professor in theatre history and Director of the Doctoral program in the School of Drama at the University of Washington. His articles have appeared in Theatre Journal, Theatre Survey, New England Theatre Journal, Theatre Symposium and the Virginia Magazine of History as well as contributions to numerous anthologies. His books include Rehearsing the Revolution (University of Delaware), The Colonial American Stage: A Documentary Calendar (AUP), Absence and Memory on the Colonial American Stage (Palgrave-Macmillan), London in a Box (Iowa), and Ruins: Classical Theatre and the Archeology of Memory (University of Michigan), as well as contributor to the Oxford Handbook of Dance and Theatre, Oxford Handbook of The Georgian Theatre, the Oxford Handbook of American Drama. His courses range from the classical past, to the Baroque, the Early Modern, the Long 18th century, and historiography. Johnson was also holds the Floyd and Delores Jones Endowed Professorship in the Arts.
Odai Johnson was once told "If you're serious about playwriting, you need to go the University of Utah." Johnson took the advice, and under David Kranes' tutelage and the Theatre Department's guidance, Johnson wrote, acted, directed and started to discover a deeper interest in how theatre matters in a larger historical context.