By Cayden Turnbow

I heard about film director Kohl Glass through a mutual friend, and I was intrigued. While still a student at Brigham Young University (BYU), Kohl made a short film that was accepted into the Sundance Film Festival. Since then, he has directed a number of feature films, and currently resides in Salt Lake City. I was excited to have the opportunity to sit down with him.

I expected him to tell me more about the local industry, but he offered so much more than that: a deep dive into the intricacies that go into navigating a film career, and how it rarely ever leads you where you expect. For a lot of people, there is this eureka moment when you realize you want to become a filmmaker. "When I found out film was just as much an art form as painting, poetry, comic books and everything else, I decided to go to film school." Kohl said.

"I made three short films while I was at BYU, and my last one got into Sundance, so I got everything that I could have wanted from my experience," he said. A typically controversial topic amongst filmmakers is whether college is worth the investment or not. "There isn't anything that they teach you in film school that you can't see on your own, there isn't a book in film school that you can't buy and read on your own. But, you get to be around the people that you work with," Kohl said. That is a major bonus to getting a formal education in film. It surrounds you with other filmmakers who are just as motivated as you are. For Kohl, film school can be very beneficial, "if you can figure out a way to build a meaningful network [and can] make meaningful friends in the film industry."


For me personally, I had no network whatsoever going into college. Getting involved in my classes and other organizations, like the Film Production Club, helped me develop a network of people that I constantly rely on and now work with. The idea is that if one of us makes it in the industry, then that person will bring the rest of that community up with them. This was true for Kohl when he graduated. "The people who were hiring me were the people I went to school with," he said. Every moment is a good one to build another connection, but it's the people who you develop meaningful relationships with that will continue to work with you and help you develop your career alongside their own.

Der Ostwind, Kohl's film that was featured in the Sundance Film Festival, follows a battle-worn German ace from WWI who stops at nothing in his pursuit of a mysterious and invincible American pilot. "Der Ostwind came about because of how ignorant we all were on how to make a short film," he explained. For a lot of students, their first short film can be a daunting task. "There were multiple times where we talked to people and they told us that what we were trying to do is so hard, and we were like 'I don't care, we're not listening to you, we're doing it. Which is something really important to have as a filmmaker."

Kohl maintained the drive to finish his short for two years after he graduated. It was a monumental task. "It's like you're going to the top of this building, but you don't know how tall it is. So you're running, running, running and then it's like holy crap we've been running for two years – you can't stop now, and you keep running. Then you get to the top and it's like a 150-story building," he said. It's not uncommon to feel frustrated by the challenges that come with a career in film, and a lot of people unfortunately become overwhelmed by it.

"There were times early in my career where I thought, am I going to be able to pull this off?" he questioned. Kohl still faces challenges now. "I feel like every film is like that. I've made enough stuff where you'd think I would know how much work goes into stuff but I don't, I always think it's easier than it is."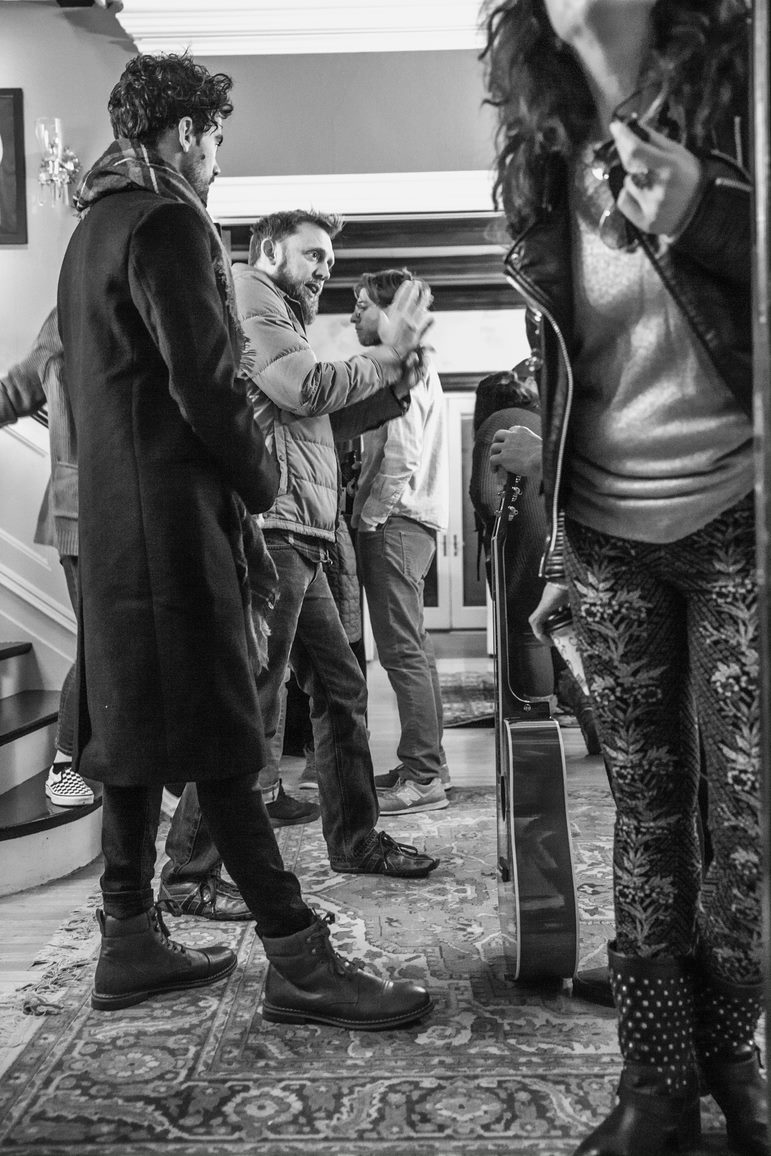 Photo courtesy Kohl Glass

Der Ostwind was a gateway to create a long lasting and meaningful film. "I always wanted to make things that were meaningful and I always wanted to make things that were long lasting…That's a very, very, very hard thing to do. Even if I don't achieve it, I want to strive for it, "Kohl said.

After years of trying to get funding, he was worried his vision would not come to life. When he got an offer to direct a movie called Orc Wars, he was apprehensive. "This doesn't feel like my wheelhouse or what I want to be doing. I had a friend who was like, 'you have to be careful because your first movie will always be your first movie,'" he said. Kohl thought long and hard about this decision. "James Cameron's first movie was Piranha II. A lot of filmmakers have these wonky first movies that aren't what they are known for," he said. But, he took the leap and directed his first feature, which led to more projects: You May Now Kill the Bride and Babysitter Must Die.

"It definitely changed the course of my career, to the point where I am trying right now to course correct back to making my own stuff." These are difficult decisions that filmmakers in the industry have to make all the time. Kohl has been able to push through it because of three key pieces of advice he gathered throughout his career.

1. "There are as many paths to becoming a director as there are directors."

There is no right answer in this industry. Everyone has to walk their own path, the hard part is walking it alone. "There aren't set gates that you should be going through," he said. You have to be determined enough to make it through the hard parts, which leads to his second piece of advice.

2. "Fail your way to success."

We all make mistakes. Every single director, writer, and producer that you look up to has messed up at some point. It is inevitable, so keep pushing forward through those mistakes because you never know what will be on the other side of that rainbow. Kohl heard his final piece of advice at a Comic-Con in San Diego when he attended an event where director Guillermo del Toro was the main speaker. He remembers del Toro saying:
3. "Everyone can quit in the film industry except for you."

Kohl made that promise to himself a long time ago and it has continued to be a driving force of motivation. "You need to make that decision before you hit something that makes you wanna quit," he said. So many other filmmakers have hit this wall time and time again. It's that willingness to pick themselves up again that sets them apart.

"That's the tricky thing with anything in the arts. Everyone idealizes it, so there will never be a shortage of people who want to create for a living. The truth is, the arts have become very hard because they weed out all of the people who want to do it but aren't fully committed," he said. "I'm going to succeed by just outlasting everybody."

Kohl just finished a short film called Gruff which I got the pleasure to watch. Kohl let me know how rewarding it was to return to making a short film that truly embodied his voice as a director. "I really tried to look back on all the work I had done, and what things I am most proud of. It was my short films that I made at BYU. So I decided to just do another short film," he said.


ArtsForce Takeaways:
Create a meaningful network while you are in college, they will be the people that you will continue to work with after you graduate.

Everyone makes mistakes, it's the people who get up and try again and again that make it in this industry.

Everyone takes a different path to get where they want to go, don't think that there is one right way to get there because the possibilities are endless.

Author Cayden Turnbow is an Emerging Leaders Intern at ArtsForce, the Film Production Club President and a Commercial Director in Student Media. He is majoring in Film and Media Arts.