MAGNIFYING is a series dedicated to showcasing the talent of our students, faculty, and staff to help you learn more about the remarkable individuals within our creative community here at the College of Fine Arts.

Michael Sammons, D.M.A. serves as the Percussion Area Head at the University of Utah and is recognized as a versatile performer in solo, chamber, symphonic, marching percussion and non-western musical styles. In addition to his work with the Utah Symphony Orchestra, he regularly performs with various national theater touring shows, the Utah Opera and Ballet West and has appeared as a guest artist with Utah Chamber Artists and NOVA New Music Chamber Series. His work can be heard on ABC, ESPN, TNT and local media outlets as well as diverse recording projects for Warner Bros Chappell Music and the Utah Symphony Orchestra. Sammons previously served as director for the NBA's Utah Jazz "Street Beats" Drumline.
Sammons has appeared extensively throughout the U.S. and in Brazil as a guest artist and clinician including multiple performances at the Percussive Arts Society International Convention (PASIC), Universidad Federal de Rio de Janeiro and de Recife in Brazil, Northwest Percussion Festival, various Percussive Arts Society's "Days of Percussion", National Association for Music Education, and numerous state Music Educators Association Conventions as well as prominent universities across the U.S. Sammons is an artist endorsee for Vic Firth Sticks/Mallets, Remo Drumheads, Zildjian Cymbals, Grover Pro Percussion and is a Yamaha Performing Artist.
Sammons has served as a member of the Executive Committee for the Percussive Arts Society as well as other appointments including University Pedagogy Committee Chair, Education Committee and Collegiate Committee, founding member. From 2013-2016, Sammons served as President for the Utah PAS Chapter, which won the award for "Chapter of the Year" in 2015. He is a contributing author to Percussive Notes and PAS Educators' Companion as well as text and video in the 3rd edition of Teaching Percussion by Gary Cook, a percussion methods book used worldwide. In addition, he has commissioned several new works for percussion by prominent composers including Anders Koppel, Jason Baker, Dwayne Rice and Christopher Deane.
Sammons previously served as Assistant Professor of Music and Director of Percussion Studies at the University of South Alabama from 2008-2012 where he founded the USA Jag' Drumline, USA Steel Band and World Music Group, touring extensively throughout the Gulf Coast region. Sammons continues to direct the Treasure Coast Percussion Camp in his hometown of Vero Beach, FL., founded in 2005.
Michael Sammons received his Doctorate of Musical Arts degree in Percussion Performance from the University of Arizona, where he served as Graduate Teaching Assistant and Director of the UA Steel Band Program from 2003-2007. He earned the Master of Music degree in Percussion Performance from the University of Arizona in 2005 and the Bachelor of Music degree in Music Education, with a Performer's Certificate, from the University of Florida in 2002. His travels abroad include Trinidad, Ghana and Brazil.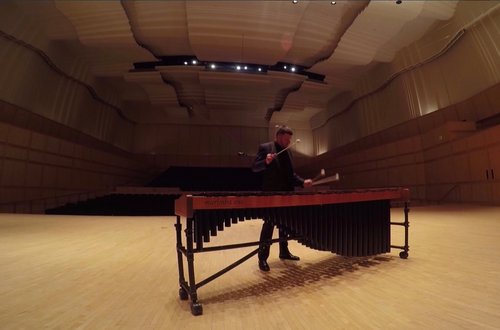 When and how did you discover percussion? What influenced your decision to pursue it long term?
I don't think I had a choice to be doing what I'm doing. I see what I do as a calling – it kind of goes beyond passion. I grew up in the business. Both my parents were very successful high school band directors. My dad was just inducted into the American Bandmasters Association a few years ago, which is an exclusive club, especially for high school directors. I get: "You're Jim Sammons' son!" Unfortunately, my mom passed away at an early age, but she was very successful as well. They worked together.

So, I grew up running around the band. The drummers were messing with me all the time, and taught me a bunch of stuff they probably shouldn't have... I didn't know there was another path. From 1st grade on, I took lessons.

My parents didn't want me to be a percussionist, or they didn't want me to be a drummer, rather. That's an important distinction. But, they didn't have a choice. So they set very high expectations for me. It's the family business. I grew up in it.

What role did mentorship play in your education? Who were some important early influences?

My first teacher was a guy named Bill Mann. Bill is still one of the best drummers I have ever seen, or heard play. He's not famous, but Bill was an incredible teacher – and not just drums. He taught me a lot about working hard. But we didn't call it working hard, we always just played "games." He jedi-mind-tricked me into what other people would call discipline.

Lessons used to cost $20. I wasn't maybe doing as well as I could have and he'd say, "Next week, I want you to bring 20 one-dollar bills." So I'd bring the stack, and every mistake I made, he'd pull one off. And when the stack was gone the lesson was over. My first lesson lasted about three minutes. My mother said "what are you doing?" and I told her, "My lesson is over." This is the key, she didn't go to him and ask him what he was doing. She said, "I guess you better practice." She trusted him.

I give a lot of credit to the high school students I grew up with: Brandon Putzke, Chuck Jackson, Charles Davis, Erik Goins...I learned from just being around them. They'd pull me aside and teach me stuff.

And then more formally, I think some of my biggest influences have been non-percussionists. I would say Dr. David Waybright, Director of Bands at the University of Florida. I learned more in that ensemble about how to be a good musician and conducting, and how conducting affects your touch on percussion. I think of Gary Cook, from a percussion standpoint, who taught me about sound in my masters degree at University of Arizona. I spent a semester basically playing whole notes, half notes, and quarter notes on timpani until I could make a sound he would approve of. I was a good timpanist by the time I got to my masters degree and he knew that, but he made me go back and do something so simple as a whole note. We used to have three hour lessons – classes, life and lessons were always mixed. And it was an apprenticeship mindset which is what I preach around here.
Norm Weinberg. We talked in our lessons more than anything because he would just question me, "Why are you doing that?" We'd go seven why's deep.
We have an apprentice mentality in the studio...If your mentality is to be a student, you will fail. You have to be in the craft. Some of the best lessons are on a Saturday when we're changing timpani heads, or restringing, or some other project that doesn't happen in the "lesson." They see me working on or practicing something, or we're recording, or moving gear, or we'll end up at lunch together, and all the conversations that naturally come from that.
Can you talk a bit about how your international travels have influenced your music and teaching?

Big ears. Big heart. Big soul. Traveling grows all those things and the bigger they are the better musician you are going to be.

Recently in a percussion masterclass, our guest Eric Willie was talking about some maracatu drumming in Recife, northern Brazil. And a couple of my students said, "It's so hard to learn this stuff in the states." And I said, "right." There's so much that goes into that drumming, and the drumming is not taken out of context of the singing, and the dancing, and the culture. So the only way to do that is to go. Which is why the music that I have played and studied, I have gone to spend some time. So that when I play the djembe I know what it feels like to be in Ghana. I know the heat and humidity. I know what the food tastes like. I know the cultural context of what we are doing.

We talk a lot about authenticity, and I think that is especially true when you are talking about music from another culture. For example, yesterday we were talking about playing pan and I told this story of when I was down at University of Arizona. We took the band to Trinidad and were playing during Carnival. It was like two in the morning – that's when they practice. I'm back there in the engine room, the rhythm section of the big steel band. All of a sudden, the upbeats became the downbeats to me. The whole tune shifted an eighth note. And I thought, "there it is." Ping. Epiphany. We'd been with them for a week, so you start to really immerse yourself. You don't have those epiphanies unless you are in that situation. Those thoughts don't happen out of context.

You know, you don't stop. In our rehearsals here you are constantly stopping to get some directions, then you play it again until the conductor is happy. But there, the rehearsals don't stop, there's this groove and flow to it. That's one of the things I brought back as a leader and a conductor: hey, let's just go. Let it flow. If you trust your people, and everybody has the same goals artistically and culturally, there's a unified standard – just let your people do it.

Sometimes my students ask me about performing and I say you just gotta be amazingly comfortable with yourself as a human and as an artist. Well how do you do that? You push yourself to do things that make you uncomfortable. You get really comfortable with being uncomfortable. And then that starts to be okay. Learning to deal with those things is really important. You learn about yourself, and that informs how you approach your own craft and your own culture.


How does your continued professional performing inform your work at the U School of Music?

I'm on performance faculty, so I think it's natural. I don't think [performing and teaching] are separate. I don't see how I can be a great mentor here without playing. How do you mentor someone about something you don't really know? I practice a lot and I find lessons myself all the time. I do alot of diverse projects. I just did a hip hop album, I play with the symphony, I do a lot of theatre work, I was on tour with Aladdin... So, not only am I playing a lot but in many different situations: live, recording, in the pit.

There's so much to explore in percussion, and four years goes by like that. Pedagogically, you have to draw a straight line. [Students] need to be able to pick things up and make connections from lessons to ensemble, and ensemble to lessons, and not divide the experiences.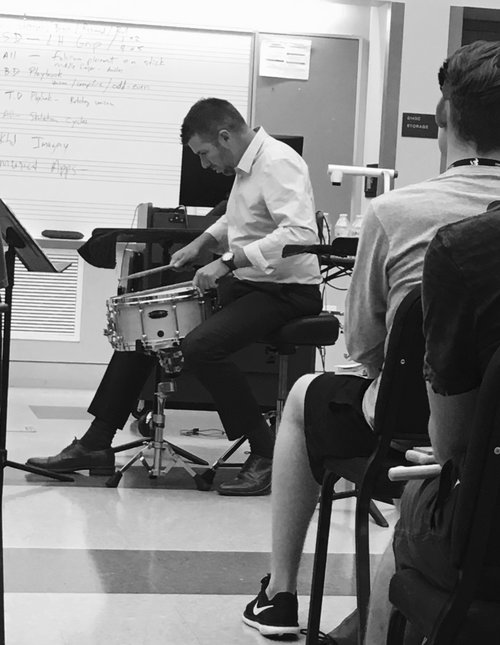 I don't like the word teacher. I have a big sign on my door that says, "I'm not your teacher." It's sort of funny but it's true. I can't teach you anything. I can't control your mind, I can't get inside your muscles and move them. You have to do it yourself. And even on a subconscious level, you are not your own teacher. Your mind is thinking "I want my hand to do this." But until that hand experiences it, it's not going to happen. No matter how much you think about it, you just sort of fall into the learning. I'm a facilitator. I'm a mentor.

There's a saying, trial and error. I think that's wrong. I think it's trial and learning. I think errors are just data. It's not good data, bad data…failure is not a bad word. How does a baby learn how to walk? They fall. It's the job of the parent to create an environment in which the fall doesn't kill them. I think in education the smarter we get we almost out think ourselves. And we do it out of a love for our students, we want them to be successful. But we overdo it. I want my students to fail. I just want to make sure that the fall doesn't kill them. I always say: I am going to throw you in the deep end of the pool. I'm not going to let you drown but you're going to swallow some water. And you're going to learn how to swim.

I heard something today on a podcast as I was driving in, and I put it in the group chat with the studio. Basically it says this: "Curiosity, ambition and a willingness to fail almost guarantee you success. A college degree doesn't." I thought, "yes." We have an apprentice mentality in the studio. We have a sign that says, "Be an apprentice." If your mentality is to be a student, you will fail. You have to be in the craft. Some of the best lessons are on a Saturday when we're changing timpani heads, or restringing, or some other project that doesn't happen in the "lesson." They see me working on or practicing something, or we're recording, or moving gear, or we'll end up at lunch together, and all the conversations that naturally come from that.

What is a favorite memory of being on stage?

Let me just say this: There's nothing that beats playing in a great orchestra. There's nothing that beats playing in a great jazz band. There's nothing that beats playing in a great recording session. I think it's about excellence. That transcends any one concert. I have had some really fun moments in every situation I've played in, and picking them out would be a detriment to all of them.

What makes a really great percussive musician?

This is my favorite question. All musicians should be great percussive musicians. I didn't think of this question as "what makes a great percussionist."
I think a great trumpet player has percussive qualities. I think a great violinist – Hasse (Borup) – has great percussive qualities. So while those aren't percussion instruments (maybe, I don't know), I think it depends on how you play them.

Good time. Great feel. How does the music feel? I try to teach good feel over good sound. If the music feels good, it will generally sound good. Not only in the moment, but when it is performance time it is going to be there for them. Why? Because they know how it feels, and it lives in them. If you are focused on how it sounds, you are actually in the past.

You are the instrument. The "instrument" is just the stereo system. If you are listening to yourself and focusing on how it sounds you are actually what we call "rearview driving." You're in the past, you're judging. No judgement, positive or negative. Just do. If you immerse yourself in the process of music-making, and you feel it, then you're present.