It is our great pleasure to present the 2021 Outstanding Seniors from the University of Utah College of Fine Arts. Each year, our five academic units nominate an outstanding senior for their academic achievements, artistic and scholarly accomplishments, and ongoing commitment to their craft. These graduating students continue the CFA's tradition of sending strong creative leaders out into the art world. Congratulations, we can't wait to see how and what you achieve next!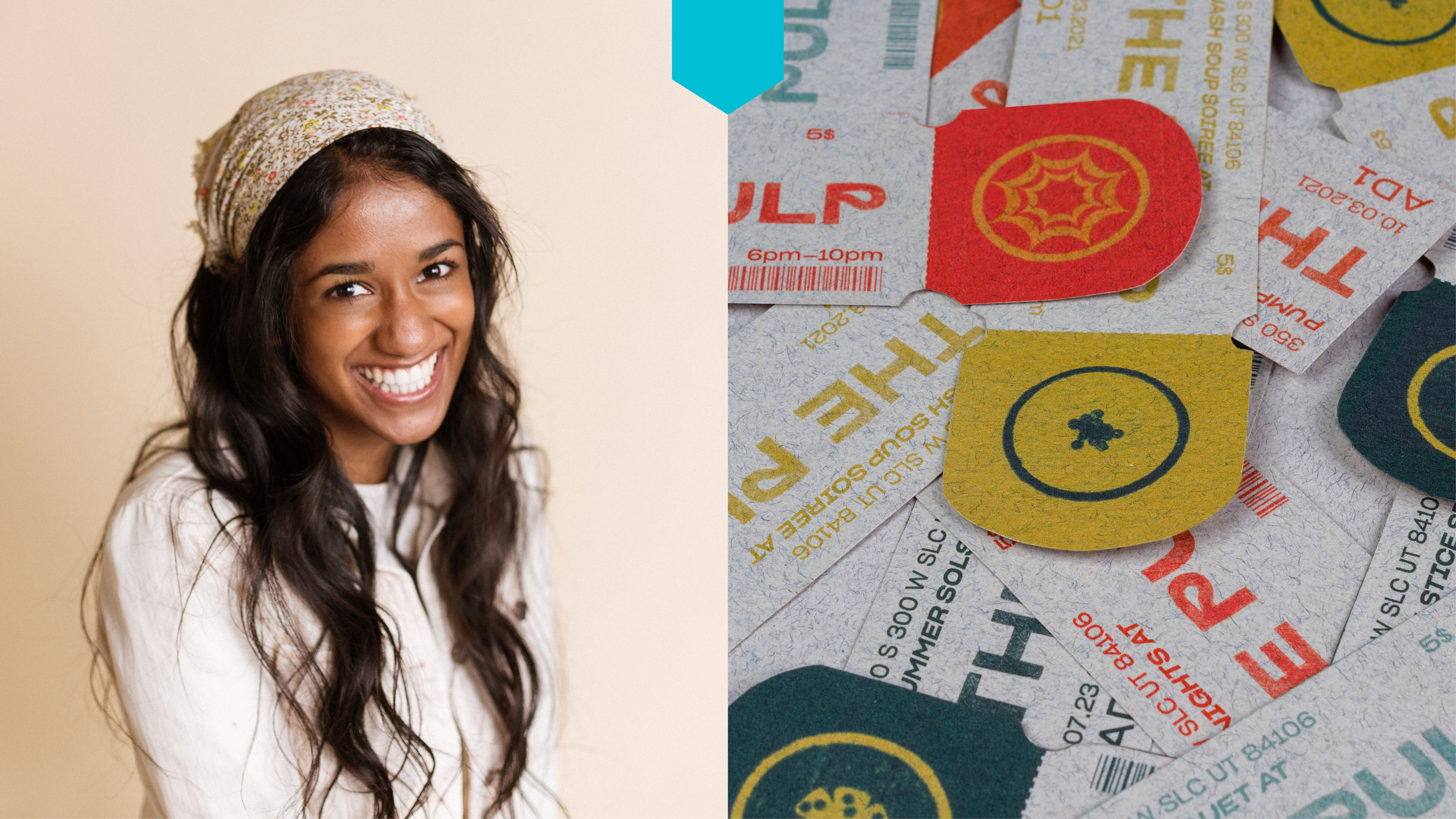 Name: Malithi Gunawardena
Degree: Bachelors in Fine Arts with an emphasis in graphic design
Hometown: Salt Lake City, Utah
Three words that describe me: Brave, thoughtful, dedicated
Most impactful professor: Michael Aberman. I had the privilege of taking Michaels class at the very beginning of my design education, a period of time when I constantly felt scared and out of my element. Michael's talent, guidance, and immense kindness, in what was a very vulnerable moment in my education, continues to stick with me today.
A CFA moment I'll never forget: Sitting in my first zoom editorial class the morning of the earthquake last spring and wondering when I was going to wake up from the bizarre fever dream I was in.
What inspires me: I am inspired by the people around me who are creative in every sense of the word. I am so lucky to learn from and love them.
Summary of major accomplishments on or off campus:
2017-2021: Carmen Morton Christensen scholarship
2018-2019: departmental scholarship
2018-2019: Fine Arts Advisory Board scholarship
2018-2019: Intern for the College of Fine Arts
2019: Speculative app project chosen to present to a panel of local prominent designers
2019-2020: Designer for Wasatch Magazine
2020: Infographics project chosen for exhibition at Winter Innovation Summit
2019-2021: Designer for University of Utah's Adthing
2019-2020: 2020 Sundance Film Festival design intern
2020-present: Designer for Modern8
"Malithi sets a very high standard for herself and in turn serves as a wonderful example for her classmates, who also hold her in high regard. The Graphic Design curriculum is rigorous, and Malithi consistently meets these challenges with enthusiasm, curiosity, and a strong work ethic. Malithi is detail-oriented, a strong conceptual thinker, and her work exhibits maturity and insight. She is more than worthy of the honor of outstanding senior for the Department of Art & Art History."
— Professor Carol Sogard, Associate Professor Dan Evans, Assistant Professor Henry Becker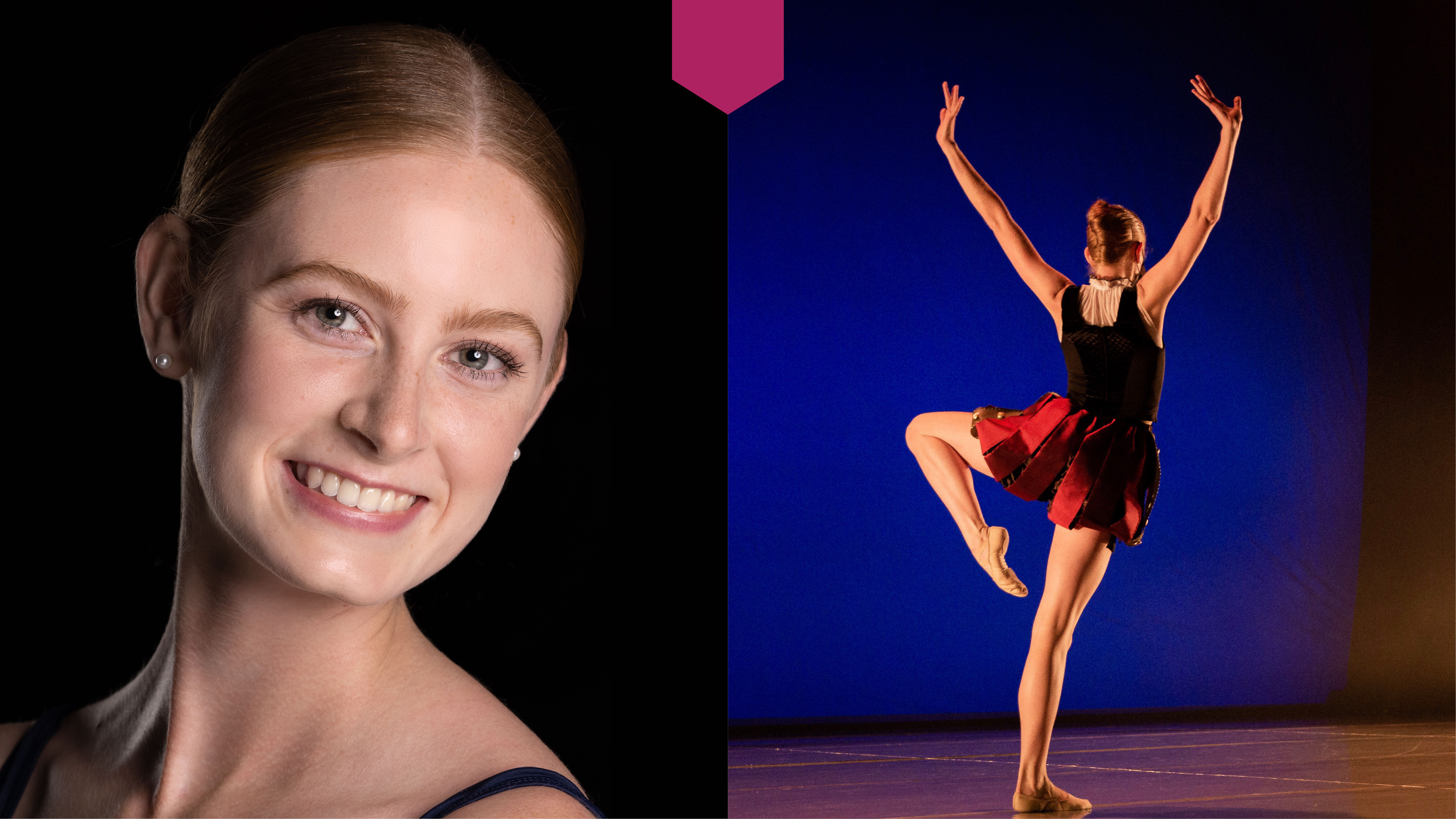 Name: Brooke Wertwijn
Majors (including emphases) and minors: BFA in Ballet, Business Minor, Ballet Studio Teaching Certificate
Hometown: Edina, MN
Three words that describe me: dedicated, passionate, intuitive
Most impactful class or professor (and why): Dance Studies with Kate Mattingly – I learned how to look at and think about our art form critically. This class opened my eyes to different perspectives on dance and taught me how my appreciation for this art form only grows deeper when we question its norms and seek change.
A CFA moment I'll never forget: Going to Prague with Character Dance Ensemble was one of the best experiences! Looking back now that travel is restricted, I am so grateful to have had the opportunity to travel abroad and learn more about Czech and Slovak folk dance.
What inspires me: music, emotions, people who are passionate, hope, being in the moment, intelligence.
Summary of major accomplishments on or off campus:
Performed in classical and contemporary works by Katlyn Addison, Jay Kim, Rick McCullough, Susan Jaffe, Christopher Always-Ramsey, Bruce Marks, Victoria Stocki-Kim, Jan Fugit
Choreographed "Existence" in 2019 and "still processing…" in 2020 for Ballet Showcase
SALT Contemporary Dance's Pre-Professional Training Company Member 2020-2021
Women's Artistic Leadership Initiative Fellow 2020
Co-President, School of Dance Student Advisory Committee 2020-2021
Vice President, Dance Studies Working Group 2019-2021
Representative, Fine Arts Fees Grant Funding Committee 2020-2021
Character Dance Ensemble Member 2018-2021
Panelist, Speaking Through Movement 2021
Ballet Department Scholarship 2019-2021
Fine Arts Advisory Board Scholarship 2019-2020
Alice Walton Call Scholarship 2018-2020
Freshman Academic Achievement Award 2017-2018
"Brooke Wertwijn is an exemplary student in the School of Dance. She is an inquisitive artist who demonstrates a genuine desire to understand her art form more deeply. An immensely talented dancer, Brooke possesses a maturity within her artistry that is far beyond her years. Brooke consistently steps up as a leader within the School of Dance and serves as a role model for her peers. I am excited to see the ways in which she will impact the field of dance in the future."
— Melissa Bobick, Assistant Professor, School of Dance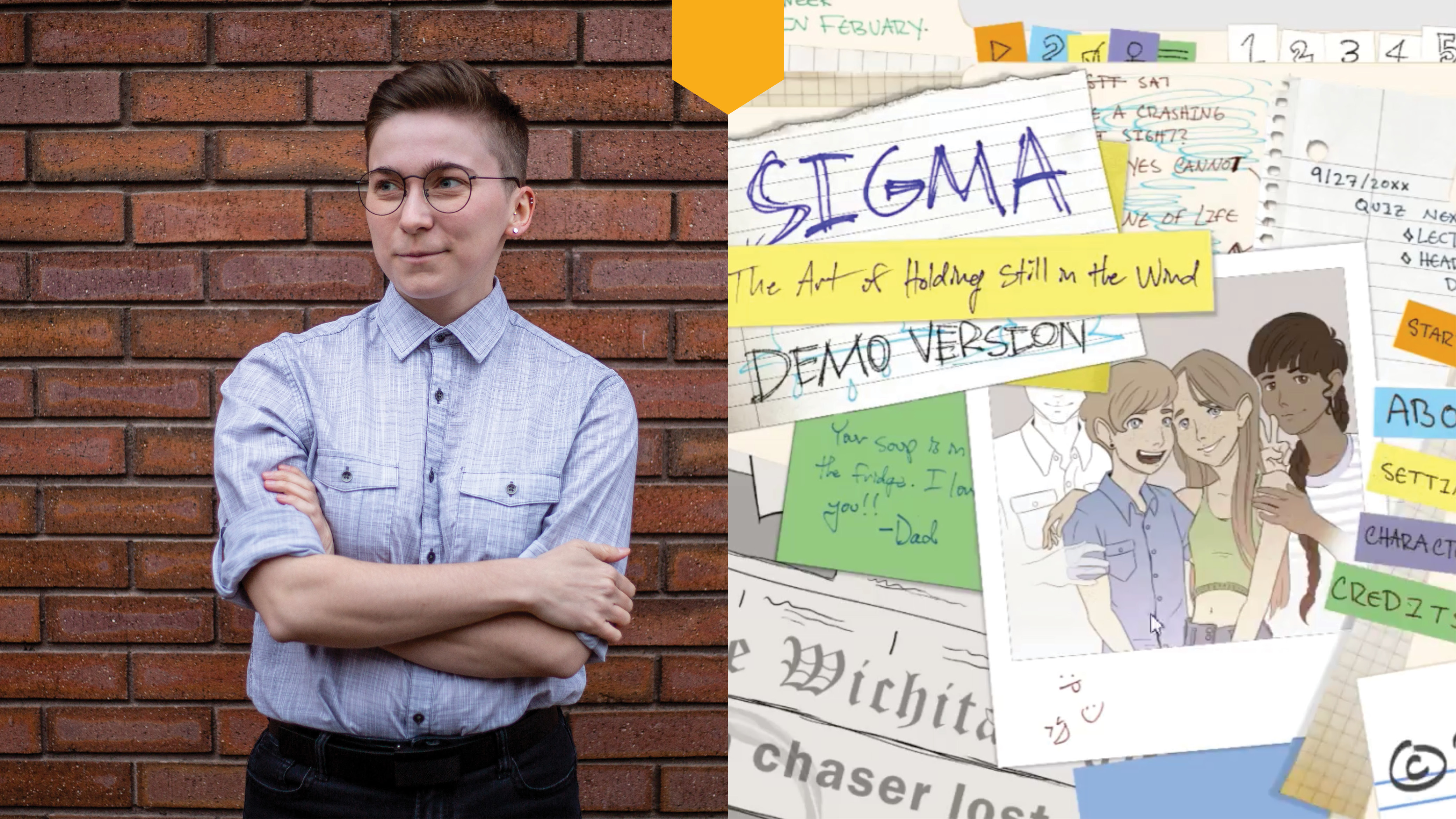 Name: Bella Parkinson
Major: Film & Media Arts, Animation and Media Arts Production Emphases
Minor: Arts Technology
Hometown: Clearfield, UT
Three words that describe me: Methodical, technical, chill!
Most Impactful Class/Prof: Professor Ha Na Lee! She taught me so much about interactivity in multimedia and helped me foster my 3D graphics/imaging skills. I even got to teach her students about photogrammetry--the art of making 3D models from photographs.
A CFA moment I'll never forget: I'll never forget CFA's trip to the Creative Talent Network (CTN) Animation Expo in 2019. I had an absolute blast and made some great friends. Plus, my two years living at the Emma Eccles Jones Fine Arts House were the most fun I've had in college!
What inspires me: City views, thunderstorms, and my friends!
Summary of major accomplishments on or off campus:
Contributed 3D models (made using photogrammetry) to a virtual recreation of the John Jarvie National Historic Site through the Utah Division of State History (2019)
Along with fellow CFA student Katie Singta, created an interactive showcase of 3D models made using photogrammetry (2020)
Created, from scratch, the beginning of a voiced, animated, and interactive web comic for a senior project (2020)
Created video lectures on photogrammetry for Prof. Ha Na Lee and helped guide her students through the process (2020/2021)
"Bella Parkinson has shown great promise as an independent media artist and animator. She is highly motivated and passionate about her art practice. Her senior capstone project entitled "Sigma" illustrates her skill with interactive storytelling. The animation and web UI design is visually compelling, complex and polished."
— Ha Na Lee, Assistant Professor, Film & Media Arts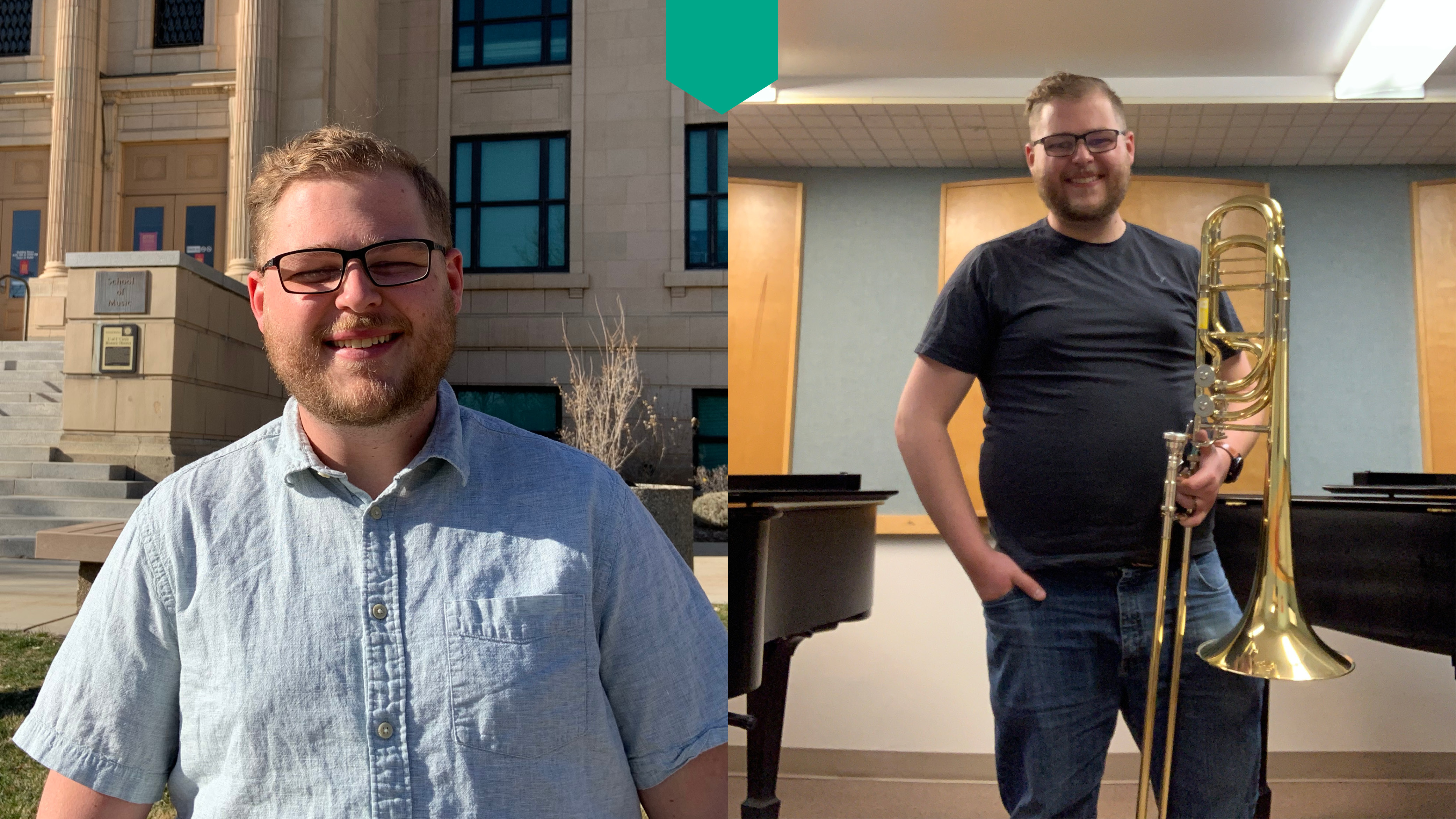 Name: Ammon Helms
Majors (including emphases) and minors: Music Composition/Instrumental Performance
Hometown: West Point, UT
Three words that describe me: Driven, Creative, Detail Oriented
Most impactful class or professor (and why): Donn Schaefer, He played a major role in my progress as a trombonist and was a huge mentor for me throughout my undergrad
A CFA moment I'll never forget: Performing at the UMEA conference with the Wind Ensemble
What inspires me: Seeing all the amazing things in the world
Summary of major accomplishments on or off campus:
Selected to compose a piece for the UMFA call for proposals
Commissioned to arrange solos and a quartet by trombonists in the Utah Symphony
Commissioned to compose work for a trombone choir
Selected to perform a trombone solo for the School of Music 2020 End of Year Showcase
"During a trombone lesson early in Ammon's degree I said 'you want to be a composer? OK, write something to play for your next lesson.' From there, Ammon composed a new duet, etude or part of a solo for each lesson. His growth on trombone helped inform his compositional skills. On his upcoming senior recital, he will premiere the original composition for trombone and piano entitled 'Wasatch.' This is a demanding and solid work that showcases his development as a performer and composer."
— Donn Schaefer, Professor, School of Music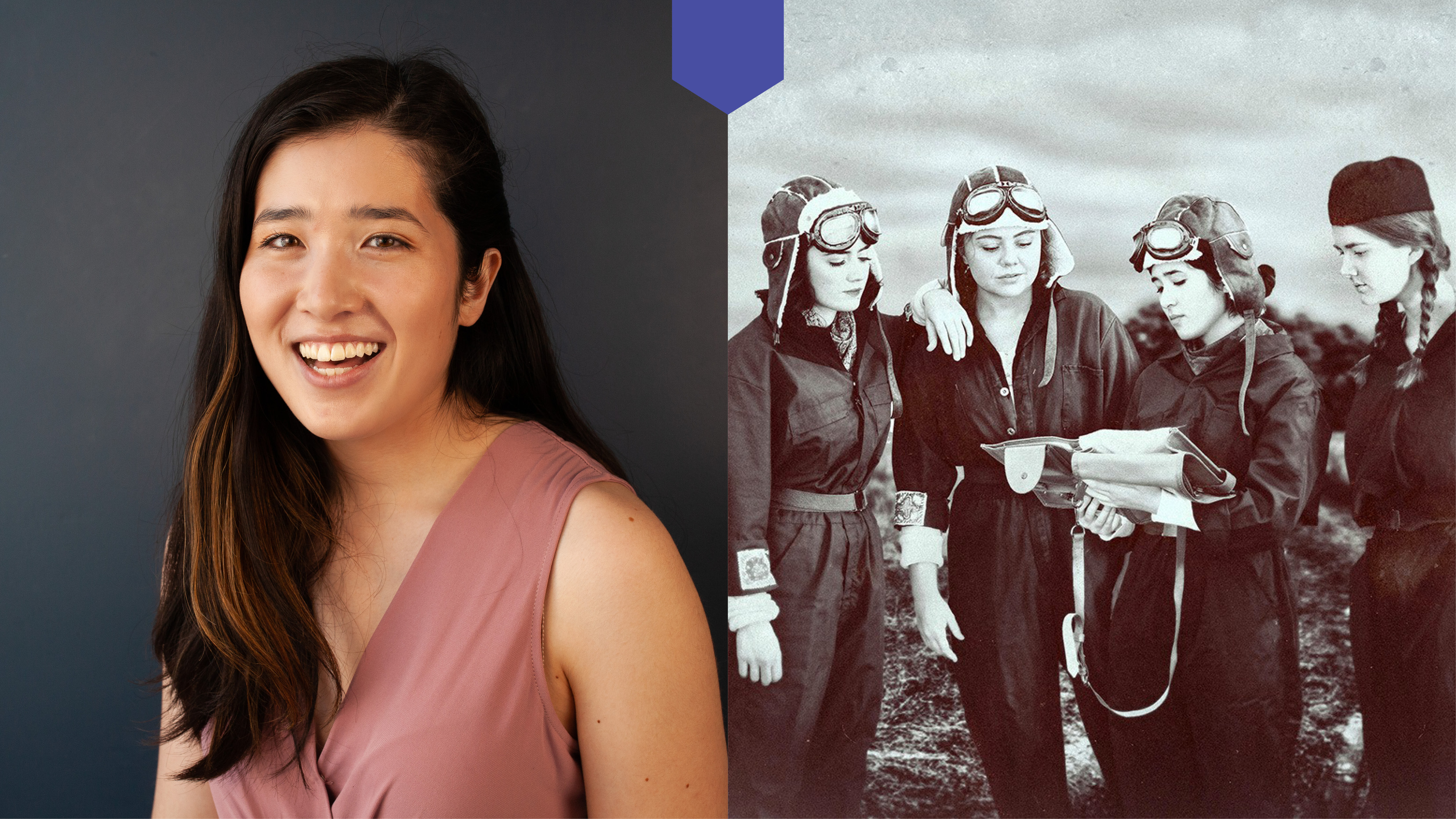 Name: Francesca (Chessie) Hsieh
Major: Theatre, Musical Theatre Emphasis
Hometown: Brookline, MA
Three words that describe me: kind, hardworking, driven
Most impactful class or professor (and why): My two most impactful professors (I can't choose just one!) were Andra Harbold and Penny Caywood. They taught me about the expanse and variety in the world of theatre that I hadn't explored and showed me what it means to be a leader, a role model, and an artist in the fullest sense of that word. They are both the epitome of grace, creativity, and forward thinking. I wouldn't be who I am today without them.
A CFA moment I'll never forget: Creating crazy Zoom skits with my student group at the beginning of the pandemic – finding a way to still create and connect every day was amazing.
What inspires me: Seeing people work with complete joy and safety. When I have been lucky enough to see someone feel free to create work unapologetically, fueled by their own curiosity and voice, rather than by a need to impress or fit in, it is glorious. It re-focuses my own passion and makes me want to create more spaces where that kind of work is possible.
Summary of major accomplishments on or off campus:
Founder, President, Vice-President for Open Door Productions, student run production company and sponsored student organization
Co-founder of BIPOC Artists for Awareness
Student representative for Department of Theatre JEDI committee
Won Outstanding Live Production at the Great Salt Lake Fringe Festival in 2020 for directing original adaptation Cocaine Triptych
Cast in one department musical (Chess) and one department play (The Night Witches)
Assistant Director for The Odyssey in the Department of Theatre
Assistant Director for Mary Stuart at Pioneer Theatre Company
Dramaturg for The Night Witches in the Department of Theatre
Student Advocacy Workshop leader for the Kennedy Center American College Theatre Festival, Region 8
Video from CFA gala Fall 2020
"I have worked with Francesca extensively since last fall, and have witnessed her deep and engaged scholarship in her course work, creative practice and community service. Last fall, Francesca was a student in my Beginning Directing class and my Assistant Director for the Department of Theatre's production of Mary Zimmerman's The Odyssey. Throughout the course and The Odyssey rehearsals, her observations on text, movement, the creative process and production were generous, rigorous and astute. This fall, Francesca is my teaching assistant for the Beginning Directing class and is serving both as dramaturg and acting in a pivotal role in Rachel Bublitz's The Night Witches that I am directing. Whatever the charge, Francesca meets the challenge with attention and skill."
— Alexandra Harbold, Assistant Professor, Department of Theatre